Spotting scope tripod is often overlooked but probably the most important part of your optics regimen.
Because without a stable tripod, you won't get a sharp view.
The best spotting scope tripod is stable in the wind, reasonably lightweight, and won't break the bank. Here are our favorites.
We Recommend
Best Spotting Scope Tripod
1. Bushnell Advanced 784030 Spotting Scope Tripod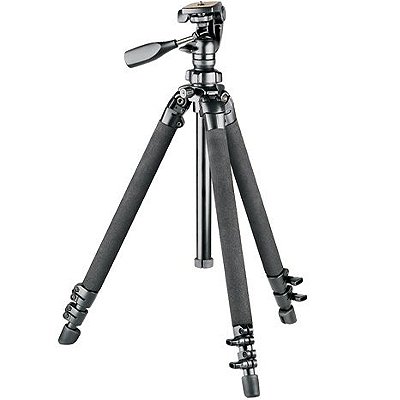 ---
This Stand-Up tripod is extremely sturdy, featuring durable aluminum legs and a three-way Pan and Tilt Head with a large mounting platform.
The legs can be adjusted individually so you can find your ideal height for your viewing.
Another notable feature includes padded leg cushions for all three legs, which adds comfort and protection regardless of how hot or cold the temperature is outside.
There is also a sliding center column with tension control, rubber feet, and a rugged corrosion-resistant finish.
The head mount is not quick release but can be adjusted to your needs. The leg adjustments are also not quick release, but if you don't intend to move this tripod very much while taking photos of wildlife, then this tripod should be serviceable.
This tripod demonstrates its durability by allowing you to easily mount a camera that weighs as heavy as 5.5 pounds. This tripod isn't for everybody because it wasn't built for those who carry equipment in backpacks. It is also worth noting that this tripod has no leveling bubble.
---
What we liked
Decently priced
Legs can be individually adjusted
Sliding center column with tension control
Padded foam leg cushions
Capable of handling heavier load
What we didn't like
Doesn't have a level indicator
Legs are not quick release, but are standard wing type nuts (good for landscapes and portraits)
Tripod type: Advanced Tripod
Head type: 3-way Pan and Tilt Head
Leg type: Wing
Material: Aluminum
Maximum load: 11 pounds
Minimum height: 18.3 inches
Maximum height: 61 inches
Weight: 5.5 pounds
2. Manfrotto 190XPRO Carbon Fiber 4-Section Tripod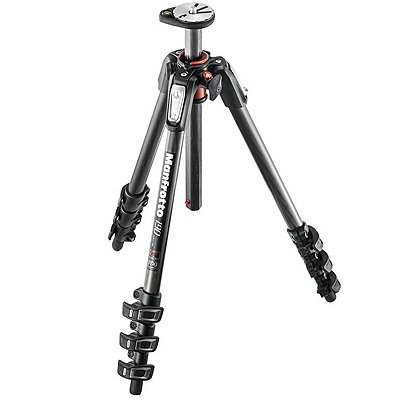 ---
This tripod is made out of 100% carbon fiber, which increases the rigidity of the four-section legs.
With these carbon fiber tubes, the legs absorb the vibration and stabilize the equipment in any condition.
This tripod features a unique Quick Power Lock and a strong, very fast, and ergonomic locking system that enables the legs to extend completely with a one-hand opening.
This tripod has four different leg angles that can adapt to any terrain providing great stability. You can also set this tripod down to the ground to get a new shooting perspective and deliver beautiful images.
Also included is a built-in rotating bubble level along with leg angle selectors. This tripod has a 90-degree center column which is accessible when you need it to be, featuring a quick "one finger" operation.
This tripod has an innovative mechanism that allows the center column to swing from a vertical position into a horizontal position, which increases shooting flexibility. There is also an Easy Link plug for instant accessory connections.
---
What we liked
Quick Power Lock system
Built-in rotating bubble level
90 center column
Easy Link plug for instant connection
Easy set up Leg Angle Selectors
Comes with four leg angles that can adapt to any terrain
Tripod type: Compact Tripod
Head type: Ball Head
Leg type: Flip Lock
Material: Carbon Fiber
Maximum load: 15 pounds
Minimum height: 3.1 inches
Maximum height: 63 inches
Weight: 4.5 pounds
3. Celestron 82050 TrailSeeker Tripod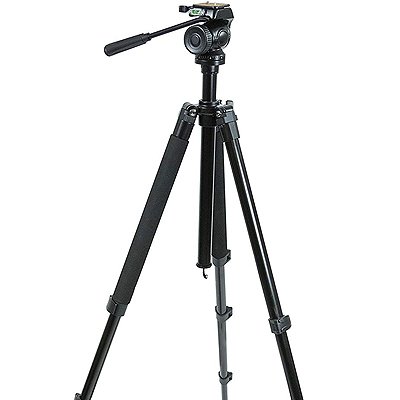 ---
Though it is a compact tripod, it is able to hold up to around 9 pounds of equipment. The aluminum legs are fully adjustable both in length and in how you want to angle your camera.
Each leg is made up of four sections that can be shortened or lengthened by flipping a lever lock.
Each leg can also be set at three different angles. Even if the surface you need to place your tripod on isn't completely flat, the ability to adjust the angle of a leg can make a big difference.
The legs also have rubber feet that keep them from sliding on slick or wet surfaces. Aside from just going up and down, the center column also holds a retractable balance hook on its bottom end.
This tripod is topped with a two-way fluid Pan Head, having a single handle that makes it easy to move the head around. This tripod has a quick release plate with a standard 1/4-20" thread mount makes it easy to attach a spotting scope, binocular, camera, or small telescope.
---
What we liked
Sturdy and adjustable legs
Legs have integrated bubble levels
Removable mounting plate
Lightweight and folds quickly
Lock-down of elevation and circular movement
An integrated compass
Comes with carrying case
What we didn't like
The rubber feet can fall off after a long period of time
Tripod type: Compact Tripod
Head type: Pan Head
Leg type: Four-section extending
Material: Aluminum
Maximum load: 9 pounds
Minimum height: 18.9 inches
Maximum height: 70.5 inches
Weight: 4 pounds
4. ZOMEI Z818 Heavy Duty Camera Tripod
---
Consider this to be a Swiss Army Knife of tripods as it is multi-functional.
This is a 2-in-1 tripod as it can be converted into a Full-Size Monopod by screwing together the removable center column and tripod leg.
The main purpose of this tripod is for it to be compact as the legs can be inverted and folded back 180 degrees, which will give it a compact size of 18 inches.
This will save you some space and make it small enough to carry anywhere.
The head of this tripod is a 360-degree Horizontal Ball Head that features a separate Head and Pan Lock. Individual head tension, a lock knob, is also at the top of this tripod to help make the right adjustment.
The Quick Release mounting plate is screwed onto your camera and by pushing a button, you can remove your camera from the tripod for mobility. Three-leg angle positions provide flexibility and allow you to shoot in cramped quarters or unbalanced surface areas.
---
What we liked
Anti-corrosion magnesium and aluminum alloy materials
Works as a compact and a full-size tripod
Legs have a strong twist lock
Tremendous load capacity of 33 pounds
Three leg angle positions
Horizontal Ball Head
What we didn't like
Unscrewing of one of the legs enough in the wrong direction may cause the leg to fall off
Tripod type: Compact Tripod
Head type: Ball Head
Leg type: Twist Lock
Material: Magnesium and Aluminum Alloy
Maximum load: 33 pounds
Minimum height: 22 inches
Maximum height: 65 inches
Weight: 3.48 pounds
5. Pedco UltraPod II Lightweight Scope Tripod
---
This tripod demonstrates its versatility with a removable D-ring Velcro brand clinch strap that secures the tripod to posts, tree limbs, railings, and other sturdy objects.
It tripod comes with three fold-out legs with non-slip vinyl feet, which makes for a stable platform on any kind of flat surface.
This tabletop tripod features a Ball Head camera mount and this unique ball and socket function adjusts to any angle quickly and easily.
You will also be assured of stability as this tripod has a secure universal mounting screw that will fit any camera, camcorder, remote flash, video light, or other devices.
This tripod is built for durability as it has a black 30% glass-filled nylon resin frame with aluminum-threaded components. The non-slip vinyl feet provide years of service for the aspiring photographer.
The only setback with this tripod is that when attaching it to certain tree branches or posts, it will be required for the velcro strap to be more involved.
---
What we liked
Lightweight (only 4.2 ounces)
Compact (7 inches when folded)
Easily folds to fit in your pocket
Best table tripod for spotting
Sturdy ball and socket camera mount
Great for spotting scopes, DSLR cameras, and binoculars
Removable velcro strap
What we didn't like
The feet and the Ball Head may wobble if the tripod is on an unbalanced surface
The velcro is more recommended for holding smaller cameras like GoPros in place, and not so much larger cameras
Tripod type: Compact Tripod
Head type: Ball Head
Leg type: Fold-out
Material: Aluminum, 30% glass-filled nylon resin frame
Maximum load: 6 pounds
Minimum height: 7 inches
Maximum height: 17.8 inches
Weight: 4 ounces
Related:12 Spotting Scope Window Mounts That Actually Work
Types of spotting scope tripods
Spotting scope tripods come in three different varieties, which would be Table Top, Compact, and Full-Size tripods. Regardless of what type you get, expect the tripod to perform amazingly well in many situations.
Tabletop Tripod
Also known as a Shooter's Tripod for spotting, this type of tripod is designed to be used on platforms like a shooting bench or a table. Their heights typically measure between 8 and 18 inches. Most tripods for spotting scopes don't contain telescoping legs, which is a feature that limits their range to adjust.
Compact Tripod
This type of tripod is larger than Tabletop tripods, and because of their size, they are unsuitable to be used on a table. However, you can comfortably use this type while you relax and sit in a chair. If you happen to be a backpacker or a mountain hunter, you will love this type of tripod because of its high portability.
Full-size Tripod
If you are of average height and you prefer to use your binoculars, camera or spotting scope while standing, then you will grow to appreciate this type of tripod. A typical Full-Size tripod extends from 26 to 57 inches and can stretch to 72 inches when the center column is at its topmost point.
Pick the right height
Whether it is from a seated, crouched, or standing position, the best spotting scope tripod should be easy to use. Having a center column on a spotting scope tripod helps because it can help adjust your spotting scope by multiple inches. You should look for a tripod that has legs that are sturdy, capable of extending with ease and can lock into place.
If you are not comfortable with crouching and you would prefer to be standing instead, then make sure you get a tripod that will work with your height. For example, if you are a short birdwatcher, you wouldn't want to get a spotting scope tripod that is too high for you to reach. If you are six feet or taller, you wouldn't want a tripod that doesn't reach your height.
Choosing the right height for your scope tripod depends on what your birding goals are. If you are only looking for good views of birds, then you can either get a tripod or a pair of binoculars. If you are committed to taking professional photographs of birds, then you will need a tripod that is capable of being easily adjusted to catch birds perching in high places like tree branches.
Choose the best tripod head
Another crucial part of your spotting scope tripod is the tripod head. There are many different types of scope tripod heads to use.
Ball Head
One type of head would be a Ball Head, which is able to move freely in virtually any direction.
One key strength in Ball Heads includes them having a nearly unlimited range of motion, giving you the freedom to adjust their line of sight.
Ball Heads are also efficient for initially homing in on a target.
Pan Head
Pan Heads, also known as Tilt Heads, usually move across two independent axes.
One will pan across your field of view, and the other will tilt up or down.
Key advantages in this type of head are the fact that it has stability, and that any small adjustments that need to be made are much more straightforward.
Fluid head and Pistol Grip Head
You should also consider other head types like Fluid Heads and Pistol Grip Heads.
Fluid Heads are basically Pan Heads, but more geared for video work. Fluid Heads have a "drag" function, which controls have much friction there is when panning and tilting.
Pistol Grip Heads are very similar to Ball Heads. Instead of using a knob to loosen the ball, a pistol grip will be used.
Pistol grips can reposition the camera quicker and easier.
Related: Best Spotting Scopes Under $500 (for Wildlife, Hunting & Photography)
The right materials matter a lot
Unless you stumble upon something unique, you will be choosing between either aluminum tripods or carbon fiber tripods.
The one major advantage aluminum tripods have over carbon fiber tripods is that they are significantly cheaper to buy. It also helps that aluminum tripods are damage resistant as well.
However, the carbon fiber tripods have a lot going for them as they have multiple advantages. Carbon fiber tripods have better stiffness and better damping, and they are also lighter in weight and have much lower thermal conductivity.
Handling an aluminum tripod on a cold morning can negatively affect a shoot because it feels uncomfortable. Carbon fiber has insulating properties that prevent the tripod from getting too cold. Under severe stress, aluminum will bend and deform while carbon fiber will shatter. A bent tripod can still be used, whereas a shattered one becomes useless.
Carbon fiber tripods also have better vibration absorption than aluminum tripods. Only certain photographic situations will be affected by vibrations, mainly shooting at slow or extended shutter speeds. It is possible in theory that the sources of vibration, mirror flap, and contact between the operator and the camera can be reduced by the properties of carbon composite construction.
Don't forget the essential features
Stability
One of the main advantages that you can have in a scope tripod is stability. The materials used in making tripods often play significant roles in stability and durability for the long term. However, you can't just count on the tripod's legs alone for stability. The feet are covered with materials like rubber to ensure that the spotting scope is on stable ground and can hold it for as long as it's attached.
Versatility
There are many products on the market today that are versatile in their use. Some tripods can be used on hunting benches, while others are strictly standing models. If you want something for any situation, find a stand that can extend itself to certain heights, but can also be adjusted low enough for the feeling of a tabletop scope.
Quick-release
No matter what type of spotting scope tripod you settle for, you should consider purchasing the model that accepts a quick-release plate. This plate pops in and out of an opening at the highest part of the center column. The purpose of this is to screw onto your scope's mounting plate, which allows you to attach or detach your scope from the tripod quickly.