Whether you are into wildlife, shooting, or hunting, the right spotting scope will make or break your session. In optics, you get what you pay for, so don't buy "a low price," buy quality.
The best spotting scope is suitable for long-range, offers bright views, and is reasonably portable. Here are our favorites.
We Recommend
Best Spotting Scope
1. Celestron Regal M2 65ED Spotting Scope
---
This is the best price/value all-round scope with a magnification of 16x-48x. We used it for bird watching and also for some range shooting.
It is compact and comes in a padded case that we could even leave on while viewing, giving the scope extra protection.
The views were a razor-sharp and true-to-life color, with the extra-low dispersion optical glass.
Extras include an objective cover, storage covers for the eyepiece and eyepiece cover. There is a T-mount adapter where we attached a DSLR camera and we tried our hand at digiscoping too.
There is a rotating tripod mount that allows you to position the eyepiece at different viewing angles — not supplied with a tripod.
---
What we liked
Excellent price-quality ratio
All-round great quality scope
Great light-gathering capability
Rotating tripod mount
Great for astronomy
ED glass makes looking at planets very pleasing
Highly portable, easy to transport
Fantastic at 20x zoom
Works very well with standard 1.25″ eyepieces
What we didn't like
Not ideal for digiscoping through the supplied eyepiece
Not ideal for long-range shooting
Doesn't come with a tripod
Aperture: 65mm
Magnification: 16x-48x
Objective Lens diameter: 65mm
Field of view: 131 / 2.5°, 68 / 1.3°
Eye relief: 20mm
Weatherproof: Waterproof
Weight: 4.5 pounds
Length: 13.1 inches
Best for: Range shooting, wildlife, and astronomy
2. Zeiss Conquest Gavia 85 Spotting Scope
---
The ZEISS Conquest Gavia 85 spotting scope with an angled view was specially developed to meet the needs of wildlife and nature observers.
Its compact design and low weight make this spotting scope with its large 85 mm lens diameter ideal thanks to the high optical performance and brightness it delivers, even in remote locations.
This spotting scope is the ideal travel companion thanks to its compact design and low weight, so you can capture all the wonders of nature from just the right angle.
The universal tripod plate is compatible with a range of tripods. The new ZEISS Conquest Gavia provides birdwatchers and nature observers with a high-performance spotting scope that is simply great value.
Its 60x magnification and wide-angle field of view mean that tricky identification tasks are no problem even from a great distance thanks to highly detailed image rendition.
Whether you're taking photos of individual birds or entire flocks, the 60x magnification of the Conquest Gavia 85 enables nature observers to enjoy nature to the max, ensuring that no detail goes unnoticed.
---
What we liked
Best that money can get
Superb light gathering and image quality
You can see things clearly a few MILES away
Clarity at all magnification levels
Great for birding and wildlife
Has loads of digiscoping accessories
Compact light design
What we didn't like
Premium price tag (but worth it)
Magnification: 30-60x
Objective Lens diameter: 85mm
Field of view: 1000 yd: 99 – 69 ft
Eye relief:
Weatherproof: Waterproof
Weight: 60 oz
Length: 15.7 in
Best for: Wildlife and nature, birding
3. Vortex Optics Diamondback Spotting Scope
---
The Vortex Diamondback Spotting Scope is a great option if you are looking for a compact, lightweight spotter that was capable of performing in the mountains and alpine of rugged fields at a very affordable price.

The Diamondback optics guarantee a bright image throughout the magnification range and, as true to all Diamondback optics, the rugged construction stands up to rough use in the field.
This scope did not disappoint. On our last 5-day backpack hunt, we covered, on average 15 miles a day, majority of it up, down and sideways. I barely knew this scope was in my pack.
Admittedly it's a little bit blurry at its max magnification. But even at half its mag, I was able to see and clearly identify this 4 point at 900 yards at sunrise.
No question this spotter did its job, sure you can find a clearer glass. But expect to pay 4x as much.
---
What we liked
Best budget option
Superb choice when you need a heavyweight performer in a light, compact package
Clear, bright and 85-90% sharp at max. magnification
Built-in sunshade gives the user excellent light transmission and a clear image
Smooth, easy to use focus wheel and a powerful zoom eyepiece
Great value for money
Unbeatable VIP warranty
What we didn't like
Not the sharpest image at its max magnification
Light quality goes down on the high power setting
Magnification: 20-60x
Objective Lens diameter: 80
Field of view: 105-51 / 2.0-1.0
Eye relief: 16.5-20mm
Weatherproof: Waterproof
Weight: 47.1oz
Length: 15.7''
Best for: Hiking, wildlife, astronomy, and shooting
4. Celestron Ultima 80 Angled Spotting Scope
---
Celestron Ultima is the best budget option for beginners. This was our first amazing experience of birdwatching in the wild! It has an 80mm objective lens and a 45° viewing angle.
The scope comes as a total package with all the accessories we needed. The zoom eyepiece allowed us to achieve a razor-sharp focus.
It also has a T-mount adapter for digiscoping, and we managed to snap some awesome photos. For ease of transporting, it has a carry case.
For care of the scope, there is an eyepiece port cover, eyepiece lens cap, eyepiece pouch, and a lens cloth. The instruction manual helped us along.
---
What we liked
If you have a VERY TIGHT budget
Extended tripod mounting plate
Zoom eyepiece for razor sharp focus
Clarity and brightness are better than expected
At minimum magnification, the image is absolutely fantastic
Integrated T-adapter for digiscoping
Multi-coated optics for great color
Easy to use and easy to focus
What we didn't like
Image quality decreases at high magnification
Carry case not padded
Has significant chromatic aberration
Aperture: 80mm
Magnification: 20x-60x
Objective Lens diameter: 80mm
Field of view: 105 / 2.0°, 53 / 1.0°
Eye relief: 18mm
Weatherproof: Waterproof
Weight: 3.56 pounds
Length: 20 inches
Best for: Bird watching, wildlife
5. Vortex Viper HD 20-60×85 Spotting Scope
---
Vortex Viper HD is in the higher price range and we immediately saw the difference in the clarity of views compared to cheaper models. It's a great option for 1,000 yard viewing.
It is certainly a luxury scope but at a sensible price. It features an 85mm aperture with 20x-60x magnification.
The XR anti-reflective coatings gave us brighter views in situations of low-light. When we used it in bright sunlight, we found the pull-out sunshade was great to reduce glare.
Using Vortex Viper was easy with the ultra-smooth Helical Focus and we could dial in the image for ultra-sharp viewing. The multi-position eyecup offered proper eye relief, which we didn't find on some of the other models.
We used this scope for bird watching, game viewing, and even some ship-viewing when we were down at the coast. It is both waterproof and fog proof and has a rubber armor that allows a non-slip grip while setting it up.
---
What we liked
XR anti-reflective coatings for brighter views in low-light
Built-in sunshade helps to reduce glare
Multi-position eyecup provides proper eye relief
Argon purged – waterproof and fogproof
Targets are clear at all distances without any halo effect
Rubber armor for non-slip grip
Best on the market VIP warranty
What we didn't like
Higher price, but worth it
Does not come with a tripod
For some, the focus might be difficult to tune at a distance
Aperture: 85mm
Magnification: 20x-60x
Objective Lens diameter: 85mm
Field of view: 101 / 1.9°, 50 – 1.0°
Eye relief: 17.8mm to 19.6mm
Weatherproof: Waterproof and fogproof
Weight: 3 pounds
Length: 19.1 x 8 x 6.2 inches
Best for: All-round use
6. Vortex Optics Razor HD Spotting Scope
---
Razor HD Spotting Scope was the most expensive scope we reviewed and is best for professional use. It requires a tripod, which will add to the price.
However, it did provide exceptional views with an 85mm lens and 27x-60x magnification. The high-end optical technology and precision craftsmanship certainly impressed us.
Razor HD offers a Triplet Apochromatic lens combined with high density, extra-low dispersion glass giving images that were razor sharp. The multi-position eyecup can twist for proper eye relief and my wife, who wears glasses, could use it easily.
The scope has a rubber armor covering, making it non-slip. In bright sun, we were able to pull out the built-in sunshade to reduce glare.
---
What we liked
Top quality scope for professionals
High-end optical technologies, precision craftsmanship
Lightweight, small, and very packable
Multi-position eyecup provides proper eye relief
Unbeatable VIP warranty
Locking collar for rotating the scope
Rubber armor for non-slip grip
Best spotting scope for the money
What we didn't like
Does not come with a tripod
Somewhat short eye relief (longer one can be bought separately)
Higher price tag
Aperture: 85mm
Magnification: 27x-60x
Objective Lens diameter: 85mm
Field of view: 117 / 2,2°, 68 feet / 1.3°
Eye relief: 0.67 to 0.66 inches
Weatherproof: Waterproof and fogproof
Weight: 4 pounds
Length: 15.5 inches
Best for: Wildlife, target shooting, hunting, surveillance
7. MINOX MD 50 W Spotting Scope
---
The Minox is a very lightweight scope weighing only 24oz. It comes with a nylon carry case and was very easy to take along with us on the weekend away.
The scope has a 16x-30x high magnification and provided great views of game animals. It features M-Lens Coating for efficient light transmission.
Nitrogen-filled housing prevents fogging and offered clear views in all weather. The scope is also waterproof, submerged to 16 feet.
We enjoyed the compact design and the angled objective lens, which provides an easier standing position when viewing. It does not come with a tripod, so we set it up on a small table and managed quite well.
---
What we liked
Best compact option out there
Well priced for beginners
High detail resolution and contrast
Multi-coated for increased light transmission
Lightweight
Small compact design
Angled view for easy use
Nylon carry case
What we didn't like
Does not come with a tripod
Case not padded
Aperture: 50mm
Magnification: 16x-30x
Objective Lens diameter: 50mm
Field of view: 47m / 2.7°, 32m / 1.8°
Eye relief: 15mm at 16x, 11mm at 30x
Weatherproof: Waterproof submerged to 16 feet
Weight: 690 grams
Length: 9.25 inches
Best for: Game animals, hunting
8. Swarovski Optik HD-ATS-80 HD Spotting Scope
---
The Swarovski ATS, 80 HD spotting scope, comes with outstanding long-distance focusing, high light transmission, and ultra-high magnification power.
The aluminum ATS 80 boasts a large 80mm objective lens diameter and excellent light-gathering qualities.
It also provides a razor-sharp detail at high magnifications and in low-light conditions. The scope comes with fluoride-containing HD lenses, which minimize color fringing (chromatic aberration) and deliver high-contrast images with precise outlines.
The HD lenses are terrific for regular viewing, but they're particularly valuable for digital photographers who want to take pictures through the spotting scope. And because of the scope's angled design, it's eminently suitable for watching birds soar in the air or hang out in trees without twisting your neck.
Unlike many Swarovski scopes, this model comes with a 20-60x eyepiece that's terrific for dynamic birding situations. That's because the eyepiece lets you scan the terrain with a broad field of view (108 to 60 feet at 1,000 yards), or zoom in close to identify a specific bird.
In addition, the eyepiece accommodates eyeglasses wearers thanks to its individually adjustable twist-in eyecups, which are removable for cleaning. The eyepiece produces luminous, diamond-bright images with edge-to-edge sharpness across the entire magnification range.
---
What we liked
Best for the money
High-definition aluminum spotting scope with 80mm objective lens diameter
The excellent light transmission even in low light and at high magnifications
Fluoride-containing HD lenses minimize color fringing and produce high-contrast images
Includes 20-60x eyepiece with individual twist-in eyecups
Comes with a lifetime warranty
What we didn't like
One of the more expensive spotting scopes out there
Magnification: 20-60x
Objective Lens diameter: 80mm
Field of view: 108 to 60 feet @ 1,000 yards
Eye relief: 17mm
Weatherproof: Waterproof & Dustproof
Weight: 9.12 ounces
Length: 13.98 inches
Best for: Birding, shooting, wildlife, photography
9. Burris Optics HD 20-60x85mm Spotting Scope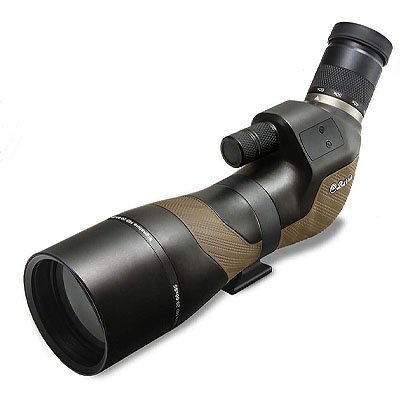 ---
This Burris Signature HD Spotting Scope is a well-designed scope for target shooting and hunting.
Its apochromatic lens system and index-matched broadband lens coatings work together to give the user bright and clear high-contrast images.

The HD lenses and apochromatic lens system give you the advantage in the field by eliminating color fringing and delivering edge-to-edge resolution at any magnification.
The range of magnification is perfect for medium to long distances, and the field of view is wide enough for focusing on both large and small objects.
The images produced have extremely accurate color and minimal distortion across the entire field of view. The tube is argon-filled and O-ring sealed, providing resistance to water and fogging while in the field.
One of the handiest features of this spotting scope is the ability to attach the Burris Fastfire to the scope once you sight in the Fastfire, where ever the red dot points, that's where the scope is pointing.
---
What we liked
Built-in sunshade reduces glare and protects the objective lens from rain and snow
Eyecup can be adjusted to accommodate eyeglasses
Lightweight, durable design with a die-cast magnesium body that is armored for greater protection in the field
Angled eyepiece and rotating tripod mount makes it easy to use whether you're standing or prone
What we didn't like
Must be adjusted for comfort based on the position
Magnification: 20-60x
Objective Lens diameter: 85
Field of view: 117 – 60 ft at 1000 yds
Eye relief: 20-18mm
Weatherproof: Waterproof
Weight: 4 pounds
Length: 16 x 5 x 5 inches
Best for: Shooting, hunting
10. Vanguard Endeavor HD 82A Spotting Scope
---
The angled view Endeavor HD spotting scope combines a nitrogen-filled magnesium housing and a fully multi-coated optical system to create a well-equipped zoom scope for intermediate to long-range observation.
The optical system employs extra-low dispersion glass (ED) to ensure accurate color rendition and virtually eliminate color fringing.
The lenses are fully multi-coated to ensure optimum light transmission and feature a phase-coated BAK4 roof prism.
It also provides a very impressive field of view. In addition to the image quality and weather-sealed construction, the Endeavor HD includes several features that enhance the scope's functionality.
It features an extendable rubber covered eyecup and boasts impressive eye relief even at the highest zoom settings. A built-in sunshield is included to eliminate glare in direct sunlight, and it includes a padded raincoat with sling for carrying and protection.
Endeavor HD is also equipped with fine and coarse focusing wheels for quick and precision fine-tuning adjustments. The Endeavor HD mounts directly to Vanguard tripod heads (and others) that are equipped with the universal mounting plate without the use of a quick shoe.
---
What we liked
Extra-low Dispersion glass (ED) for accurate color rendition & minimal fringing
Rubber armored magnesium body with built-in sunshield to eliminate glare in direct sunlight
Dual focus wheel for fine and course adjustment
Detachable angled eyepiece with soft, comfortable rubber eyecup and long eye relief
100% waterproof and fog proof
What we didn't like
Sometimes the adjustment wheel feels rough
Full power clarity could be better (but decent for this price)
Magnification: 15-45x
Objective Lens diameter: 65mm
Field of view: 144 ~ 68 ft/1000 yards
Eye relief: 19 ~ 20 mm
Weatherproof: Waterproof and fogproof
Weight: 51.0 ounces
Length: 15 x 7″ (38 x 18 cm)
Best for: Budget option, birding, hunting, all around
11. Bushnell Legend Ultra HD 20-60 x80 Spotting Scope
---
This Bushnell Legend Ultra Spotting Scope is built similarly to Bushnell binoculars. It comes with strong field performance at an affordable price.
It comes with the Ed Prime extra-low Dispersion glass, fully multi-coated optics and premium bak-4 prisms to capture the moment with vivid clarity and contrast, even in low-light conditions. 

It's stacked, dual-focus controls permit you to make both rapid and fine-tuning adjustments.
Lenses are protected by rain Guard HD for the clearest possible view in the face of foul weather or condensation from your own misguided breath.
The Bushnell Legend Ultra HD 20-60 x80 is large, but the glass is clear, the focus is sharp, and light gathering is good enough. I can detect almost no chromatic aberration at 60x and that is good.
Overall this scope has a great price-value ratio, especially if you are not on the move but more in a sedentary position like range shooting. It performs like the more expensive brands. Okay, it doesn't look as cool as a high-end Vortex or Leupold, but that doesn't change much. The ability to see holes or objects at a distance is important, and this scope does it well.
---
What we liked
End Prime low dispersion glass
2-Speed dual focus control
Waterproof & Rain Guard HD water repellent coatings
ED Prime extra-low dispersion glass for color-tuned, high-resolution viewing
Fully multicoated optics, rain guard HD coating, offers clarity in wet weather
Dual-focus controls for making rapid and fine-tuning adjustments
What we didn't like
Physically quite big and clunky
Not the best for hunting
Magnification: 20-60x
Objective Lens diameter: 80mm
Field of view: 110 feet @ 1,000 yards (20x), 51 feet @ 1,000 yards (60x)
Eye relief: 18mm
Weatherproof: Waterproof and fogproof
Weight: 9.4 pounds
Length: 16.5 x 4.5 x 8.9 inches
Best for: All-round use
12. Celestron Hummingbird 9-27x56mm ED Micro Spotting Scope
---
The Celestron Hummingbird is a "micro" ED spotting scope, and like its namesake, the Hummingbird Micro Spotting Scope is as well suited to long-distance travel as it is to the backyard. It is ideally suited for travel.

The Hummingbird will easily fit into a pocket, shoulder bag, or carry-on luggage. This spotting scope is perfect for traveling birders as a more travel-friendly alternative to a full-size spotting scope.

The lowest magnification level can also serve as a substitute for a binocular. ED Objective Lenses Extra-Low Dispersion (ED) glass virtually eliminates chromatic aberration, also known as color fringing, a visual defect common in binoculars.
Hummingbird ED delivers edge-to-edge sharpness with excellent color correction and razor-sharp images. Celestron's ED glass delivers visibly brighter, sharper images compared to non-ED binoculars. The difference is especially apparent in low light conditions, such as at dawn or dusk.
The Waterproof / Nitrogen filled construction of the Hummingbird keeps it protected against wet weather, humid conditions, and other environmental challenges.
It comes with a durable armor that keeps it protected against bumps and jolts both during transport and in the field. It is tripod / monopod / window mount adaptable, providing a variety of options for viewing. This spotting scope can easily be secured to a stable platform for comfortable long-duration or long-distance viewing.
---
What we liked
Easily carried in vest or coat pocket, in belt pack, or shoulder bag
9-27x magnification range spans binoculars and spotting scopes
"Birder-friendly" close focus distance: 10 ft. / 3m close focus satisfies birding field optic requirements
Waterproof / Nitrogen filled — Protected against wet weather, humid conditions, and other environmental challenges
Great for a bid watching beginner on a budget
What we didn't like
Not best for intermediate-advanced users
Image quality could be better
Magnification: 9-27x
Objective Lens diameter: 85mm
Field of view: 4.2°-1.9°
Eye relief: 15mm
Weatherproof: Waterproof
Weight: 1.43 pounds
Length: 11 x 7 x 5 inches
Best for: Bird watching, travel, beginner choice
Straight vs. angled scope?
When you start shopping for spotting scopes, you will come across two words – Straight and Angled. This describes the physical shape of the spotting scope and each offers advantages and disadvantages.
Straight
A straight spotting scope is one in which the eyepiece is in line with the lens, resembling a long tube.
These spotting scopes are easier to use for first-time users as they are faster to focus on your object.
Packing and transporting is simpler due to the straight shape.
One disadvantage of a straight spotting scope is neck pain or discomfort if you have a difficult angle that you are viewing or if you are in a crouching position.
Angled
An angled spotting scope is one in which the eyepiece is set at an angle of 45 to 90 degrees from the lens.
Looking at it, you observe a straight body tube and a raised angled section supporting the lens. These spotting scopes allow easier viewing positions as you can look into them from above, reducing strain on the neck and back.
They work better on uphill and downhill slopes as you can adjust the angle of the lens. Your tripod can also be shorter as the lens section adds height to the spotting scope.
One disadvantage is that scope may collect water or moisture if left out, while you grab a bite! They also take up more space to pack.
What do the spotting scope numbers mean?
For a beginner, seeing a range of numbers describing a spotting scope can be confusing! Here is a simple explanation of the most important ones.
The main number you see looks something like 20-60×80.
The first two numbers, the 20 and the 60 indicate the from-to magnification of the spotting scope. This factor is also described as the power or the number of times closer; you see the object as opposed to viewing it with a naked eye. So, 20x means 20 power or 20 times closer than it does with your naked eye.
The third number, the 80, is the diameter of the objective lens stated in millimeters. Other examples of this number are 3-9×40. This indicates a magnification of 3 to 9 times and a small lens diameter of 40mm.
The higher the magnification, the more advanced and probably more expensive the spotting scope will be. The same applies to the lens size. The larger it is, the better the image and clarification you will get.
Home users will be happy with a spotting scope with magnifications of 20x to 60x and lenses with diameters of 60mm to 80mm. These are the spotting scopes we reviewed and are ideal for bird watching, hunting, game watching, surveillance, harbor activities, and even casual astronomy.
What are you going to view?
Like most technical gadgets, you need to decide what you want to use it for. Here is a summary of some of the considerations to keep in mind.
Range shooting
For range and target shooting up to 100 yards, a spotting scope of 15-40×50 is ideal. For longer distances up to 200 yards, you should increase your magnification to 15-60x and your lens diameter to 80mm. A sturdy tripod is a must.
Hunting
Hunting means walking and the need for fast set up. The best spotting scope for hunting should be lightweight, easy to mount, waterproof, and fog proof. Magnifications of 20-60x are good with a lens diameter of 60mm and up.
Birding
This is a fun activity for the family and you can start with an entry-level spotting scope. Choose the right birding scope that is compact and lightweight. Magnifications of 20-60x and a lens diameter of 50mm and over will give you great views.
Photography
If you are planning on using your spotting scope to take photos, you will require a scope that has a T-mount adapter. This allows you to attach your DSLR camera to the scope.
All-around wildlife
You don't need to spend a fortune to enjoy viewing wildlife. A scope with a magnification of 20-60x and a lens diameter of 50mm or over will give razor-sharp views. Straight scopes are easier to carry in a backpack if you are planning an outdoor adventure.
The spotting scope price timeline
The spotting scopes we reviewed range in price from around $150 to over $900. Like most high-end gadgets, you will find cheaper and more expensive models. Buying cheap is not always a good option. But, sometimes, paying a premium may not give you value for money.
Here is a quick overview of what you can expect from spotting scopes in the different price ranges.
$0 – $150
This cheaper range is ideal for a family looking for some fun at the beach or in the wild. They may not be weatherproof and probably won't come with a tripod.
$150 – $300
In this range, you can expect a good quality spotting scopes that will give 20x-60x magnification and razor-sharp views. Most will be well suited to outdoor use, being waterproof, compact, lightweight, and easy to transport.
$300 – $700
Spending more will get you multi-coated optics for clear and razor-sharp images. You can expect true-to-color views even at far distances. This is a great starter budget range for spotting scopes.
$700 – $1000
These spotting scopes offer fully multi-coated optics for stunning views. Many will have T-mount adapters for attaching cameras. They also offer rotating tripod mounts for target shooting, hunting, and even astronomy.
$1000 Plus
At $1000+, you are entering the top league. They are ideal for professional hunters, digiscopers, and commercial surveillance. In this range, you will be looking at Swarovski Scopes and other high-end spotting scopes.
What about digiscoping?
Once you become a spotting scope addict, you are sure to come across the term digiscoping. Like me, you probably have no idea what this is. So after some investigation, I will update you!
Digiscoping is pairing up a camera with a spotting scope. This allows you to not only look at far-away images close up but also snap photos to show off. How great will it be to create an album of rare birds, close-ups of wild game, or a peek into a beehive?
Snapping high-quality far-distance photos with a camera usually requires a device that is expensive and has multiple objective lenses. These gadgets are also heavy and complex. With a simple spotting scope and an everyday camera, you can achieve the same results.
In order to use your spotting scope for digiscoping, you require a scope with a T-mount adapter. You also require a DSLR, digital single-lens reflex, camera. These cameras come in a wide range of choices, including inexpensive models for beginners. Many mobile phones can become DSLR cameras.
Digiscoping gives you an awesome insight into the natural world. Choose an HD glass scope that is compact and easy to set up. Make sure you have a lightweight tripod that stays steady. Angled scopes are easier to look through and reduce neck strain. If you want to take digiscoping to the next level, get a Bluetooth remote shutter release to ensure vibration-free shooting.
How to choose the best spotting scope?
Magnification
For a beginner, a good quality scope will offer a magnification of 20x-60x, which is ideal for crisp, razor-sharp images. The higher the magnification, the more detail you will see.
Aperture
Apertures of 50mm to 80mm are ideal for amateur scopers. These scopes are reasonably priced and give great images. Keep in mind that scopes with 80mm apertures are usually bigger and heavier. Smaller aperture spotting scopes are better suited for hiking.
Field of view
Field of view (feet @ 1000 yards). This is how wide your image is. Larger scopes offer a wider field of view but are more expensive. For bird watching, wild game watching, boating, and sports, scopes offer a field of view of 1.0 to 2.5 degrees.
Prism type and lens coating
Look for HD glass and multi-coated or fully multi-coated prisms. They have anti-reflective coatings that improve the color and contrast of images. They also maximize brightness in dimmer conditions.
Weatherproof
Gadgets designed for use outdoors must be waterproof. Waterproof can mean anything from taking a few drops of rain to being fully submerged – check this! More expensive spotting scopes have Argon purged tubes, which are fog proof.
Tripod
Having a sturdy spotting scope tripod is a must. Cheaper scopes can stand on a table or hold in hand. Most spotting scopes come with a tripod mount and will fit onto a standard camera tripod. Choose one that is lightweight but sturdy. Some models come with a tripod included.
Accessories
A carry case is a useful accessory and if it is padded, it will also protect your scope. Look for lens caps, eyepiece pouches, and lens cleaning cloths.
Related: