The fact is that in optics, you get what you pay for, so don't buy "a low price," buy quality.
The good news is that there are some great cheap spotting scope options out there if you know what to look for.
The best spotting scope under 500 should come with quality glass, offer bright views, and be reasonably compact. Here are our favorites.
We Recommend
Best Spotting Scope Under 500
1. Vanguard Endeavor HD 82A Angled Cheap Spotting Scope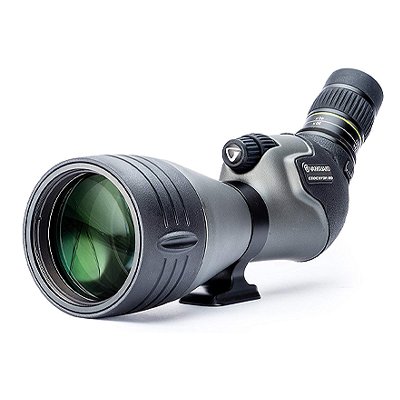 ---
The Vanguard Endeavor Scope is the best all-around budget starter spotting scope. It's an angled spotting scope that comes with a high zoom range.
It comes complete with a sunshade and excellent eye relief. The Vanguard is a prominent example of everything a low to mid-range spotting scope can have.
The images produced by the scope have a relative brightness of about 4.1, and the diameter of the lens is about 82 mm.
The FOV range varies from 1.0 degrees to up to 2.0 degrees, which is one of the highest we've seen. And to top all of that off, the entire thing comes in a skin-tight carry bag, along with a detachable strap.
---
What we liked
Perfect for wildlife observing
Eliminates color fringing
Comes with case and strap
Protects from water and fog
Wide FOV
Brighter images
Lightweight
What we didn't like
Not the sharpest at max zoom
Aperture: 82 mm
Magnification: 20x-60x
Lens diameter: 82 mm
Field of view: 37m @1000 yds
Eye relief: 20 mm
Weatherproof: Yes
Weight: 4 lbs
Length: 14.76 inches
Best for: Photography
2. Vortex Optics Diamondback HD 20-60X85 Budget Spotting Scope
---
The Vortex Optics Diamondback is without a doubt the best spotting scope under 500 you can get today! It performs like a $1000 scope but for the half of the price.
This one, in particular, has a 20 feet close focus distance and has an angled eyepiece.
The eye relief is about 14 to 17 mm, and the FOV ranges from 1.0 to 2.2 degrees. This is by far the widest FOV range on this list.
Wider FOV means you can clearly view wider areas over longer distances, and even digiscope moving objects.
This Diamondback Spotting Scope is 100% customizable. You can adjust the focus, eyecup, and even the sunshade.
Moreover, it allows you to choose your viewing angle and even toggle magnification. Specifically, you can magnify from 20 times to 60 times.
---
What we liked
Wide magnification range
Wider FOV range
100% customizable
The viewing angle can be set
Produces bright images
It comes with a case
Perfect for digiscoping
What we didn't like
It does not include a tripod stand
Rather short eye relief

Aperture: 60mm
Magnification: 20x-60x
Lens diameter: 60mm
Field of view: 114-51 feet @1,000 yds
Eye relief: 14-17 mm
Weatherproof: Yes
Weight: 2.94 lbs.
Length: 14.0 inches
Best for: Hunting & Birding
3. Celestron Ultima 100 Angled Spotting Scope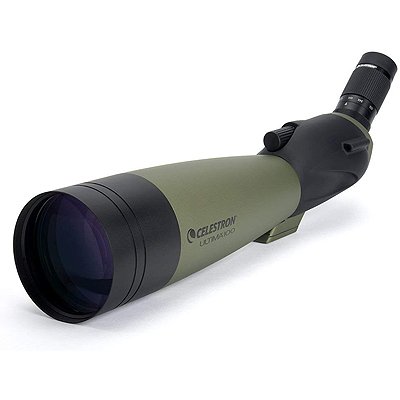 ---
The Celestron Ultima features a magnification of up to 66x and has an eye relief of 18 mm.
This scope is best for viewing objects at a distance, but it has a narrower FOV. To be more specific, this scope has a FOV of 1.8 to 1.0 degrees or 94 to 52 ft at 1,000 yards.
Taking your spotting scope out can be a risky decision. For one thing, your scope can get dirty and fall prone to the elements.
The Celestron, however, is 100% waterproof. And it comes with a T-mount adapter to compensate for all types of cameras. However, it does not come with a tripod included.
This scope, by far, has the largest aperture, at 100 mm. This results in images that are 50% brighter and more dynamic.
---
What we liked
Wide magnification range
Best for bird watching and sightseeing
100% waterproof
Produces brighter images
It can be used for digiscoping
T-mount adapter included
Multi-coated optical coating
What we didn't like
No tripod included
Narrower FOV
Aperture: 100mm
Magnification: 22x-66x
Lens diameter: 100mm
Field of view: 95-53 ft @1000 yds
Eye relief: 18mm
Weatherproof: Yes
Weight: 4.5 lbs
Length: 22 inches
Best for: Birding & Sightseeing
4. Konus 7122 20x-60X100mm Spotting Scope
---
Love sightseeing? Then you'll absolutely adore the Konus 7122 Spotting Scope. This scope has been rated as one of the best for birdwatching and hunting.
It provides a higher range of magnification than regular binoculars, and have a wider range of vision.
The Konus Scope can be zoomed in between 20x and 60x, providing a wider range of magnification. This makes it better equipped for hunting and birding.
At 1,000 yards, the FOV is 29 m at the lowest magnification, and 15 m at the highest. A wider field of view is best for when the game is moving or when you're scouting a wider landscape.
The Konus Spotting Scope comes with a carrying case as well as a camera adapter. So you don't even need to do the hard work. However, this scope does not come with a tripod. Any standard tripod can work with it.
Furthermore, it is slightly heavier, weighing in at 7.5 lbs. So carrying it from place to place can be straining on the hands.
---
What we liked
Comes with carrying case
Adapter included
Smooth and streamlined
High magnification range
It does not blur too much when fully zoomed in
Wide Field Of View (FOV)
Works with most tripods
What we didn't like
No tripod included
Slightly heavier than competitors
Aperture: 100mm
Magnification: 20x-60x
Lens diameter: 100mm
Field of view: 157.2 ft @1,000 yds
Eye relief: 20mm
Weatherproof: Yes
Weight: 7.5 lb
Length: 21 inches
Best for: Hunting & Birding
5. Bushnell Legend Ultra HD 20-60X80 Spotting Scope
---
Now here's something that's sure to excite your interests. Meet the Bushnell Legend Ultra HD Spotting Scope. This scope not only looks professional but provides the same functionality as some of the higher-end scopes.
To begin with, this scope has a premium magnification of 20-60 times. It also has an aperture size of 80mm- large enough to brighten the image, small enough to get a sharp image.
This scope features a 2-speed focus control system that lets you adjust the magnification and focal length. Along with that, the Bushnell also uses BAK-4 prisms.
But the best part is that this Bushnell model comes chemically treated to be both water and fog-proof. Even the lenses have water repellent coating to keep the images as sharp as possible.
---
What we liked
Reduces chromatic aberration
Sharp image processing
Water and fog-proof
Professional design
Angled to relieve eye strain
Dual focus control
HD lens coating
What we didn't like
Narrow FOV
It does not come with a case
Relatively heavier
Aperture: 80 mm
Magnification: 20x-60x
Lens diameter: 80 mm
Field of view: 110-51 ft @1,000 yds.
Eye relief: 18 mm
Weatherproof: Yes
Weight: 9.4 lbs
Length:
Best for: Birding
What can you get for $500?
When it comes to optics, you mostly get what you pay for. You can't expect to get much in a lower budget. The higher you spend, the more likely you are to be satisfied with your product.
Mid to low-range spotting scopes have about the same features that the costlier ones have. However, as you lower the price, expect to see some blurry images. Most of these scopes go out of focus at their max zoom. And many start to lose their steadiness after a few weeks. Moreover, the coating on the optics may be less refined, resulting in lenses that are not as durable.
When you're looking to spend $500 on a spotting scope, you'll normally get an 80-100mm objective lens, carrying case, tripod, and adaptor. Don't expect too much in terms of magnification and quality of the lens. Expect 20-60xzoom, a decent FOV, carrying case, camera adaptor, and tripod stand.
A further low cost may mean lower resolution, blurry images, and a shorter lifespan. But the customization, portability, and accessories remain similar, for the most part.
What do the scope numbers mean?
If you've had the chance to get acquainted with spotting scopes, you'll know that many come with a random set of numbers on them. These numbers are, in fact, not random at all and point to various aspects of the scope.
An example of the markings on scopes would be "20-60×80".
"20-60x" refers to the magnification range of the scope. This means that the scope has a magnification of 20 times when you use it. You can't reduce it below that. And you can adjust the magnification all the way up to 60 times.
The "80" refers to the size of the aperture (80mm), which may also translate into the lens diameter, but not always. For those of you who don't know, the aperture is the small hole or slot through which the light enters. The smaller the aperture, the sharper the image. But a smaller aperture also translates into a narrower FOV.
Recommended Scope For:
Range Shooting: 20-60x 80mm or upwards
Hunting: 15-40x 60mm
Birding: 15-33x 50mm or 80mm
Photography: 20-60x 80mm or 100mm
Overall Wildlife: 20-60x 80mm
What to look for in a $500 scope?
Weatherproofing
Aside from the regulars, it is crucial for your spotting scope to stay tough even against the elements. A simple waterproofing scheme should be more than enough, especially on a budget. Each partition should be epoxy-shut and properly screwed in place.
BAK-4 Prism
A BAK-4 Prism is the best type of prism used primarily in optics and telescopes. It's made from a superior glass that aids in producing brighter and sharper images. They have circular exit pupils or holes and give better sharpness. Scopes using the BAK-4 prism are not only cheaper but present a lot of value.
Durability
The durability of the spotting scope depends on two things: external strength and internal durability. Externally, the scope should be weatherproof and all the components should be sealed shut. Internally, the prism and optical lenses should be chemically treated to last longer and remain sharper.
Prime Optics
Aside from the BAK-4 prism, you'll also need to consider the markings on the scope. Primarily, you'll need to check for the lens diameter, exit pupil, and eye relief. All of these features will combine later on to give you the best spotting experience.
Related: 5 Best Spotting Scope Tripods in 2022 [Buyer's Guide]
How to choose the best budget spotting scope?
Magnification
Spotting only has its fun when it's done from afar. The magnification is mostly up to you, but most scopes don't have a magnification below 3x. For hunting and range shooting, anything above 15x should work fine.
Aperture
The smaller the aperture the sharper and brighter the image. Normally, aperture sizes range from 80mm to 100mm, with some going as low as 50mm.
Field of view (FOV)
The FOV is how much area you can see from the scope at a certain distance. Normally, this is measured at a distance of about 1,000 yards. Most scopes can see 110+ feet at the minimum magnification, and 50-70 feet at the highest.
Prism type
The type of prism can vary, but for starters, we'd suggest that a BAK-4 prism is best. Other types, like BAK-7, also exist but are rarely used.
Lens coating
Lenses in scopes are coated with special chemicals for various reasons. This can be done to eliminate fogging, sun glare, and scratching. And some may even protect from UV light.
Weatherproofing
To make the casing waterproof, it should be coated with waterproof material. And the compartments should be sealed shut with epoxy glue.
Related: