Friarbirds, also known as "leatherheads," are large members of the family known as the honeyeaters. Friarbirds are quite distinctive members of this family, with many species having featherless "bald" heads which give them a slight resemblance to small vultures. Of course, Friarbirds are not raptors and actually belong to the songbird family. It is the unique appearance of the Friarbird which gives this fascinating animal its name. Because of their "baldness" and generally un-flashy plumage, Friarbirds are thought, by some, to resemble members of the clergy. Some Friarbirds have sparse head feathers, but the Noisy Friarbird is particularly striking thanks to its completely bald and jet black head. (1)
Friarbirds are known to be both quite noisy and fairly aggressive. They are so aggressive, in fact, that certain smaller species of oriole mimic the plumage of Friarbirds in order to warn off other birds and avoid confrontation themselves. Despite this slightly rowdy reputation, the Friarbird is a culturally important animal throughout its range. For peoples in Australia, Papua New Guinea, New Caledonia, and Indonesia, the Friarbird is an important symbol and mythological character. In this article, we'll look into some of the fascinating traits of the Friarbird as well as its cultural roles and symbolism. Read on to learn all about the many faces of the Friarbird!
Friarbird Symbolism and Meaning
As stated previously, certain species of Friarbird are known for being both aggressive and noisy. For this reason, the Friarbird may represent chattiness or gossip. Friarbird calls are said to be both very loud and very numerous where Friarbirds are found. In addition, Friarbirds may be connected with aggression, hostility, ferocity, or protection. Much of the "aggressive" behavior of Friarbirds occurs in the course of protecting their nests and young. (2)
A friar is a clergyman belonging to a mendicant order like the Franciscans. The word "friar" actually comes from the Latin word for "brother." Friars are usually thought of as monks who have undertaken a vow of poverty. Through their appearance and the name which it has earned them, Friarbirds are associated with friars. They are thus connected to ideas like piety, devotion, and service. (3)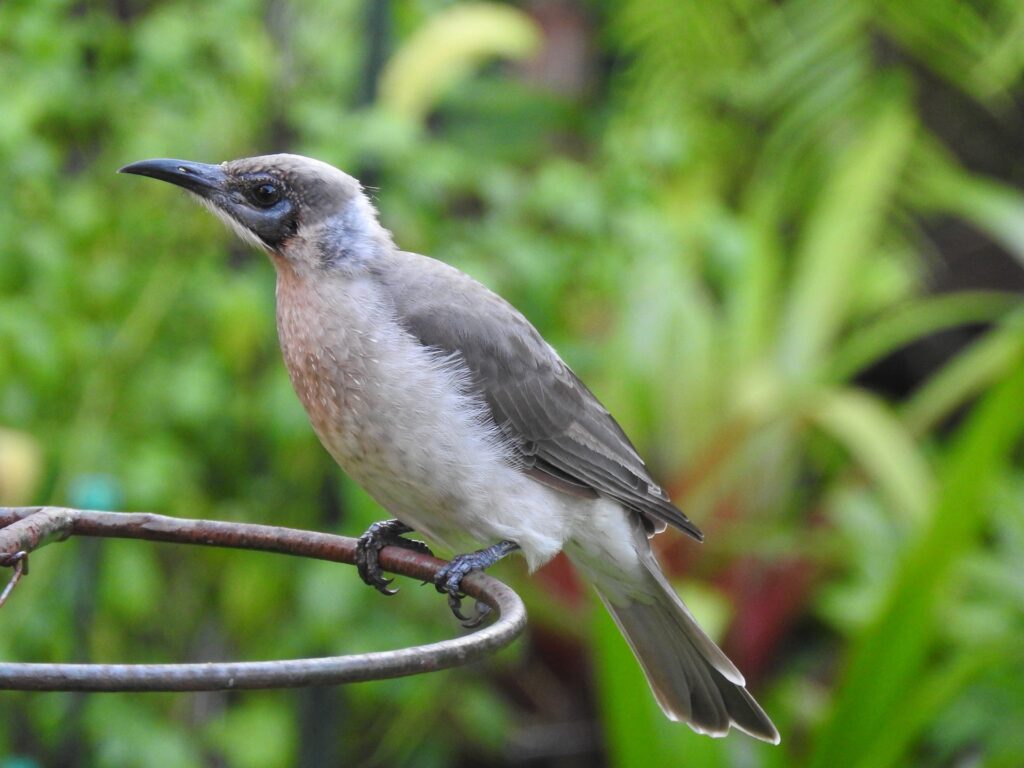 Friarbirds are omnivorous and some species are known to be agricultural pests due to their love of fruits and berries. Friarbirds may represent theft or pestilence.
The Friarbird's squawking call is associated, in some regions, with the passage of time. In fact, it is believed by the people of Manus Island that the Manus Friarbird, or "Chauka," as it is locally known, can be used to tell time by listening to its calls. Thus, Friarbirds may be connected with the passage of time, with maturation, with timing or rhythm, or with cycles. (4)
Friarbird Native American Symbolism
Native American cultures would never have encountered the Friarbird, however certain Friarbird traits might still be linked to Native American myths and cultural practices. For example, the Turkey Vulture is bald, much like many Friarbird species. This striking feature plays prominently into several myths surrounding the vulture. Their morals might similarly apply to the Friarbird. For example, one Lenape legend uses the Turkey Vulture to demonstrate the importance of not judging a book by its cover. In this story, the sun is hanging far too low in the sky and is scalding the crops and drying out all of the lakes and rivers. One by one, each of earth's animals make an attempt to return the sun to its proper place. The possum fails and burns its tail's hair off in the process. The fox fails and burns his mouth and tail tip black in the process. Finally, the magnificent Turkey Vulture makes his attempt. Although his head feathers are burnt off and his body's feathers are burnt black, the vulture pushes himself to his limits and succeeds. His actions save the world and return order to the earth and sky. And so, the other animals know that while he may look ugly, the Turkey Vulture's bald head is a mark of honor and pride which demonstrates his selflessness and courage. (5)
Friarbird Christianity Symbolism
Friarbirds, as we have previously discussed, are so-named for their resemblance to religious mendicants. Friars are typically depicted as bald, or with the tops of their heads shaved and a ring of hair remaining. This hairstyle symbolizes the friar's devotion and piety. Friars are different from other clergy in that they typically belong to orders which renounce worldly possessions and travel around teaching and learning from the common people. The friar takes to heart the biblical lesson that wealth and greed will only bring one further away from God and heaven. (6)
"And Jesus looked round about, and saith unto his disciples, How hardly shall they that have riches enter into the kingdom of God! And the disciples were astonished at his words. But Jesus answereth again, and saith unto them, Children, how hard is it for them that trust in riches to enter into the kingdom of God! It is easier for a camel to go through the eye of a needle, than for a rich man to enter into the kingdom of God. And they were astonished out of measure, saying among themselves, Who then can be saved?"

— Mark 10:23-26 (7)
Obviously, the Friarbird's resemblance to the role of the friar is simply a physical one. Nevertheless, these birds may still be taken as symbols of the generosity and humility of the mendicant orders.
Friarbird Celtic Symbolism
Birds in Celtic mythology are largely connected with liminal spaces and supernatural forces. While Friarbirds are not found in the Celtic world, it can at least be assumed that these striking birds would share the connection to the Otherworld which most birds seem to have in Celtic traditions.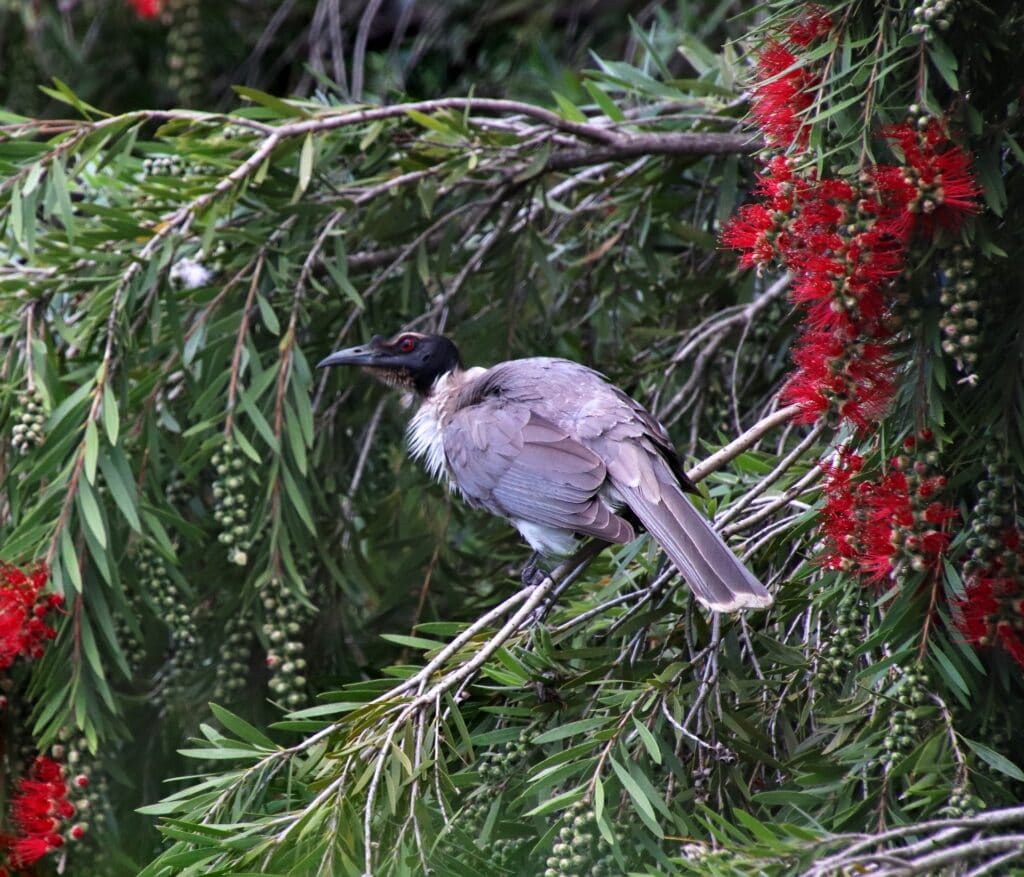 Friarbird in Dreams
Dreaming of a Friarbird may mean that one feels defensive or misunderstood. Friarbirds are often characterized as obnoxious or aggressive. This seems to be largely due to their noisy voices and tendency to attack or "swoop" perceived threats which venture too close to their nests. While this behavior may not be desirable for your average passerby, it obviously benefits the vulnerable Friarbird young to have parents who defend the nest so fiercely. Dreaming of a Friarbird may indicate that you feel as if others are misunderstanding or misinterpreting your actions or intentions. When you protect yourself and others, it may appear to the world as though you are hostile or aggressive. Try to focus more energy on your own intentions rather than the ways in which others perceive you.
Friarbirds may not look like romantic birds, but some species are known to be monogamous and to pair up for life. Dreaming of Friarbirds might indicate a desire to find one's soulmate. Especially when one feels misunderstood or at odds with most other people that they encounter, a Friarbird dream may represent the importance of having someone else out there who gets you.
Friarbird Encounters and Omens
Encountering a Friarbird may indicate a time of famine or struggle on the horizon. This is because Friarbirds are often maligned as agricultural pests, especially with regards to fruit farming.
Additionally, a Friarbird encounter may relate to timing. The raucous calling of the Friarbird is connected, in some parts of the world, with the passage of time. So, encountering a calling Friarbird may be a reminder of the movement of time. This can be interpreted as a reminder to "seize the day," because time stops for nobody. On the other hand, one might also think of this as a reminder that all things occur in their proper time, and that there is no point in trying to impose your own timeline onto the natural flow of time.
Friarbird in Mythology & Folklore
Friarbirds are found in a somewhat limited section of the world. Despite this, they do seem to have had a significant impact upon the myths and cultures of these regions. In this section, we'll cover a few myths in which the Friarbird makes an appearance.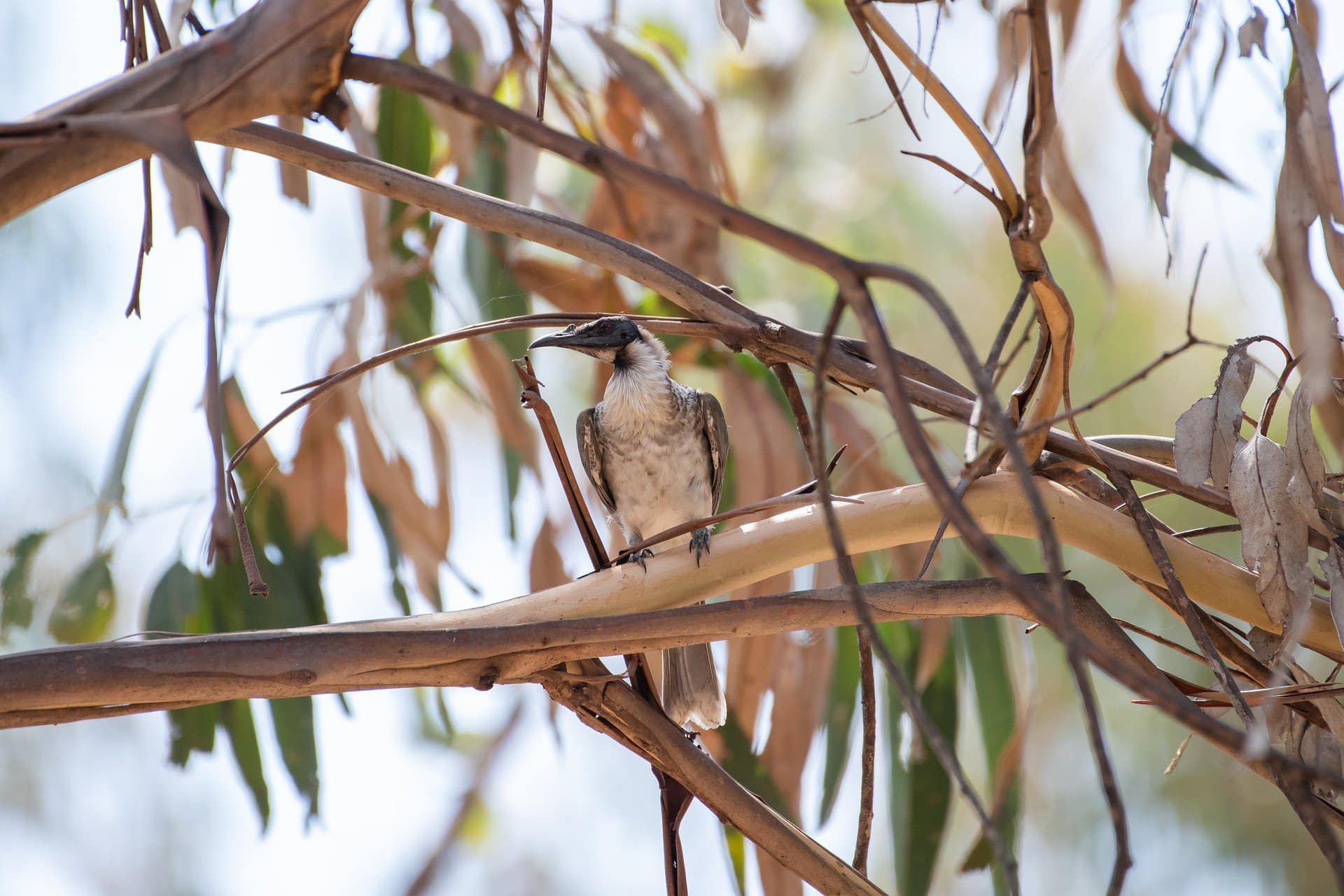 New Guinean Mythology:
By now, we've discussed the belief that the Manus Friarbird, or "Chauka," of Manus Island can tell the time with its calls, several times. This myth is of serious cultural importance, though, and it is worth mentioning that the Chauka is both a beloved symbol of Manus Island and of New Guinean heritage in general.
Indonesian Mythology:
According to Indonesian mythology, the world once consisted of just seven men and women who lived forever in eternal night. One day, the Friarbird had the idea that day and night should exist side by side and overtake one another in a continuous cycle. Friarbird also thought that it would be nice for the humans to reproduce and become numerous and to die at the end of their lifespans. The Imperial Pigeon hated this idea and wanted to prevent this change. After many contests to determine who would get their way, the Friarbird one and the world became the way that it is today. In retaliation, though, the bitter Imperial Pigeon threw hot porridge over the head of the Friarbird, forever scalding away its feathers. (8)
Aboriginal Mythology:
According to Aboriginal mythology, the first man was named Gajara and he shared the earth with his wife and sons. Gajara's sons were wicked boys and took pleasure in tormenting the Winking Owl, which happened to be one of the favorite birds of the creator. One day, the boys threw the Winking Owl so high into the sky that the creator could see its torment. So, angry at Gajara, the creator warned him and his family that the world would soon flood and they would die if they did not build a boat. When the rains came, Gajara gathered up the birds of the world, including the cuckoo, the Friarbird, and many finches. He brought them aboard his boat and waited for the floods to end. When the floods ended, the only creature left in the world was the Winking Owl, but Gajara released the birds which he had brought and from them, the sky was eventual filled with avian life once more. (9)
Friarbird Spirit Animal
If your spirit animal is the Friarbird then you are likely the outspoken gregarious type. People with the Friarbird spirit animal are never too afraid to speak their minds and stand up to the little injustices that they see. The Friarbird spirit animal can be quite brash, however people with this spirit animal are usually much more sensitive than they let on. The Friarbird spirit animal may defend itself prematurely because it is sensitive and afraid of vulnerability.
Friarbird Totem Animal
If your totem animal is the Friarbird then you likely have an honest spirit and a strong sense of personal responsibility. People with the Friarbird as their totem animal tend to be devoted to living an honest life. They may struggle to understand why other people's intentions do not line up with their actions. For the Friarbird totem, action and intention are one and the same.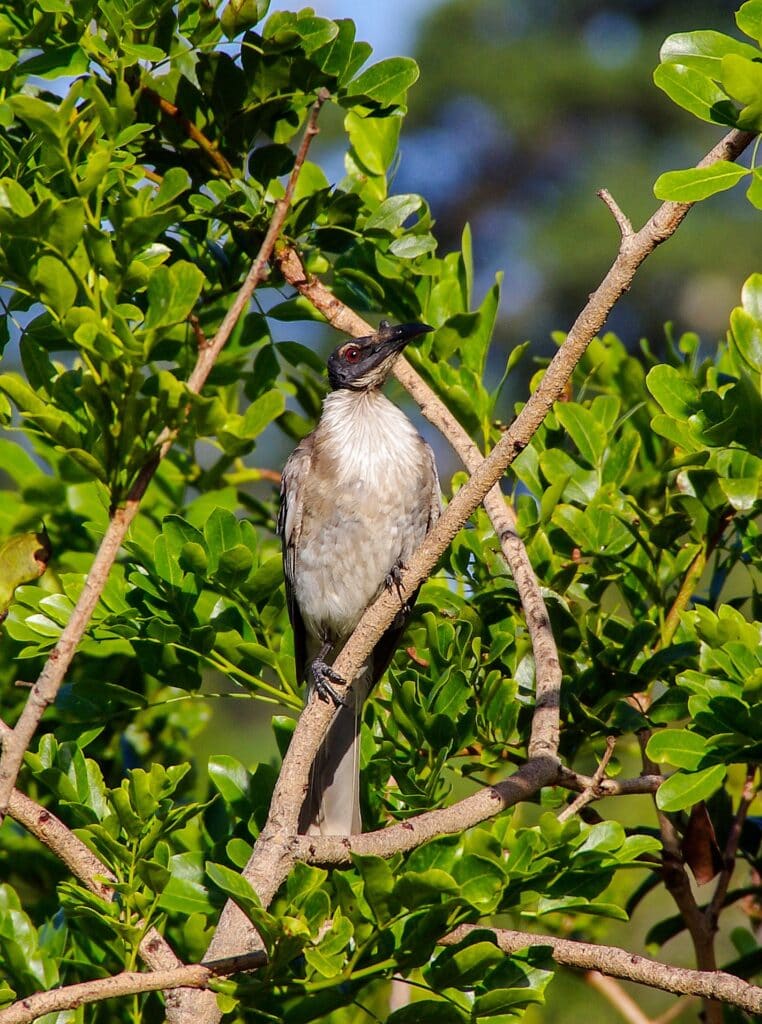 Friarbird Power Animal
The power of the Friarbird is timing. Many cultures associate this bird's vocalizations with the passage of time. The Friarbird power animal allows you to move through the cycles of life with patience and to live in the moment as each new change comes. Change can be frightening, but when the Friarbird's power allows you to tune into the natural timing of nature, changes begin to feel more natural and less jarring.
Friarbird Tattoo Meaning
A Friarbird tattoo may represent protection, aggression, or defense. In addition, Friarbird tattoos may represent somebody who is more than meets the eye.
Friarbird tattoos may be symbols of one's heritage or national or regional pride in the areas in which these birds are found.
A Friarbird tattoo may also represent timing.
Conclusion
Friarbirds may not be the most conventionally attractive birds around, but their charm becomes more evident the more you learn about these fascinating birds. With unique physical features and a distinctive cry that is part of the landscape in their native ranges, it is no wonder that the Friarbird holds such cultural significance to the cultures which have grown up alongside it.