Often seen but rarely given much attention, Cormorants, also known at times as 'Shags', are a group of aquatic birds that can be found by water bodies. Combining features of other water birds – the short legs and webbed feet of a duck with the curved neck of a heron – they are famous for their propensity to dive deeply for their food. Incredibly, some Cormorants can dive as deep as 147 feet (45 meters)!
Cormorants are somewhat of a divisive bird with a broad range of cultural opinions laid upon them. They have been the target of superstition and bad omens; attributed spiritual intelligence and mythological importance; highly prized as a source of food and fertiliser, and they have also been a valued companion to fisherman for centuries.
The word Cormorant comes from the Latin, meaning 'Raven of the Sea', after their inky colouration and the visual texture of their feathers, most having dark plumage although with some white patches on either side of their head. With their relatively short wings, webbed feet, blunted and hooked bills – they excel at underwater hunting. They are not however, the most graceful looking of birds and have been treated with indifference and even contempt by some cultures.
They have also come to be considered a dark or ominous figure – maybe due to the fact that they are often seen standing dead still with wings outstretched. They have also been thought to be ugly and gluttonous, and with their snake-like neck, they have been connected to evils and bad omens. (2)
Despite these connotations, many cultures have also thought Cormorants to be ideal fishing companions and good luck omens, wise spirits, and possessing Otherworldly powers. Cormorants can be revered as symbols of our own potential, of determination and resilience – there is no doubt that the Cormorant has much to teach us.
Cormorant Symbolism and Meaning
One unique and fascinating feature of Cormorants is that they don't have oil on their feathers as waterproofing like most birds. This allows them to get their feathers fully soaked so that they are less buoyant when diving. This amazing evolutionary adaptation represents to us that there is a conscious transition between air and water movement. It shows that, with proper planning, we too can transition between two differing states or situations. When we are prepared and are truly committed to being where we are, we create our own power in life's situations. Across the world, Cormorants are connected with energies of abundance and endurance and have been of great value to traditional peoples. (3)
Cormorant Native American Symbolism
In North America, they have been hunted for food and their skins have been made into ceremonial garments and headdresses. Indigenous groups from the northern parts of the continent, Arctic and subarctic areas respected the Cormorant as a powerful predator and believed that they held magical properties that enhanced spiritual insight. The skins of Cormorants were worn by Eskimo women during marriage and other dance ceremonies. Representing the predator of the waters, were said to protect the woman. (4)
Cormorant Christianity Symbolism
A Cormorant posing with its outstretched wings is thought to resemble Christ on the cross and has thus been portrayed in European iconography, armorial bearings, and coats of arms. The bird in this way has been connected with notions of nobility and sacrifice. (5)
The Cormorant has more often, however, been associated with darkness of character, gluttony, bad luck and even evil. In 1967, a famous poet named John Milton incorporated this symbol of the Cormorant as an evil-doer into his epic poem 'Paradise Lost'. In this piece Milton uses the personification of the Cormorant to depict how Satan sat in the Tree of Life, overlooking the happy pair in the Garden of Eden and plotted their demise. In the context of this poem, Milton makes the connection between the Cormorant and the concepts of greed and excess, that which Satan ultimately possessed in the biblical story. (6)
Cormorant European Symbolism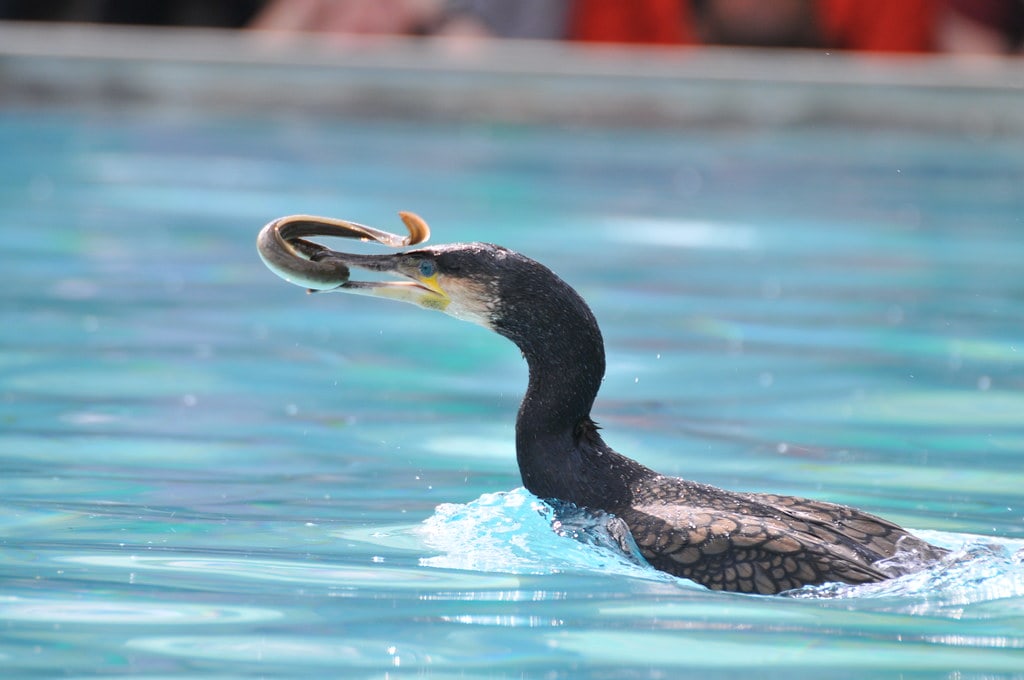 Since the earliest stories, Cormorants have more often than not been associated with darkness of character, gluttony and evil. The origins of this imagery are thought to be in the overall appearance of the bird. It's black plumage, its nearly silent voice and its snakelike neck. The way in which it perches, still, with wings outstretched, has been linked to images of the draping, dark cape of Dracula. (7)
European cultures, especially ocean faring people, associated the Cormorant with gluttony, greediness and bad luck. This is likely been due to the competition for fish people felt that they posed. Although in other parts of the world, the Cormorant was a common source of food, it seems that Europeans, at least people from the British Isles, thought the bird unclean and therefore not good for eating. (8)
Cormorant Latin American Symbolism
Cormorants have appeared in ancient art across Central and Southern America, suggesting a strong connection that these cultures had to the bird and their shared ecosystems. They have appeared frequently in pottery within the region, some have even identified the Cormorant on the ancient and mysterious Nazca Lines or geomorphs (9). They have also been valued since ancient times for their droppings – called guano, which is powerful fertilizer. In recent history, this even became Peru's largest exported good (10).
Cormorants have also been found frequently in Mayan pottery. It is said that the Mayan Rain God, Chac, shares similar artistic features to that of the Cormorant which may even be one spiritual aspect of the deity. One reason why Cormorants may have been idolised is their resemblance to a serpent, an animal revered by many cultures (and detested by others) – with their dark, sleek bodies and the way their heads and necks form a zig-zag or coil when flying and diving. (11)
Cormorant Japanese Symbolism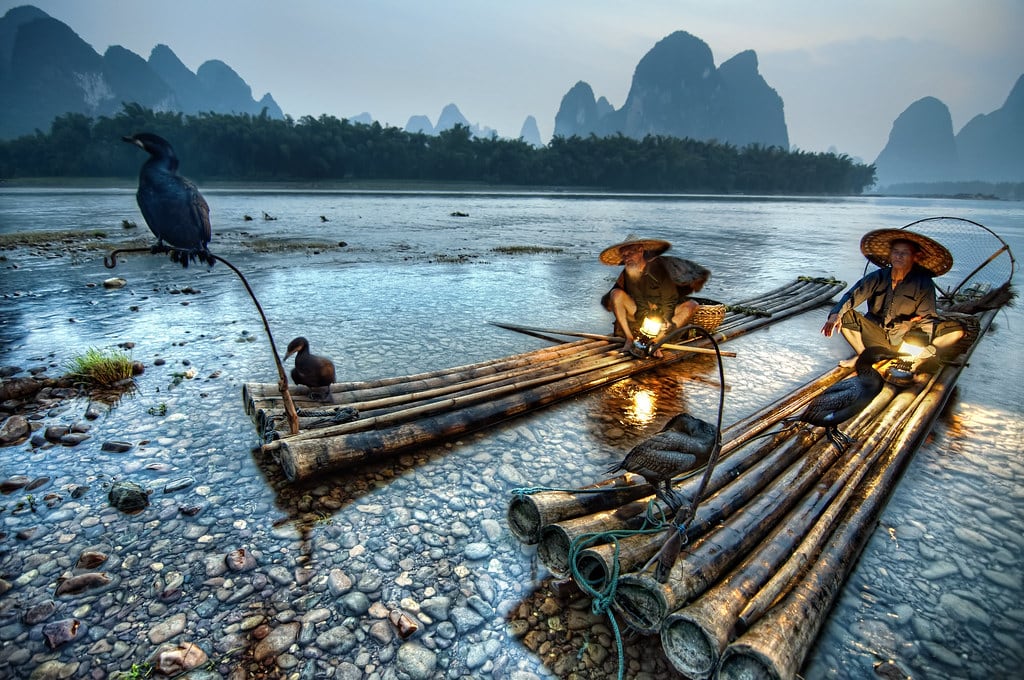 In Japan and East Asia, Cormorants were highly valued for their diving abilities. Used as fishing companions – a collar was tied to their throats in a method called 'Ukai' in Japanese, which allowed the birds to swallow only smaller fish and when the bird would catch a larger fish, this could be removed and kept by the fisherman. This fishing technique has been used in this region for more than 1300 years. A Cormorant image, or talisman, is said to bring luck to a fisherman and their vessel. Thus, to fisher cultures, the Cormorant has been a symbol of abundance and success. (12)
Cormorant Scandinavian Symbolism
In this region, Cormorants are considered a good omen and also connected to otherworldly realms. In Norway specifically, the spirits of the deceased that are lost at sea are thought to visit their loved ones in this bird's form. If three Cormorants were seen flying together, this is a message from a loved-one passed. (13)
Cormorant in Dreams
Dreaming of a Cormorant may mean that, like the bird who dives deeply to gather its source of energy, you too are conjuring up something from within your depths. These may be intellectual ideas that will bring with them wisdom that was lying undiscovered within your unconscious mind. If you have been practicing some form of introspection and self-examination, your Cormorant visitor is likely indicating that you are onto something! (14)
Cormorant Encounters and Omens
In Scandinavia, they are considered a good omen as they are the vessels embodied by the spirits of ancestors and people lost out at sea who are seeking to visit their loved ones. (15)
Contrastingly, in the Bible, and in other very early texts, Cormorants have been depicted as ravenous and evil, often as an omen for storms and death.
Cormorant in Mythology & Folklore
The Cormorant's relationship with human seafarers plays out in the mythological folktales we have to share today. Particularly northern European cultures had strong ties to the Cormorant and they were seen as a positive omen of good luck, dedication and reliability. These stories also tell of the role Cormorants played in religious morality, somewhat as wise gatekeepers and ultimate judges.
Celtic Mythology:
In the Celtic traditions of Ireland, it is said that the goddess Anu created the Cormorant to help find her husband when he hadn't returned from a fishing trip. The Cormorants were sent out on the search and finally found him on the other side of Lough Neagh. Upon successfully completing their mission, the Cormorants greeted Anu's husband with great animation, and like a great gift from the heavens, their wings with white undersides lit up the skies and scattered stars all around.
Scandinavian Mythology: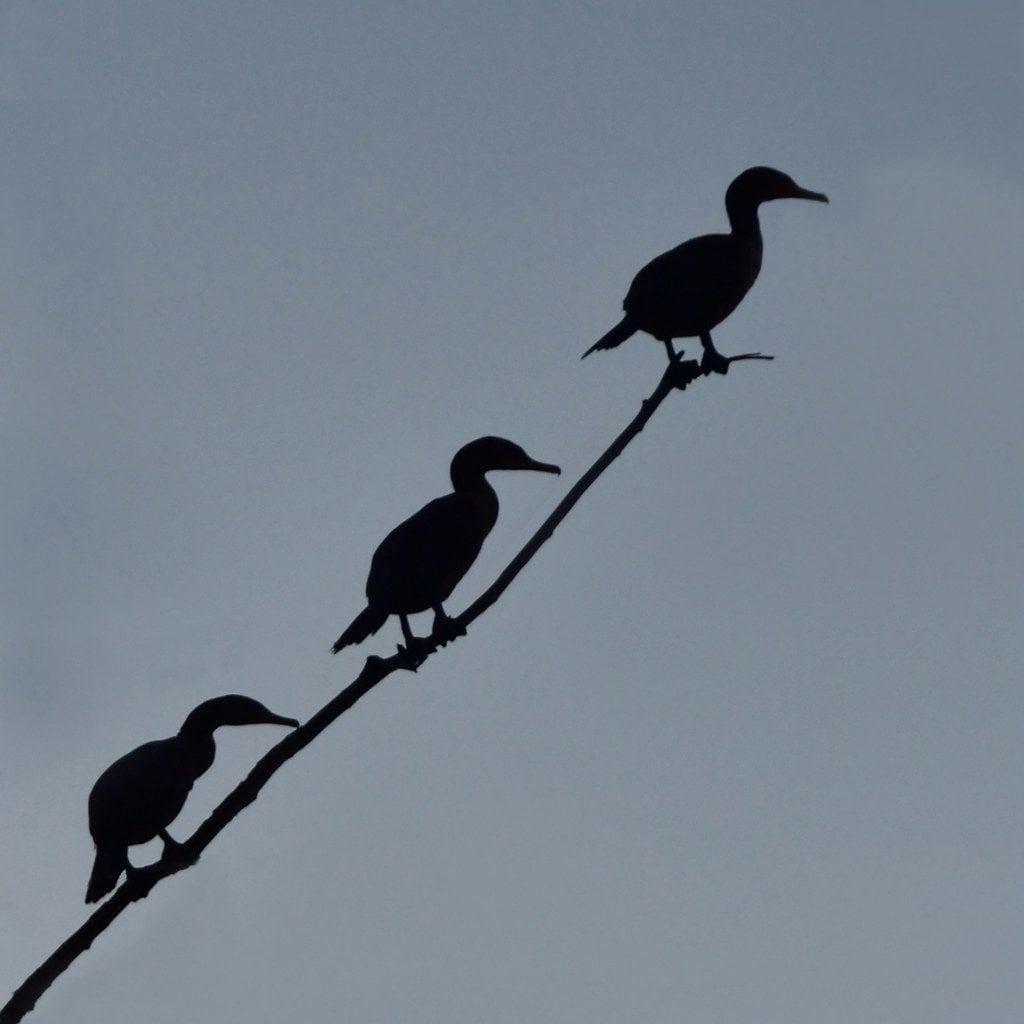 In the Norwegian tale 'The Fisherman and the Cormorants of Udrost', a Fisherman is adrift at sea in an angry storm until he hears a loud shriek. Thinking it the devil but having nothing left to lose, he follows the sound to find three Cormorants on top of driftwood. His boat miraculously finds land and the storm suddenly clears. The Fisherman realizes that his luck is doubled – he has landed at the infamous paradise island of Udrost, only found by pious sailors in need of help.
On the island, an Old Man with a white beard greets him and invites him to his home where the pleasures of food and drink seem endless. The Old Man asks if the Fisherman had seen his three sons who take the form of three Cormorants. Later the pair go out fishing with the sons and catch an almighty catch. The Old Man tells the Fisherman that to come to Udrost again one must be a believer and follow the Cormorants before Christmas. He again could fill his boat with fish so long as he is not sinful or impious.
Upon returning home, a neighbour of the Fisherman hears of the adventure and wants to visit Udrost to catch lots of fish. So when the Fisherman decides to follow the Cormorants before Christmas, so too does his neighbour. And although the neighbour was told to be careful as the Cormorants are not helpful to non-believers, he goes out and is never seen again, while the Fisherman returns again with a great catch. This story presents Cormorants as friends of true believers but adversaries of non-believers or the greedy. They can be guides to safety and bounty but also omens of demise to the unworthy, according to this Nordic Christian tale. (18)
Cormorant Spirit Animal
If a Cormorant shows itself to you, it may be there to communicate to you to dive enthusiastically onto the pathway of your goals and reach towards your greatest ambitions without hesitation. On this note, if you are one who doesn't stop until you get what your aiming for, you may be seeing this Cormorant in order to receive the message to take a break – stretch out, take in some sunshine – you need to rejuvenate before continuing with your life's work. A Cormorant may give you the moment to appreciate what you've achieved and how far you've come. (19)
Cormorant Totem Animal
Are you a bit of an overachiever, a go-getter, accomplishing what others think to be impossible while remaining remarkably balanced? If this sounds like you then you likely have quite a splash of Cormorant magic within you!
Cormorant people are friendly and accommodating and tend to take up many of the good opportunities presented to them. They are fast paced workers but also know how to chill out. Recalibrating and recentering is essential for people with the Cormorant as their totem – who plunge into whatever they're doing with great haste and precision. If they don't know how to rebalance, by getting some solid breaks, especially in the outdoors, they may lose their ability to stay afloat.
Given their obvious capabilities when it comes to getting things done and done well, there can be a tendency for Cormorant people to become bogged-down with the tasks of others. Being accommodating and helpful by nature means that others may want to exploit your capacity. Care should be taken to not allow others to take too much and deplete your energy. (20)
Cormorant Power Animal
Call on the Cormorant if you are feeling restrained or held back by someone. If you feel that you are a victim in a particular situation and can't move ahead, allow the spirit of the Cormorant to guide you. The Cormorant has been the victim – manipulated to do the tough work of others for thousands of years. This history of the Cormorant makes this animal spirit an important guide for those who need to release beliefs they have about themselves as the victim. This power animal can be a source of energy if you need to confront somebody who is causing you distress or if you've let some criticism get to you and you need to remove it from your psyche.
If you have a goal or vision that is requiring you to reach beyond what you know yourself to be capable of, Cormorant power will help you capture those dreams that you didn't think were possible! The Cormorant is expert at reaching great depths and striving for the next piece of life's puzzle. (21)
Cormorant Tattoo Meaning
The Cormorant is a symbol of hard work, courage and ingenuity. They know what they want and how to get it – and that this takes a lot of perseverance and self-belief. Cormorants always find a way to overcome the challenges ahead of them and succeed at reaching their goals. Having an artistic talisman may be your own good luck charm, bringing blessings of abundance and success.
Conclusion
Cormorants have taken a whole array of symbolic meanings for the cultures that know them. This is unsurprising given the enormous habitat range that they share with humans. They have been considered as powerful guides across the seas in Northern Europe, as well as the foe of fishermen in other areas. They have been the somewhat exploited friend of fishermen in East Asia and connected with the God realm as well as capitalistic resource extraction in Latin America.
For people that resonate with the Cormorant's way of life, you may want to remember the lessons of this animal spirit – if you want something you've got to dive right in, submerge yourself in the effort of what you're trying to do. This commitment to action is a symbolic meaning of the Cormorant.