Parakeet toys are essential for keeping them active and happy in their cage.
When looking for the best toys for parakeets, understand that their preferences can vary a lot, just like with humans. So just try and test with different toys and see which they enjoy the most.
We Recommend
Best Toys for Parakeets
1. Super Bird Creations Flying Trapeze Bird Toy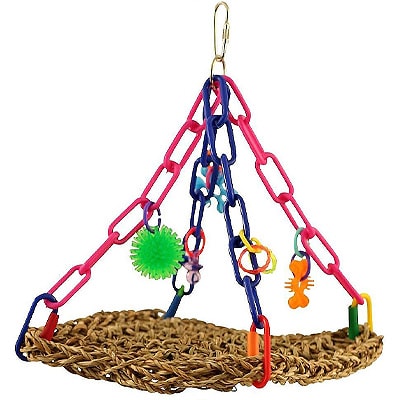 Super bird creations present us with another show-stopping toy for parakeets and other birds.
The flying trapeze bird toy helps beat boredom like no other toy.
As soon as you install the hanging budgerigar toys, you will notice your feathered pals flocking, swinging, and hanging from it.
The mat in the trapeze is made with natural seagrass and has colorful beads, chains, porcupine balls, and links attached to it.
The design and aesthetic appeal of the toy alone make the pet birds go wild for it. However, the design provides much more than just the basic visuals.
Super bird creation deliberately makes the toys in such a way that it promotes healthy muscles, balance, and coordination skills.
It also supports good foraging behavior. This is a favorite toy of small birds like parakeets, lovebirds, and cockatiels.
What we liked
Made with all bird-safe materials
Makes exploration, exercise and play easy
Provides a variety of texture
Perfect for small birds
Helps reduce boredom and stress
Provides daily exercise
Helps develop coordination, balance and foraging
Easy installation with pear-link connectors
Toy type: Chew toy
Materials: Recycled material, Plastic
Dimensions: 6 x 7 x 9 inches
2. Bonka Bird Toys Bellpull Bird Toy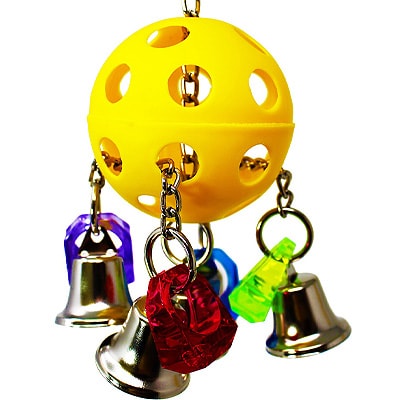 Bonka Bird's Bellpull bird toy is the perfect crime partner for all the parakeets' noises.
The toy features a brightly colored and attention-grabbing ball and dangling bells that come with different, vibrant, and varying colored acrylic rings.
This toy makes delightful sounds, perfect for capturing the attention of your bird.
The sounds, in addition to the bright and vibrant colors, make this toy ideal for holding the attention of the birds for hours on end.
You can even fill the ball with treats or paper to encourage foraging instincts. The plastic material and smooth surface of the toy makes it easy to clean. The strong construction material also makes it durable.
There are no open links in the chain or "S" features, which also prevents accidental injuries. Bonka Birds also make the toy easy to install by providing a quick link.
What we liked
Comes in different sizes
Lightweight weighing in only 1.92 ounces
Provides fun entertainment
Good for sensory stimulation
Durable and easy to clean
Easy quick-link installation
Allows for foraging activities
Toy type: Bells
Materials: Metal chain, Plastic
Dimensions: 9 x 4 x 3 inches
3. Planet Pleasures Pineapple Foraging Bird Toy
Topping our list of the best parakeet toys is Planet Pleasures's pineapple foraging bird toy.
The colorful and uniquely-shaped design of the hanging toy provides perfect stimulation for the birds to alleviate stress and boredom.
Planet Pleasures makes this toy with high-quality and all-natural material, which the birds can easily find in their natural habitat.
This quality makes it ideal for your bird's health. In addition to that, the fibrous material of the toy conditions the beak to prevent overgrowth, and the shreddable material prevents stress, boredom, and anxiety.
Plus, you can hide tasty treats in between the nips. This is one of the most lovable parakeets' favorite toys.
Additionally, the makers of this toy work hard to create 100% natural goodies, so you can rest assured that your parakeets' toy is an ethical and top-shelf product.
What we liked
Handmade, all-natural products
Encourages foraging by hiding treats between the spikes
Helps relieve separation anxiety and stress
Beak conditioning to prevent overgrowth
Prevents destructive behavior, like cage biting and feather picking
Comes in different sizes and colors
Best toys for budgies, parakeet, parrots, lovebirds, finch, cockatiel, cockatoo, canary, and amazon
Toy type: Chew toy
Materials: Rope
Dimensions: 5 x 2 x 2 inches
4. Super Bird Creations Rainbow Bridge Bird Toy
The third spot for the best budgie toys also goes to super bird creation, but this time for their innovative rainbow bridge bird toy.
The creators made this chew toy with bird-safe material, which frees you from worrying about their health.
The toy also features mixed elements like colored wooden blocks, dangling strands of pine blocks, hanging plastic chains, and wooden beads.
This rainbow bridge is ideal for perching, chewing, keeping fit, and fighting boredom.
The different textures and a variety of colors entice the little winged friends in the most satisfying way, consequently providing physical stimulation as well as mental peace.
The toy is bird-safe with natural construction material and perfect for everyday use. You can string this bridge horizontally or vertically on the cage with ease, thanks to the quick-link connectors.
What we liked
Uses natural elements like wood and pine
Ideal for chewing and perching
Satisfies the instinct to chew
Keeps bird happy, engaged, and mentally stimulated
The dangling features entice the birds
Different textures, shapes, and colors enrich the experience
Available in all sizes and suitable for all size birds
Toy type: Chew toy
Materials: Wood, Plastic
Dimensions: 11 x 2 inches
5. Planet Pleasures Spiked Piñata Natural Bird Toy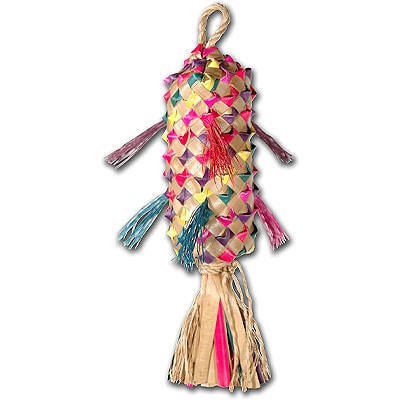 Planet Pleasures provide us with another chew toy that offers a treasure of perks and benefits.
The spiked piñata natural bird toy is a hanging toy made from all-natural and recycled material.
This makes the toy not only squawkingly good for your pet bird but also eco-friendly for the environment.
Is there a better way of feeding two birds with one scone?
The vibrant colors of the palm leaf streamers hanging from the toy are quirky and useful for brightening up the pets' surroundings.
Additionally, among all the homemade parakeet toys, except for our number one entry, this chew toy is of high-quality natural material that guarantees the safety of your bird.
The spiked piñata already comes in an enticing shape, but when Planet Pleasures adds in the varying colors, the toy becomes irresistible to the excited little birds.
This parakeet toy helps to curb the destructive behavior of birds like feather picking and cage biting.
What we liked
Handmade and high-quality toy
Made with 100% natural material
Gives the birds a sense of familiarity
Alleviates boredom by offering chewing surfaces
Shreddable material calms the stress and separation anxiety
Conditions beak and prevent overgrowth
Suitable for all birds because of its variety in sizes
Toy type: Chew toy
Materials: Recycled material
Dimensions: 11 x 2 x 2 inches
6. JW Pet Activity Birdie House of Mirrors Toy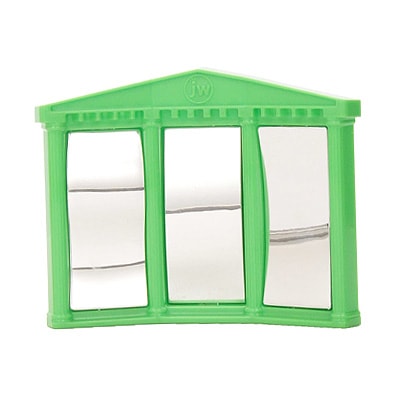 JW pet's Activitoy Birdie House of Mirrors Toy provides hours upon hours of fun entertainment for both you and your pet.
Watch the innovative design of the mirror house, captivate the imagination and attention of your birdie.
The shiny and reflective bird-size mirror house provides three interesting reflections; wacky bird, short bird, and tall bird.
Each mirror either enhances the natural appearance of the bird or distorts it in the most amusing way possible.
This activity of switching between different images provides good mental stimulation to the birds. The toy comes with a bolt-on attachment, which makes it easy for you to hang it anywhere in the cage.
This toy has a significantly longer lifespan than average chew or swing toys, which makes it perfect for parakeets and other similar size birds like finches and cockatiels. However, it is one of the best-known budgie toys.
What we liked
Captures attention by distorting the natural image
Innovative mirror house design
Bolt-on attachment makes installation easy
Mental stimulation because of all the shiny surfaces
Engages the motor skills of the birds
Relieves cage boredom
Comes in a variety of fun colors
Toy type: Mirrors
Materials: Plastic
Dimensions: 6.5 x 2 x 6.25 inches
7. JW Pet Activitoy Birdie Disco Ball Toy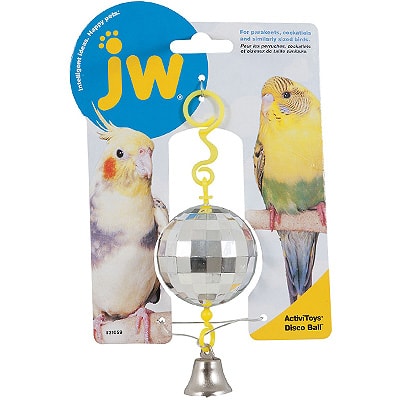 The Activitoy birdie disco ball toy is an interactive and fun toy that engages all the senses of your bird.
The shiny and tiny reflective surfaces of the disco ball, as well as the ringing bell, provide extra stimulation for your parrot and parakeet.
You can easily fasten the disco ball toy on a wire cage, branch, or most perches, thanks to the plastic hanger.
The hanger safely secures the toy in place and doesn't pose a risk of dropping down.
Also, regardless of where you put it, it is sure to captivate and fascinate your pet bird for hours on end.
Since this toy comes in two sizes, small and medium, it is suitable for respective sized birds like the parakeet, cockatiel, finch, lovebird, and canary.
What we liked
Interactive and fun toy
Plastic hanger safely secures the toy around the cage
Extra stimulation from the shiny surfaces
Ideal for small and medium-size birds
Comes in small and medium-size
The bell is lead-free and zinc-free
Lab-tested and safe parakeet toy
Toy type: Bells
Materials: Plastic
Dimensions: 8 x 5.25 x 2.25 inches
8. Super Bird Creations Crinkle Crinkle Little Star Bird Toy
Super bird creations present us with another chew toy, crinkle crinkle little star bird toy.
The toy features colorful plastic pony beads, crinkle shreds, and a bell.
In addition to these elements, the innovative star-like vine design keeps the bird sharp and alert.
This toy is the perfect answer to what do budgies like to play with.
The toy does this by bombarding the sensory abilities of the birds with varying shapes, colors, texture, and sizes of the toy elements.
Consequently, you will notice increased physical and mental stimulation in your birds right away. The toy is made from all-natural materials, which make it safe for chewing.
To all those with anxious and stressed pet birds, this is the toy that will help you form a connection with your bird.
What we liked
Made with bird-safe material
The shreddable colorful paper encourages chewing
Keeps the mind and beak active
Different textures encourage exploration, climbing, and perching
Satisfy the destructive instincts of a bird
Ideal budgie bird toys
Comes in small size and varying colors
Trustable, Safe and USA-assembled parakeet toy
Toy type: Chew toy
Materials: Grass/hay, paper, Plastic
Dimensions: 6 x 2 x 2 inches
9. JWPet Activitoy Birdie Guitar Toy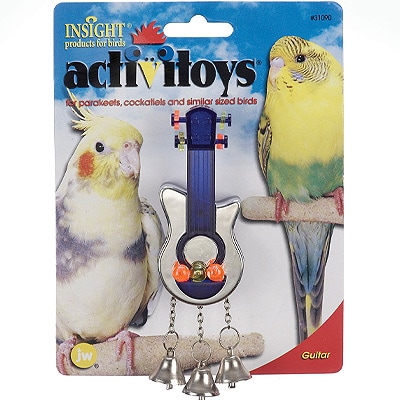 JW Pet gives us a fun, creative, and incredibly cute toy, activitoy birdie guitar toy.
This toy features plastic balls, beads, string bells, and chains, all of which engage the birds' senses.
This is why the birdie guitar toy is useful for providing stimulation and exercise.
The surface of the plastic guitar, as well as the metal bell, is shiny and reflective, which already wins it favors in the books of any pet bird.
Moreover, when you pair that with the captivating sound, texture, and color of the toy, we get an utterly enticing toy.
The toy has tiny plastic beads at the top and on the bottom, which the birds can pull to ring the bells. This is an ideal toy for parakeets, cockatiels, pigeons, doves, and similar size birds.
What we liked
The top tiny plastic beads spin to the tune
Dangling beads making ringing sounds when pulled
Stimulates and engages with multi-texture elements
Relieves cage boredom and stress
Engages the motor skills of the bird
Made from non-toxic and bird-safe materials
Easy to install and move around
Toy type: Bells
Materials: Metal, Plastic
Dimensions: 5.25 x 1.75 x 7 inches
10. The Aviator Bird Harness & Leash
The Aviator Bird Harness and Leash allows your birds to stretch their wings and fly without getting too far away.
The practical and highly functional purpose it provides makes this product more an accessory than a toy.
Aviator makes this harness with flexible and high-quality knitted straps that create a comfortable experience without restricting the movements of your birds.
The straps do not have any clips, buckles, or losses stitches that might risk accidental escape.
The high-quality construction material doesn't cause any irritation to the little featured creatures.
Also, the elasticity of the harness prevents sudden collision at the end of the length of the leash. This is a must-have in all the parakeet accessories that the market has to offer.
What we liked
Comes in a variety of sizes and colors
Features a unique welding process
No loose stitches, buckles or clips
Does not cause any irritation
Escape-proof with no accidental detachment of the leash
prevents sudden impact on the end of the leash
A t-shirt like a collar design that avoids wings
Toy type: Safety toy
Materials: Polyester
Leash & collar feature: Harness / leash
11. Wild Harvest Shreddable Bird Foraging Cubes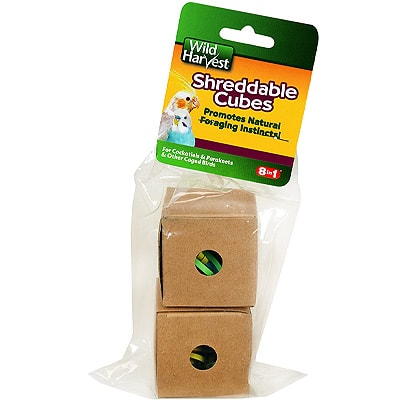 You can pique the natural curiosity and interest of your parakeets playing with Wild Harvest's new shreddable bird foraging cubes.
Each package contains two cubes filled with colorful papers for your curious bird to remove and shred.
You can put the cubes anywhere in the cage, like the bottom or any supporting tray.
The shreddable brightly colored paper helps with natural foraging instincts, relieving stress, and separation anxiety for your pet.
You can also put in tasty treats in the cubes as a reward system for their efforts. Among all the bird toys for parakeets, this one is by far the most satisfying foraging toy in popular opinion.
While it can work on any small to a large-sized bird, it is especially suitable for parakeets and cockatiels.
What we liked
Provides mental and physical stimulation
Perfect for encouraging foraging
Hours of entertainment
Promotes foraging behavior
Perfect for parakeets, other caged birds
Can be placed anywhere in the cage
Allows room for tasty treats
Toy type: Shreddable toys
Materials: Cardboard
Dimensions: 8 x 3 x 2.25 inches
12. Prevue Pet Products Mimic Me Bird Voice Recording Unit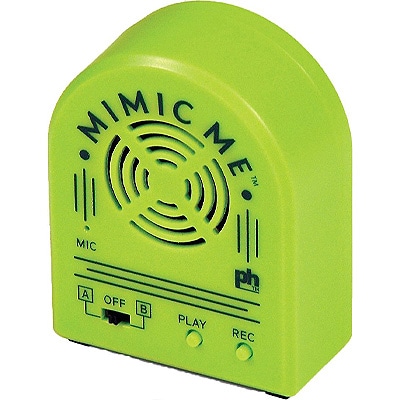 Last on our list is a Prevue Pet Product, the Mimic Me Bird Voice Recording Unit.
Among all the parrot toys, this unit is incredibly helpful for teaching your bird new words, phrases, sounds, and songs.
This is because speaking birds learn by repeating or mimicking anything they hear.
The Mimic Me Voice Recording unit is easy and straightforward to use.
All you have to do is record whatever sound you want your talking bird to mimic, and you play it on any one for the two given settings.
Mode A, or the first setting, allows you to repeat a recorded message 12 times and then stop. Mode B, or the second setting, allows you to play the recording 12 times every 10 minutes for a duration of 2 hours.
What we liked
Teaches birds new words, phrases and sounds
Comes with two different time setting choices
Simple and easy to use
Professional training tool
Provides intellectual stimulation
Requires 3 AAA batteries
Should be placed outside of the cage
Toy type: Mimic machine
Materials: Plastic, batteries
Dimensions: 2.33 x 1.25 x 3 inches
What Kind Of Toys Do Parakeets Like To Play With?
Parakeets are naturally playful birds, but they specifically like to play with swings, perches, climbing toys, chewy toys, and treat-rewarding toys. This is because toys belonging to these categories mimic the elements of their natural habitat, satisfy their inborn traits, feed their instincts, and even enhance their abilities.
If you get a toy that belongs to more than one category mentioned above, the variety will just excite and engage the bird more. Variety in texture, color, and function of the toy is what you should aim for.
To be specific, the toys and accessories that parakeets enjoy and like to play with the most include:
Balls and beads – Toys with balls or beads are a particular favorite of small birds, but you should not offer them to large birds to prevent choking.
Rings, ladders, and swing toys – These toys amuse and satisfy the gymnastic tendencies of the bird, like climbing and swaying.
Mirrors – Mirrors prevent loneliness by giving an illusion of another bird in the cage. It also encourages positive behaviors like chattiness and connectivity.
Noisy toys with bells – Bell toys are noisy, but they are also musical, which makes them pleasant for birds.
Related: 15 Best Parakeet Food to Keep Your Birds Healthy
How Should I Get My Parakeet To Play With Toys?
Parakeets are already curious creatures. That means being a little patient with them will get them to play with the new toy on their own. It might take several hours or several days, but they will show signs of interest in the new toy.
However, if you want to encourage your bird to play with the new toy, the following tips can help you a long way.
Try putting a treat on the toy in such a way that it's clearly visible. You can put in nuts or lattice or anything else that get them to open up to the toy.
If your birdie is well-trained, you can have your bird climb your finger and move your hand close to the toy to reduce their fear of it.
Try peaking the curiosity of your bird by sitting in front of the cage and playing with the toy. Make sure you are visible to your bird. Have fun spinning, batting, or peering in the toy, and when you are done, place the toy on the floor and walk away.
Like you, many parakeet bird toy creators also want your bird to play with their toy as soon as possible, which is why they design the toy in innovative and brightly colored ways.
Related: 10 Parakeet Treats to Make Your Birds Happy (2022)
How Many Toys Should A Parakeet Have?
A parakeet should have at least 10 to 14 toys at one time in their cage. This is because when it comes to toys, variety in texture, color or function is not enough; they need variety in the number of toys as well.
One or two toys are not enough to fight boredom. When pet birds are bored, with nothing new to do, they start developing stress, anxiety and nervous behavior, which only paves the way for their destructive instincts to take over.
If your bird is showing signs like pacing, cage-biting, feather-plucking or self-mutilation, toe-tapping, loss of appetite, aggression or repetitive behavior, it's high time you add new toys to their cage.
More toys also translate to the need for a bigger cage that facilitates easy navigation. As for older and birds of other breeds, a minimum of 5 toys should be enough since they are not that active.
Related: 12 Best Parakeet Cages (Flight, Travel & Playtop Options)
How to Pick the Best Toy for Parakeets?
When picking the best parakeets' toys, keep in mind the following points of quality and basic necessity, and consider them carefully before making the purchase.
Color – Make sure the toy you are getting is brightly colored that it can grab the attention of the birds.
Texture – While colors grab the attention, varying textures hold their attention as long as possible. The smooth, cold, warm, tickling, or vibrating sensations of the different textures provide various stimulation to the birds.
Size – The size of the budgie toys needs to be consistent with the size of your pet. If you have a large bird, it is better to avoid small toys as that can cause choking and other health hazards.
Sound – Try to go with a toy that makes amusing, musical, funny, noisy, or other exciting sounds, rather than a toy that doesn't make any noise at all. Noisy toys capture and retain the attention of parrots, which explain why bells are such a hit among pet birds.
How to Create a Parakeet Playground?
A parakeet playground is a miniature size fun area that you build for the entertainment and engagement of your bird. Ideally, a parakeet playground should have a variety of textures, colors, shapes, sizes, and other elements that stimulate a bird's senses. You can find these elements in foraging, treat, climbing, swinging, perching, and bell toys. These toys will provide enough physical and mental exercise to your bird to keep them happy, healthy, and stress-free.
You can make a DIY parakeet playground by placing these types of toys and more in a manner that resembles their natural habitat. You start by gathering all the essential tools and supplies and cresting the central and side poles.
Start by joining together the poles to create the structure. Meanwhile, secure a low element and crossbar, which will act as a sturdy foundation for your structure to stand or hang on. Once you have the basic structure ready, you can add toys and customize it as you like.
Make sure you place elements with porous surfaces like rope and wood, in a place where they cannot be pooped on. Regardless of their condition, you should change these elements every 6 top 8 months. Since plastic and metal can easily be cleaned, sanitized, and used again, you can change and reuse them as you wish.
What to Avoid When Buying Parakeet Toys?
When buying parakeet bird toys, make sure you avoid the following:
Nylon ropes because they are strong, so if your bird gets tangled in them, it can result in cuts and other injuries. Instead, use 100% natural fiber ropes of cotton, jute or sisal.
Sharp edges and open link chains, bent wires, or "S" links, as they can hurt the beak, tongue, or toes of your birds. Instead, make sure all the ends are welded shut.
Cader, plywood, red cherry, and oak wood toys. Instead, go for pine, balsa, ash, apple, elm, walnut, basswood, birch, or manzanita because these are few of the safer types of wood that birds can use.
Galvanized or zinc-coated chains and components as they are toxic. Instead, use stainless steel replacements.
Leather dyed with chemicals like formaldehyde and chromium. Instead, make sure the leather items you are using are vegetable-tanned only.
Unsecured clappers in bell toys, which birds can easily swallow and choke on them. Instead, the clappers are safely fastened or welded and are not lead, which is toxic to birds.