The best way to attract birds to your yard is with a solar bird bath, period.
If you have a pond or existing bird bath, then get a solar-powered water pump instead.
Understand that birds don't want to swim; they want to stand and walk around in the water, so don't get a too deep bath (or put stones in it to raise the depth).
The best solar bird bath is physically stable, isn't too deep, and comes with a durable water pump. Here are our favorites.
We Recommend
Best Solar Bird Bath
1. SmartSolar Solar Bird Bath With Water Pump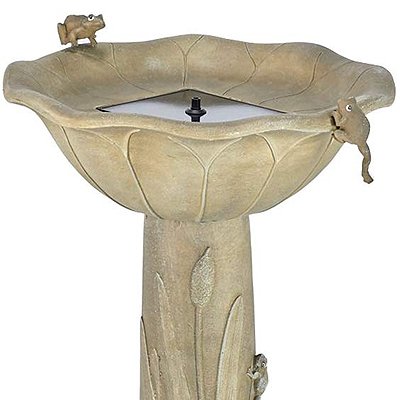 The SmartSolar Solar Bird Bath is the best all-around solar option out there. It's a heavy-duty bird bath that will maintain its position even in extreme conditions, or when unwanted wildlife tries to get a sip from your bath.
It's the best for birds because it has the right depth of 1.3 inches, which is ideal for birds. Remember, birds don't want to swim, they just want to splash around.
This bird bath has a nice and compact design. You can conveniently place it anywhere in your garden, patio, or balcony. It looks pretty nice, but I need to mention the fact that it is only operable in direct sunlight.
So this is not the right option if you live in an area that doesn't see much sun. SmartSolar has made it with fiberglass and reinforced it with concrete.
This is a traditional single-tiered bird bath. It attracts birds when it is running.
Highlights
The best option for attracting birds
An ideal depth for birds
Low maintenance: simply drain, wipe down, rinse and refill
Compact size, fit in anywhere
Comes with a durable solar water pump
Concrete reinforced fiberglass construction for durability
Low to no maintenance
2. SmartSolar Louisa Ceramic Bird Bath With Water Pump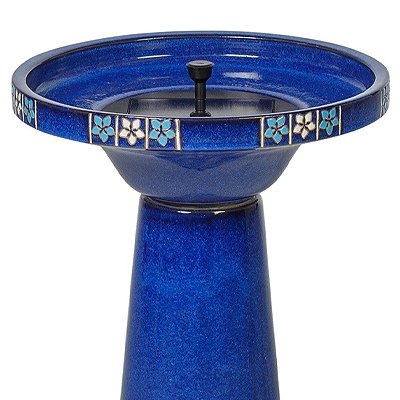 The SmartSolar Louisa is the best elegant solar bird bath option out there. It's an elegantly designed bird bath made of ceramic. It has a premium look thanks to the glazed royal blue ceramic.
It also features a solar panel that can absorb the energy from the sun and power the fountain. One thing to note is that it does require direct sunlight in order to work, so cloudy days might not be that ideal for this bath.
The bath comes with various fountain heads for different water movement options which is a nice touch. You can test and see which ones attract birds the most.
This is a fountain that focuses more on the looks of your garden, while of course, attracting a few birds in the process as well.
Highlights
Looks extremely elegant and exquisite with blue finishing
Has the perfect depth for birds to splash around
Includes bubbler and 360-degree spray topper for desired water effect
No-wiring which is perfect for ease of use
The solar panel can absorb the energy that powers the fountain
Best for wide areas and large gardens
3. Viajero Solar Fountain Pump With Battery Backup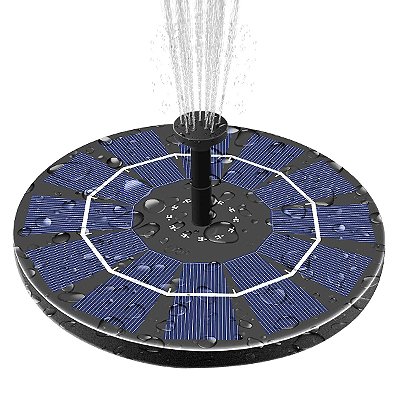 The Viajero Solar Fountain Pump is the best option if you have a pond or an existing regular bird bath. Just throw the fountain pump into it and you get moving water that attracts wildlife.
This solar fountain pump comes with a 4W solar panel that works in tendon with a 3000mAh battery backup. And unlike most solar bird baths, thanks to the battery backup, this works the entire day (even in cloudy conditions).
This fountain will carry on its operation even if 3 or 4 of the panels are covered with organic debris. The solar panels are covered with PET lamination to keep them safe from elements.
This floating fountain just requires a pool of water where you can place and the birds will come habitually. Nevertheless, you will need a pool big enough to place this fountain.
Highlights
The best option for an existing bird bath or pond
Great value for money
Works well on cloudy days
Comes with four different water nozzles
Use this fountain to convert any pool into your bird bath even your swimming pool
Solar panels have PET lamination to keep them safe from external elements
3000mAh battery works with the solar panel to keep the show on for an entire day
4. Accent Plus Wishing Well Solar Fountain With Pump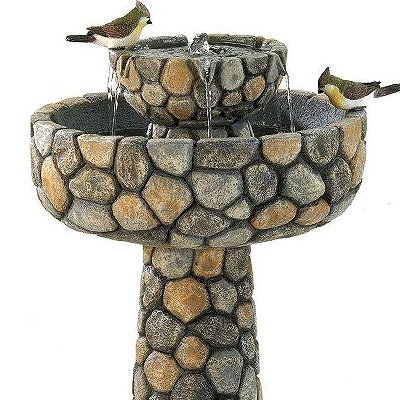 The Accent Plus Solar Fountain is a great fountain for attracting birds. Even on cloudy days, it runs for quite a while, makes a nice gurgling noise that birds like.
Accent Plus has made this bird bath and fountain using polyresin and stone powder. This bird bath looks exceptional and is 25-inch high.
The 15.375-inch wide bowl is ideal for all kinds of small birds to come and have fun in it. They can splash around all they want in this bird bath under the fountain.
It has a fieldstone imitation design and it looks as if it has just come out of a manor garden.
There are two tiers of bowls where the water will circulate and fall in. You will also get a solar pump and an electric adapter. However, this bird bath is not suitable for regions with extreme weather.
Highlights
Works for a while during cloudy days
Also looks great at the night thanks to the low-voltage LED
Made of poly-resin material with stone imitation
Comes with a solar panel and an electric adapter
Two-tier bowl with plenty of space for the birds to enjoy themselves
Will fit in any outdoor space
5. Best Choice Products 2-Tier Pedestal Solar Bird Bath Fountain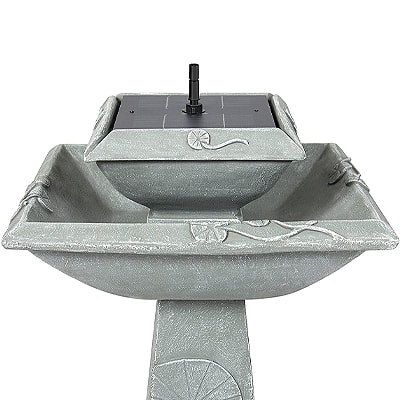 The Best Choice Products 2-Tier Pedestal Solar Bird Bath Fountain is yet another good option if you want to add a solar bird bath bubbler to the garden without spending thousands.
The fountain features a pedestal design with a two-tier construction at the top.
There are floral designs engraved on the pedestal, adding to the overall aesthetics that the fountain brings to a garden.
A solar panel is built into the fountain, making it easy to set it up. A storage tank is included to ensure water is always available in the device.
There are also integrated LED lights, which can be turned on at night to add a lighting feature to the garden. The two-tier design makes it easier for birds to enjoy the birdbath, while the constant movement in the water helps to attract birds to your lawn.
The device does have a somewhat heavyweight, weighing 14 pounds in total. There is no battery backup system, however.
Highlights
Built-in LED lights
Integrated solar panel
Two-tier design
Long pedestal
Modern design
Easy to assemble
Sturdy construction
6. ROADTEC Upgraded 2.4W Solar Fountain Pump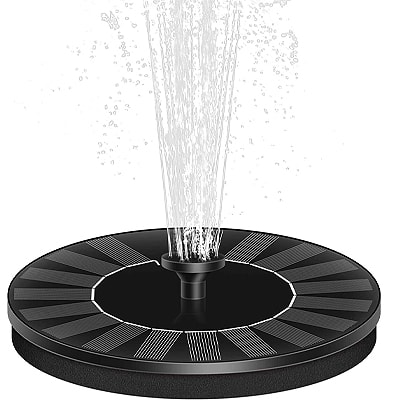 The ROADTEC Upgraded 2.4W Solar Fountain Pump is a new version of an old model the company sold.
This solar-powered fountain pump features a solar kit built into the device.
It has a small form factor, which makes it easier to place in small gardens.
It is a complete solar fountain kit that is great for people who want a freestanding solution.
It features a 2.4W solar power system. There is a built-in battery backup system. This helps to provide some charge to the device for times when the sun is not out.
The solar garden fountain comes with a built-in blocking system. It will shut off if the sprayer is blocked or if no activity is detected for a period of 15 seconds.
A water level monitoring function is built into the solar water fountain. This makes it easier to see when you need to refill the water inside the tank that comes with the fountain.
Highlights
Freestanding design
Comes with solar panels
2.4W solar power kit
Battery backup
Compact size
Water level monitoring system
Blocking protection system
7. Garden Style Solar Bird Bath Fountain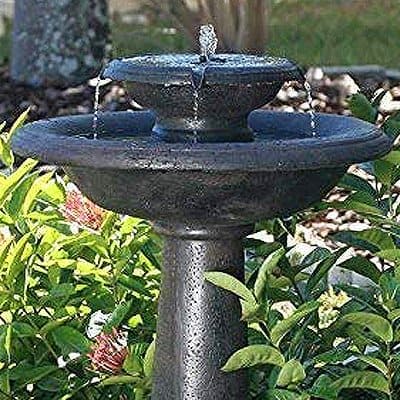 This solar fountain adds a modern-day convenience to your beloved garden with its solar power capabilities.
In terms of looks, this fountain has a traditional finish of oil-bronze that will add to the beauty of your surroundings.
This fountain will run on demand and it is not limited to work only when the sun is out.
This will allow you to save energy and the fountain will be able to run on anything to keep the show going.
The extra power is stored in the battery, so your fountain will continue to run even when the sun goes down.
On the solar pane, there is an on/off switch. This switch allows you to operate your fountain whenever you want it. You can conveniently place this fountain even in tight corners because it won't take much space.
Highlights
Elegant oil-bronze finishing provides a traditional look to your garden
The double-tiered fountain provides extra space
The battery can store solar energy allowing you to run the fountain even when the sun is down
An on/off switch to run the fountain on demand
8. Smart Solar Somerset Verdigris Solar Bird Bath Fountain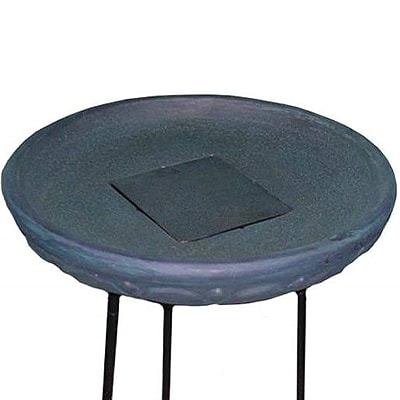 The Smart Solar Somerset Verdigris Solar Bird Bath Fountain is a good option if you have a low budget.
This is one of the most affordable solar bird bath fountain pump products that you are going to find.
It features a very basic design, making it easier to blend into a variety of garden and patio décor options.
The birdbath fountain was specifically designed to help attract more birds into your garden. It features a built-in solar power kit. This ensures solar energy can be collected to ensure the fountain system can continue operating.
There is a reservoir cover that comes included with the package. This helps to prevent infestations from mosquitoes and other insects. The device does not function in cloudy weather, but still water can still be provided to birds.
This provides them with a birdbath even when the sun is not out. The fountain features a plug-and-play operation with no power cords to worry about.
Highlights
Low price tag
Small form factor
Easy to install
Versatile usage options
Elegant design
Low power consumption
Reservoir cover included
9. ECO-WORTHY Solar Fountain Water Pump Kit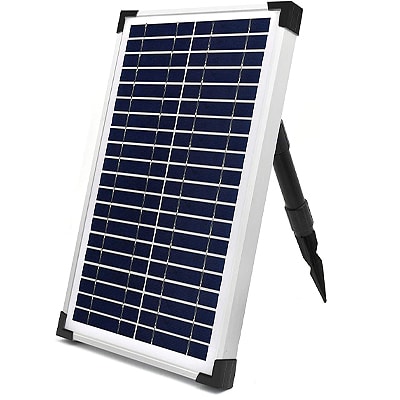 The ECO-WORTHY Solar Fountain Water Pump Kit comes as a complete set to help you save money in the process.
It is also a durable and high-quality solar-powered water fountain, providing a lifespan of more than 20,000 hours.
This product can also be used in an electric bird bath fountain setup, as it can be hooked up to a power source.
The kit comes with a submersible pump and a separate solar power kit. This makes it easier to set up a custom bird bath fountain in the garden.
The solar panel does not have to be situated at the same spot as the pump – you can have the pump in a shaded area, while the solar panel points to the sun.
The solar-powered fountain features a 12W solar panel. This provides adequate power generation to help power the fountain.
An aluminum frame is used to add more durability to the panel, ensuring it will last longer. There is a 16 feet cable included with the kit.
Highlights
Submersible pump
12 Watt power
160GPH
16.4 feet cable
20,000+ hours lifespan
1 Year warranty
Plug-and-play system
What we didn't like
Limited warranty
Needs to be plugged in
Not the best for large fountains
10. Sunnydaze 2-Tier Solar Powered Outdoor Water Fountain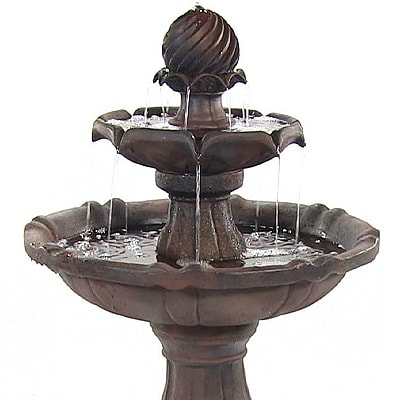 The Sunnydaze 2-Tier Solar Powered Outdoor Water Fountain is another excellent option for setting up a solar birdbath fountain, featuring a rustic design and a two-tier system.
The rust finish adds to the aesthetics of these solar water fountains.
The two-tier system also adds a new great way to ensure the water in your solar power birdbath fountain keeps moving.
The water fountain features a relatively compact size, while still providing a full feature fountain. It can easily double as a solar-powered birdbath too, particularly due to the two-tier design. It measures 23 inches in diameter and 34.5 inches in height.
The pedestal has a height of 16 inches. The fountain can hold up to three gallons of water at a time. A high-quality resin material is used in the construction of the fountain.
This helps to make the product more durable for outside use. Fiberglass is also used to reinforce the fountain. The solar panel can be mounted at a separate location to ensure it remains in direct sunlight.
Highlights
Comes with fountain
Two-tier design
Battery backup included
34.5-inch height
Features a rust finish
No need for an extension cord
Comes with a warranty
11. Smart Solar 20326R01 Umbrella Series Solar Fountain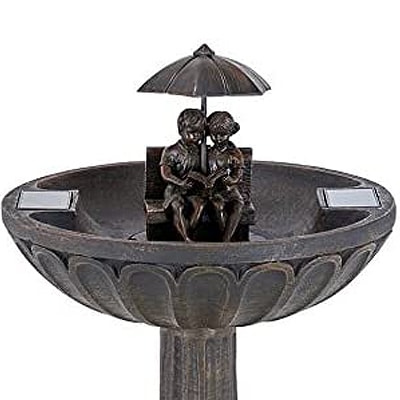 The Smart Solar 20326R01 Umbrella Series Solar Fountain was developed to provide a more powerful system through the use of a dual solar panel design.
The dual solar power system can draw in more light from the sun, ensuring there is more power to keep the fountain running.
The solar-powered birdbath fountain also offers a unique design that features a rustic, aged bronze finish.
The sculpture is also added to the top part of the solar fountain. The sculpture features an umbrella, along with a girl and a boy on a bench. This adds a classic décor option to your garden.
Smart solar technology is also used in the design of this fountain. It allows the fountain to operate with a power-efficient system.
This ensures the fountain does not waste unnecessary energy, especially in times when it is cloudy.
Highlights
Unique décor
Aged bronze finish
Sculpture included
Dual solar panel design
Direct sunlight operation
Compact design
Small solar panels
12. Sunnydaze 4-Tier Outdoor Water Fountain with Fruit Top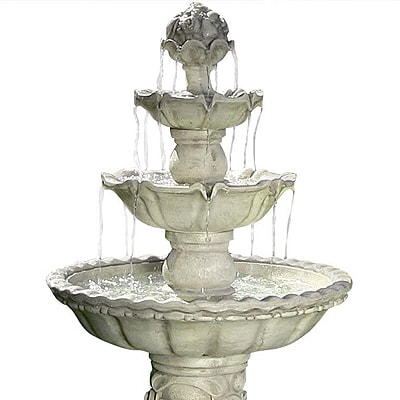 If you are looking for a bigger solar fountain birdbath, then the Sunnydaze 4-Tier Outdoor Water Fountain with Fruit Top is an option to consider.
This is one of the larger options that you are going to find on the market, with a height of 52 inches.
It has a diameter of 31 inches. The fountain does have a heavier weight than most of the alternatives, weighing in at 62 pounds.
The solar birdbath features a smooth flow of the water in the fountain. This provides soothing sounds while also ensuring there are fewer water spills from the device.
The fountain also features a classic design with a sculpture of fruit at the top. Fiberglass is used in the construction of this fountain.
This material is known to be durable. The material selection ensures the fountain is able to withstand outdoor weather conditions and resistant wear over time.
Highlights
Large multi-tier design
Fruit top sculpture
52-inch height
Durable material selection
Fiberglass construction
Smooth water movement
Easy assembly
Types of solar bird baths
Free-standing pump
This pump is quite popular because of its durability and solid construction. It houses a good quality solar panel that can accumulate energy easily from the sun for keeping the fountain operational without any issues.
I love its mechanism that works with a bird bath fountain or even a small pond. The pump has the ability to maximize the oxygen content that flows through the bird bath and improves water circulation.
Floating fountain pump
This unit is quite popular because of its plug-n-play capabilities. It can start working immediately when you are done with the setup. It doesn't come with a power storage battery, so this unit is entirely powered by sunlight.
The pump is available in different head and neck lengths so you can utilize it in several ways. It is effortless to install and maintain.
What I love about this pump is that it can conveniently circulate water across your garden and helps in improved oxygenation. Your birds will remain in a nice and tidy environment.
Solar pump kit
This kit is directed towards increasing the oxygenation of your pond and improving water circulation at the same time. This is a true economic option for those of you who are short on budget.
But you won't have to compromise on the beauty and ambiance that it can create in your outdoor space. It comes with a removable nozzle; cleaning and maintenance is a breeze.
Pedestal bird baths
These are conventional in their design but available in many colors. These are one of the best bird baths out there, as they come with a large-sized bowl that offers plenty of space for different birds to come and have while splashing or drinking water.
You can place small stones or gravel layers under the basin to provide the birds with solid footing so they can feel safer during splashing.
Also read: 11 Best Bird Seeds in 2022 (to Attract Songbirds)
Already have a bird bath? Do you need a new one?
This is a valid question because you won't find it compelling to invest in a new bird bath if you already have one. If you have been struggiling attracting birds you might need a new bird bath more than you think!
It might make a lot of noise
If your current one works on a pump or electricity, there will be some cords. And the pump itself makes a lot of noise. This can be a scare factor for the birds and they will be hesitant to visit your place (2).
It might be too deep
Old fashioned bird baths are too deep and these are not ideal for the birds. They love shallow water to drink and bathe. This is essential for them to keep their feathers clean.
Therefore, you need to go for a bird bath that is not too deep and allows the birds to bathe conveniently.
The best bird bath
To keep things tidy and quite you need to buy a shallow solar bird bath for your garden (3). If you already own a bird bath, you can add the solar-powered bird bath fountain kit to it.
You will not only manage to save on utility bills but can also create a nice and cozy environment for the feathered friends. I would recommend you to go for a solar pump kit because it is effortless to install and maintain.
Back in the day when I converted my standard bird bath to solar, I found that a number of different birds found their way to my garden and they stayed there for a long time too.
This all happens due to the quiet operation of solar units. By removing the tangling cords, the lawn looks nice and clean too. The best part was the insects in that area declined too.
You can go for an integrated kit if you live in an area where there is not much sunlight available. However, if your bird bath is already working well and is being visited by the birds despite being too noisy, don't go for a solar option
Tips for using solar bird baths and fountains
As a bird lover, by following pro tips, you can treat yourself with birds whirling around your bird bath.
Keep your pump clean because it can get clogged with organic and bird debris. Most of the pumps feature a spongy plastic filter. You can clean it with a nice blast using a hose. Or you can use a weak bleach fluid for cleaning it. Make a solution of 1 part bleach and 9 parts water and rinse the filter well. As disappointing as it may sound, but there is no self-cleaning pump available on the market as yet!
Keep the water clean and don't let it be filled with bird waste. This is not good, both for the pump and the birds.
Use a stiff-bristle brush to clean the pump. You can use the bleach solution here again if the bird bath is really dirty.
Don't allow the water to get too low either. If the pump keeps on running dry, you will damage it. This will also affect your solar bird bath bubbler.
Go for an adequately deep bird bath. Running a fountain will increase evaporation in the bath. Therefore, you will need a high volume of water with a deep bath. The water in the bath should be enough to cover the pump (5).
Place your bird bath where you can conveniently enjoy the show. Moving water is a bird magnet and you need to place the fountain where you can see everything (6).
Your bird bath must be able to withstand the elements. This is due to the fact that you will most probably place it outside where it is exposed. So, it needs to be made of heavy-duty materials, so you don't have to think about bringing it in. For colder months, consider adding a heated bird bath.
Related: 12 Simple Tips to Attract Birds to Your Bird Bath (2022)
How to choose the right solar bird bath?
Size of the pump
Bear in mind that you should base the size of the solar bird bath pump on the size of the fountain. There are specific considerations, including the water amount that you would like to pump, whether it be low or high volume.
This also brings in the height at which the pump is able to regulate the water.
Materials
Birdbath manufacturers use different types of materials for constructing these beautiful garden add-ons. You can go for metal bird baths featuring brass or copper. They are durable but are prone to rust if you don't maintain them properly.
Glass, shell, and stone mosaics are also available. They look classy but are delicate. This isn't the case with marble. It all boils down to your personal preferences.
Double or single-tiered fountain
You can choose a single-tiered fountain or a double one. However, the double-tiered fountains look good in large outdoor spaces and the single-tiered fountains are good space savers because of their small size.
Power and size of the solar panel
If you are looking to run the fountain 24/7, it is going to need a high powered solar panel.
If the size of the pump is large and it will circulate plenty of water, then you will need a large solar panel for that too. But of course, for a large unit, you will need to have a large space.
FAQ
What is the best solar powered bird bath?
The Best Choice Products 2-Tier Pedestal Solar Bird Bath Fountain adds an LED feature to your garden, while also providing a tall design that makes it easier for birds to enjoy the product.
What is the best solar fountain?
The ROADTEC Upgraded 2.4W Solar Fountain features a compact size and a built-in battery backup, ensuring the fountain works even in cloudy weather conditions.
Do solar fountains really work?
Solar fountains can provide a sufficient energy option – but the solar panels do need to be in the right position and be exposed to the sun.
Do birds like water fountains?
Birds do generally seem to enjoy water fountains, particularly due to the moving water. The birds will generally investigate when they hear the water.
Why won't birds come to my birdbath?
A common reason is the failure to have running water. The bath may not provide adequate shelter. The position of the birdbath should not make the birds feel exposed. Position it near a bush, preferably.
Should the water fountain run all the time?
Yes, it is a good idea to keep the fountain running at all times, as moving water is cleaner and may attract more birds.
Are solar water pumps any good?
A solar water pump with an included battery that can be charged through the solar panel provides an effective way of setting up a fountain without connecting it to your in-home power grid.
Should a birdbath be in the sun or shade?
The birdbath itself can be added to a shaded area, particularly close to bushes, but the solar panel will need to be placed in an area where it will be exposed to the sun.