From autumn till the beginning of spring, food sources for the birds become limited with the drop in temperatures.
Wintertime is pretty awkward for any bird lover because there are no birds to watch.
However, if you have some plants that attract birds in your lawn, then your shows will carry throughout the year, let alone winter.
In this guide, we will present you with a list of such plants that attract birds and their different characteristics.
1. Cornflower (Centaurea Cyanus)
Season: Spring and early summer
Birds that love them: Most songbirds, goldfinches, waxwings, bluebirds, phoebes, and towhees.
These annual flowers belong to the Asteraceae family, and the color of their foliage is green. The blue-colored flower looks beautiful, and it grows in the months of May, June, and July. The size of the plant when fully grown is 90cm in height and 30cm in the spread. It is best to grow this plant right at the front of your border facing south or west.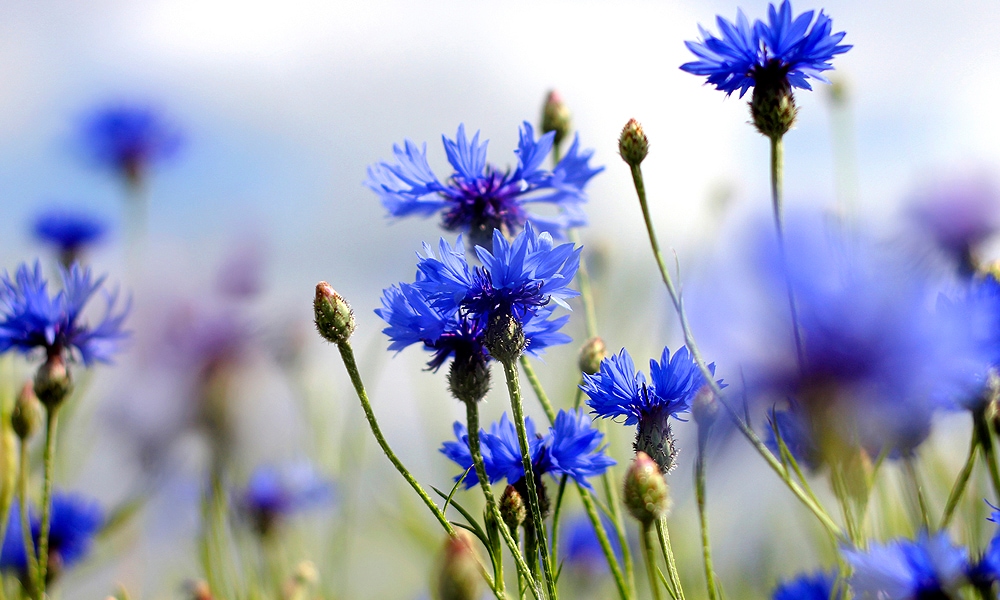 It grows well in various solid types, including well-drained, light, and sandy soils. These backyard plants also grow in alkaline, chalky, moist, and heavy sand as well. The best time to sow these plants is March, April, and May.
The foliage, sap, pollen, and seeds of these yard plants, which are also widely known as the bachelor's buttons are very nourishing for different types of birds. They are equally good for the nourishment of bees as well as butterflies.
Related: Best Solar Bird Bath Fountains & Pumps (2022)
2. Elderberry (Sambucus Canadensis)
Season: Spring
Birds that love them: goldfinches, robins, orioles, waxwings, bluebirds, phoebes, towhees, grey catbirds, house finches, hermit thrushes, buntings, kingles, northern cardinals, flickers, mockingbirds, woodpeckers, red-eyed vireos, grosbeaks, tanagers, and warblers.
It is one of the best plants to attract birds of different kinds all across the North American continent. This shrub can range from 5 to 12 feet in height and normally has a 10-foot spread. March and April are the best months to grow these plants.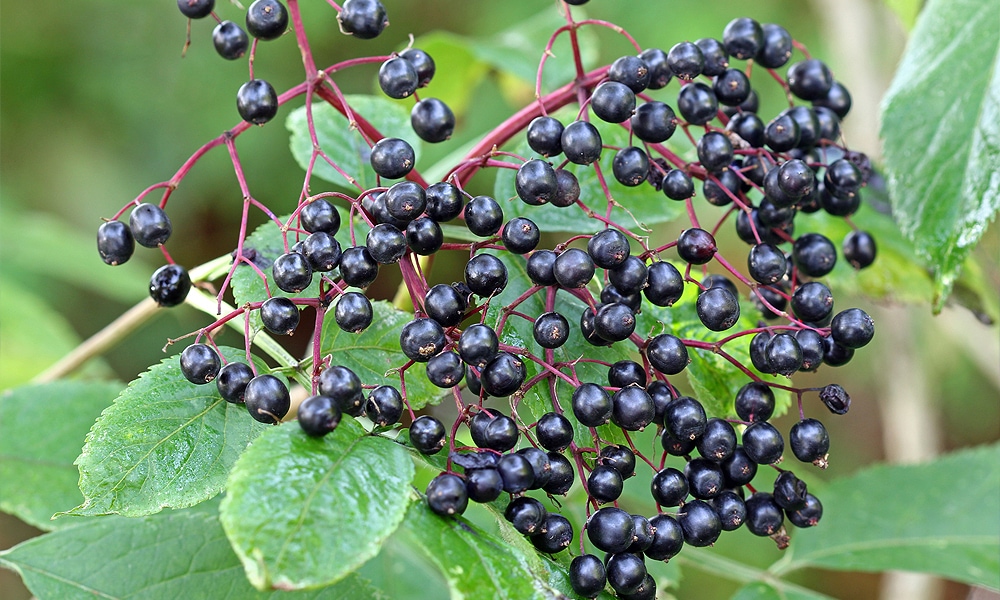 At this time, insects are attracted to these flowers, and they produce berry clumps after a couple of months. It is one of the essential berry bushes for birds. These clumps attract a wide variety of birds. As this bird plant is a shrub, it can also serve as a nesting point for some birds.
The versatile shrub of this plant can sustain a range of different bird species. These include the likes of red-eyed vireos and brown thrashers. It has dark blue fruit, and these birds love them. It is one of the best flowers that attract birds.
Related: 12 Tips on How to Keep Birds From Eating Grass Seed
3. Milkweed (Asclepias spp.)
Season: Late spring to early fall
Birds that love them: all insectivorous birds and ruby-throated hummingbirds.
This plant is closely associated with the Monarch Butterfly, and it ranges in height from 1 foot to 8 feet. These plants bloom between the period of late spring all the way to early fall. These plants are rich in nectar, and for this, they attract a lot of insects.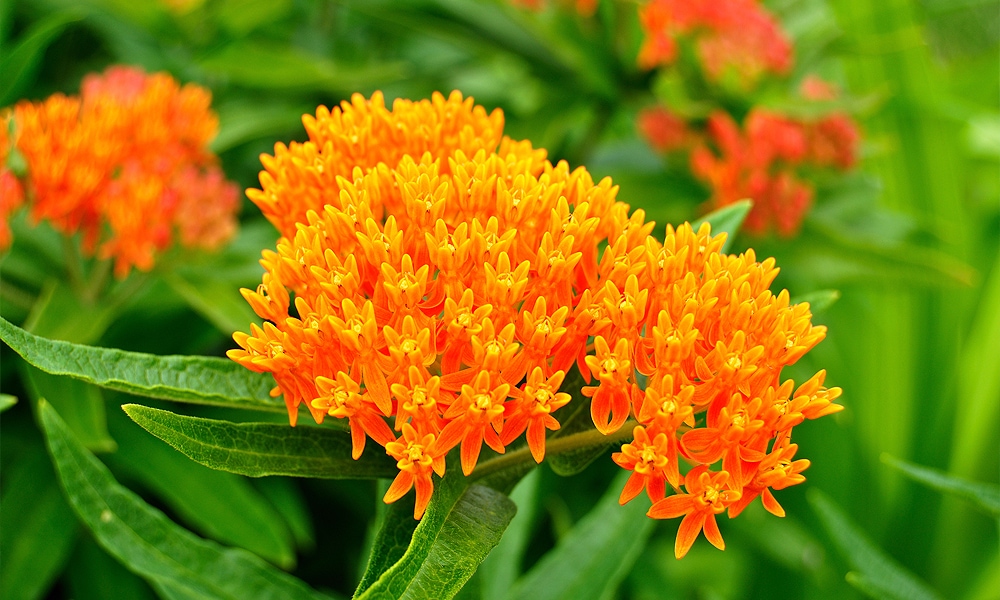 Therefore, the insectivorous birds stay close to these plants. And you will occasionally see those hummingbirds as well that are attracted to these plants, due to the nectar. However, hummingbirds are more attracted to trumpet or tube-shaped plants because of their long beak.
4. Daisy (Bellis Perennis)
Season: Early summer to late fall.
Birds that love them: Cardinals, towhees, finches, and sparrows.
One of the best plants for birds is the daisy. There are different types of daisies, but the meadow daisy stands out. This plant grows pretty quickly pretty much throughout the year.
However, May is the time when they are at their peak. These plants can grow in almost any habitat in the wild, but at home, they can stretch their growth from early summer all the way to late fall.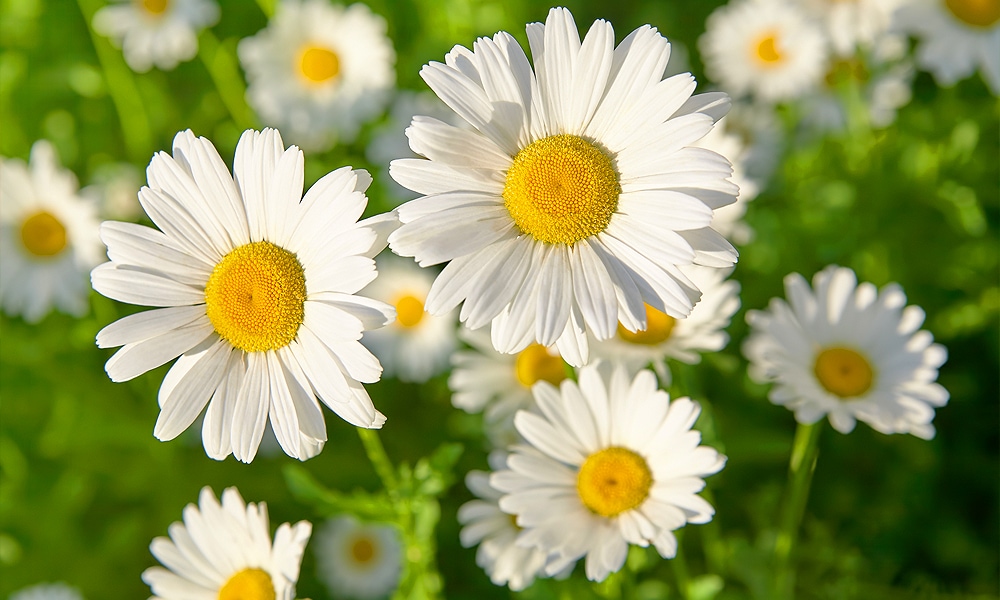 They can also grow in any type of soil, but the moist soil is the best for peak growth. Daisies will continue to attract birds as they are seed-bearing plants.
These are, no doubt, the garden favorites because they are the symbol of cheer and joy. This plant can form highly nutritious seeds that are crucial for the survival of different bird species in the winter. Cardinals, sparrows, towhees, and finches are the fans of daisy.
5. Sunflower (Helianthus spp.)
Season: Early spring to late summer.
Birds that love them: all insectivorous migratory birds.
Sunflower is a great bird seed plant and is known to be the king of all the seed flower plants. This annual flower is easy to grow in full sun. You can grow this plant almost anywhere. You can grow it in your songbird garden or right next to your window.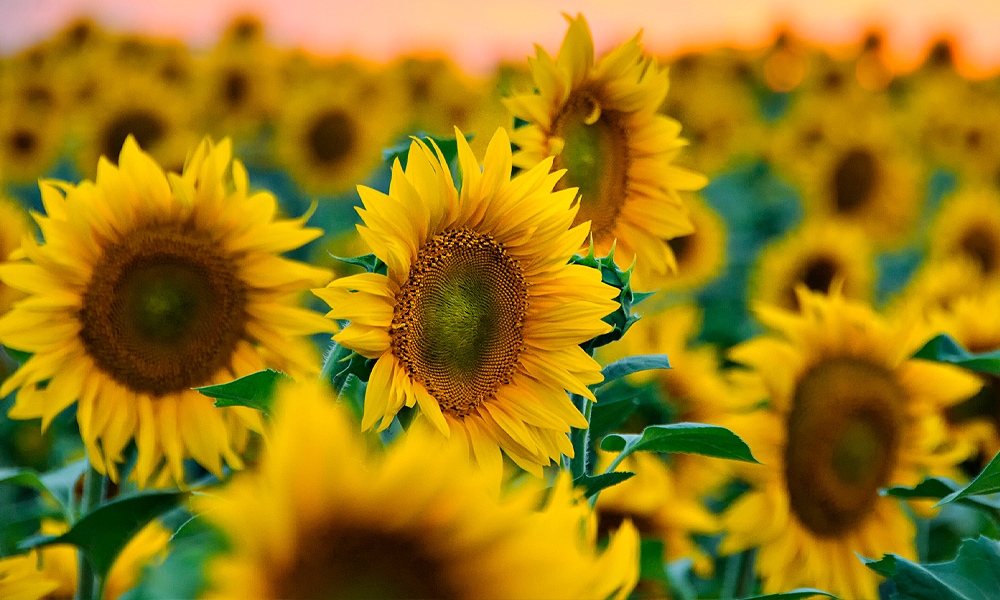 Those migratory birds will come and regularly go to fuel up for the coming migratory season. This plant is also great for bees as well as butterflies. Birds will feed on the seeds as well as any nectar from those bees and butterflies.
This flower will also attract a number of insectivorous birds. The peak time for this plant to grow in March and April and they will carry on till late summer. The plant itself is very easy to grow, and you can grow it in almost any type of soil as well.
6. Holly (Ilex spp.)
Season: Early spring to early winter.
Birds that love them: song thrushers, redwings, fieldfares, and blackbirds.
The berries of a holly plant are ripe when the autumn comes. But several birds, including the likes of redwings, fieldfares, blackbirds, and song thrushers will not feed on them until late in winter. The female plants of holly can bear fruits, but males need to be around to ensure pollination.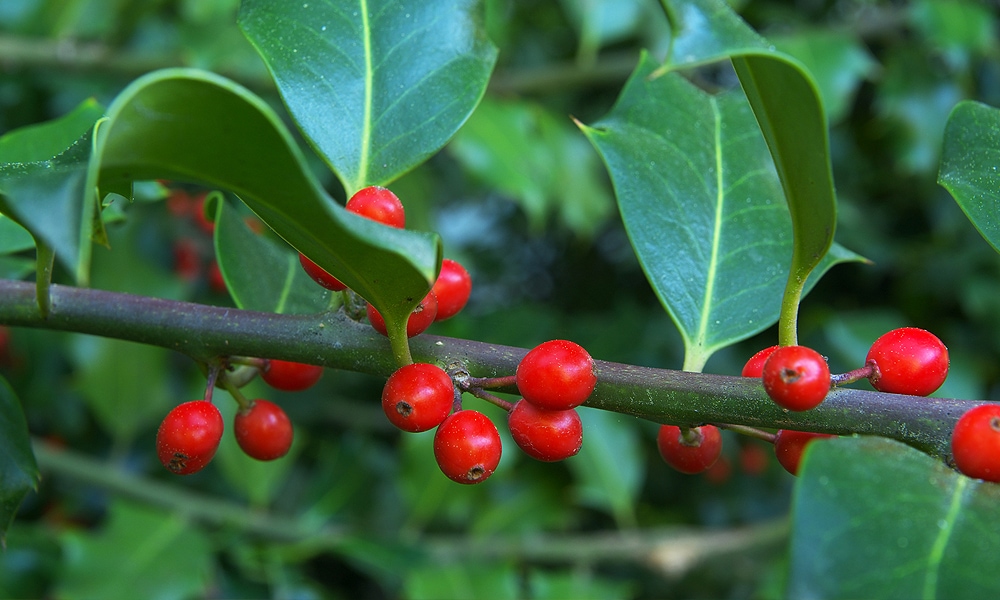 The bright red colored berries of this plant look pretty nice to the eye, and they can provide your garden with some aesthetic looks as well. The best time to sow these plants in April and May and the soil needs to be moist and damp to ensure proper growth.
Holly plants are very easy to grow, and there is no complication involved in what needs to be the position of the plant, or should it be in the direct sun or not. That is one of the reasons why it is commonly found in home gardens.
7. Coneflower (Echinacea spp.)
Season: Throughout the year.
Birds that love them: all seed-eating birds.
Coneflower is hardy perennial, and it can manage long-lasting blooms if you have them placed on tall stalks. This plant has bristly seeds, and they are very nutritious for most butterflies and birds. Coneflowers are the preferred choice of many seed-eating birds.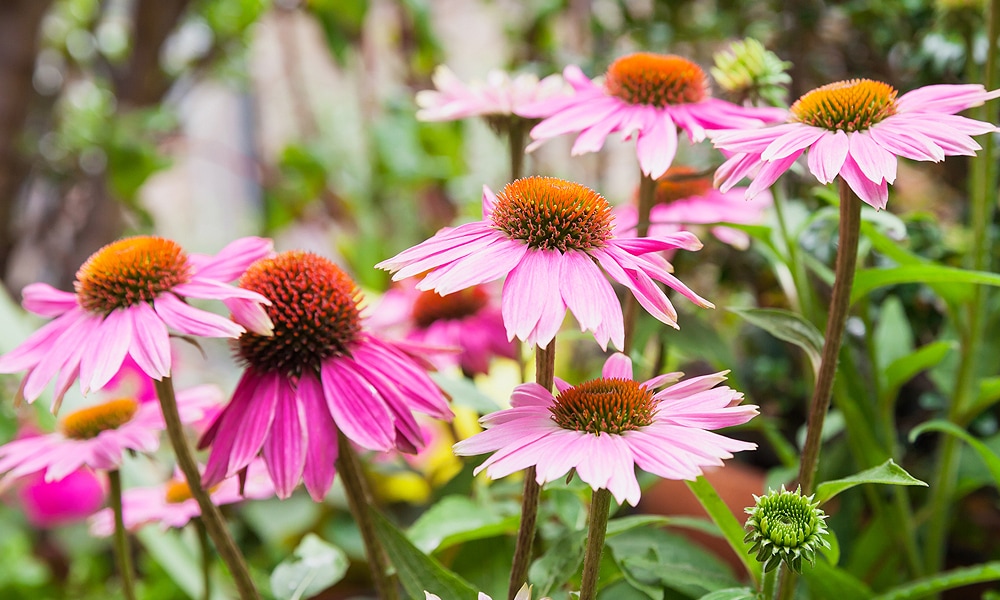 During their bloom, they will continue to attract a vast species of birds. The best part about this flower is that it can bloom almost throughout the year with the trough times in cold winters.
Their long-lasting nature and continuous provision of a food source for butterflies and birds will make sure that your garden will keep having colorful visitors from all corners. These plants are also very simple to grow, but make sure that the soils have enough alkaline in it to keep the growth at maximum.
8. Cardinal Flower (Lobelia cardinalis spp.)
Season: Early spring till late autumn.
Birds that love them: different songbirds, especially hummingbirds.
This flower belongs to the bellflower family and is normally one to six feet tall. This plant can grow red colored flowers that are 8-inch in length. This plant heavily relies on hummingbirds because these birds feed on their nectar.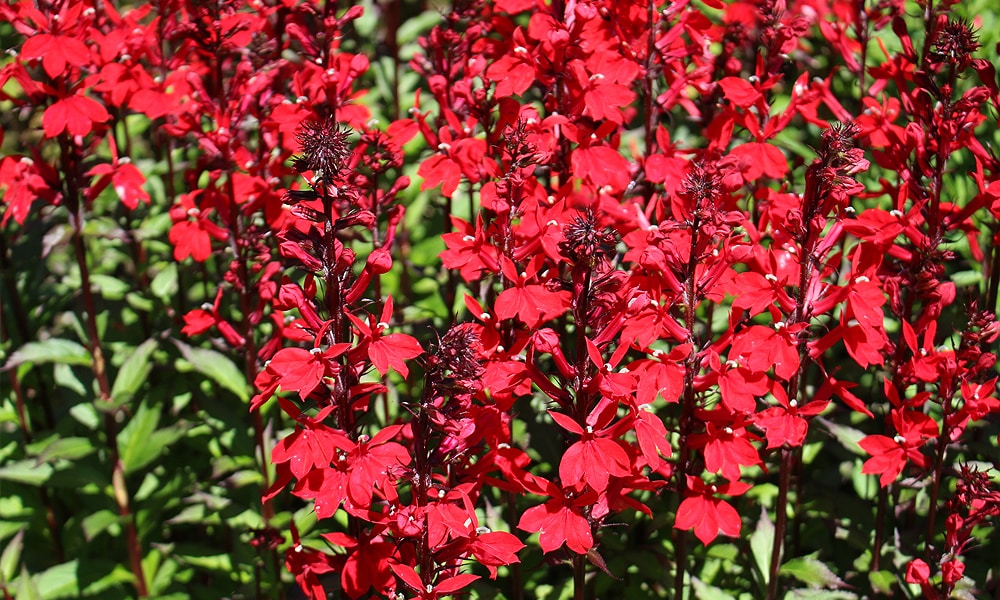 It is an essential process for pollination. The planet produces foliage in the autumn season, which attracts a lot of small songbirds, including hummingbirds. This plant can provide the birds with fruits apart from the foliage, so it proves to be a reliable food source for them.
Cardinal flowers are herbs, so you need to take care of them properly. They shouldn't be exposed to direct sunlight, but partial rays will be a lot more useful for them. These are among the delicate plants that attract birds.
9. Cotoneaster (Cotoneaster spp.)
Season: Early autumn onwards.
Birds that love them: blackbirds, waxwings, robins, bullfinches, blackcaps, and thrushes.
Cotoneaster is one of the best shrubs that attract birds that not only can provide food to different birds, but it can also provide shelter to some of them. This shrub is fully laden with those small red fruit berries, and it starts from early autumn.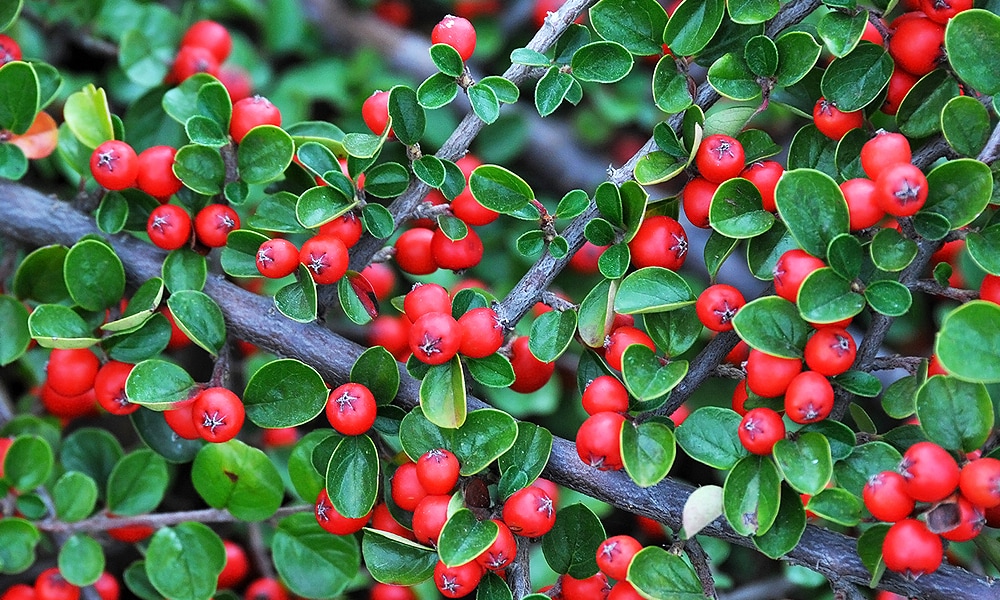 In most cases, this is the first plant that will get stripped from its bounty. There are a number of birds that look to eat this berry. This plant is extremely popular among the birds, including the waxwings, thrushes, and blackbirds. It can grow in heavy, damp, and even in alkaline soil with ease.
Cotoneasters are also useful to attract robins, bullfinches, and blackcaps. These plants are one of the most long-lasting ones, and they will continue to bear fruits if you take proper care of them.
10. Marigold (Tagetes spp.)
Season: Late winter to early summer.
Birds that love them: sparrows, blackbirds, bluebirds, robins, thrushers as well as other insectivorous birds.
These are very pungent annual flowers, and they have seeds that many birds love to feed on. But you will need to be a bit careful because crows and grackles can tear the flowers apart. It can be a waste of food sources for other birds like sparrows, robins, blackbirds, and bluebirds.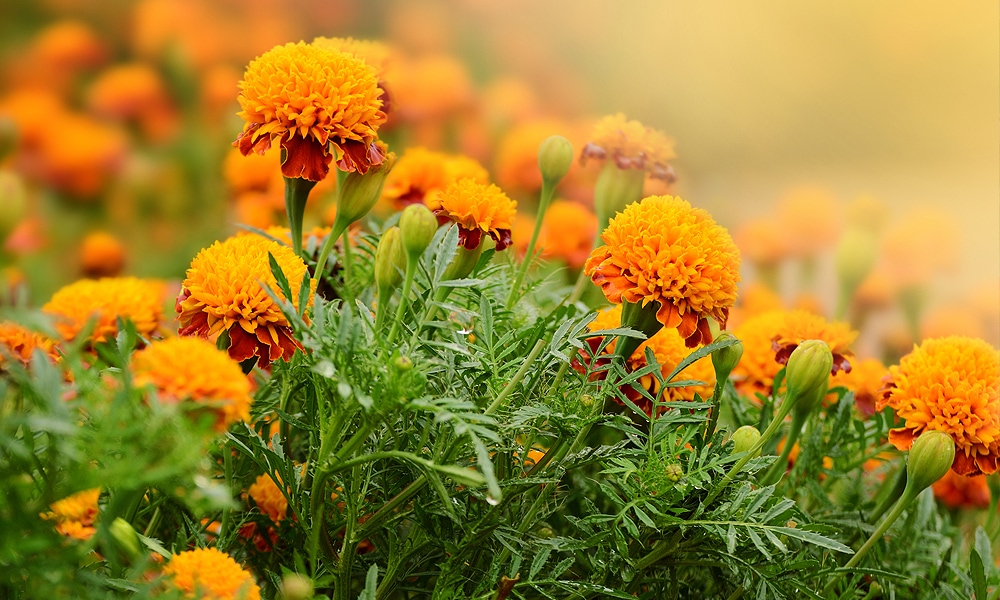 This plant can also attract bees and other insects. Therefore, it can easily attract all those insectivorous birds. These plants are very simple to grow, and their flowers are pretty long-lasting.
They usually start blooming from the end of the winter all the way to early summer. They can even survive in a bit of heat if you water them properly but make sure that they get a good amount of sunlight.
11. Dogwoods (Cornus spp.)
Season: Spring to autumn.
Birds that love them: robins, hummingbirds, and a number of other insectivorous birds.
Dogwood plants can grow very well and turn into a small tree. It can be an ideal shelter for many birds. Therefore, these plants will attract a range of different birds. However, most people go for this plant as an ornament in their garden because it has showy white flowers that look pretty nice.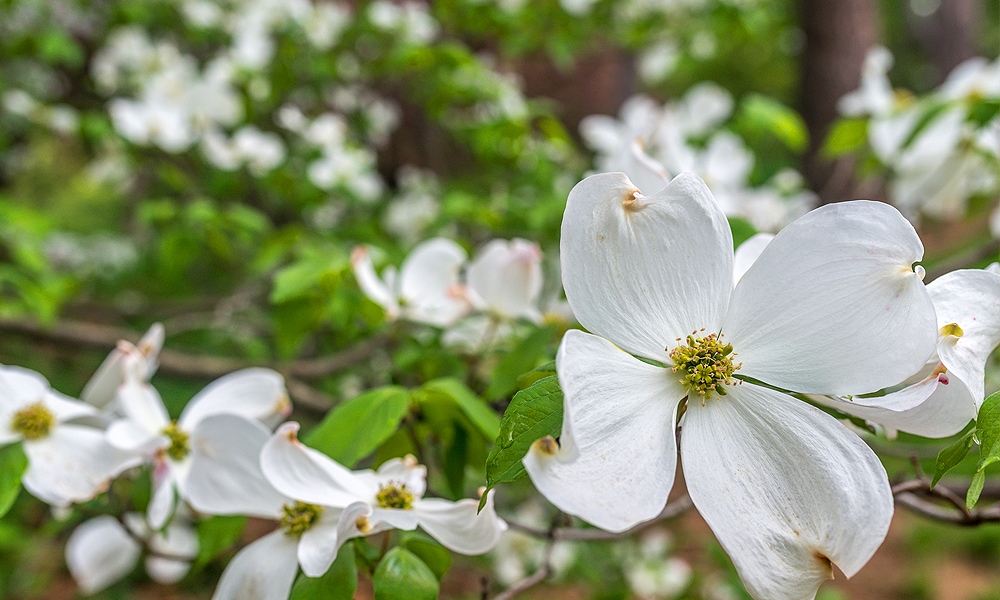 But this plant fill grows into a tree that may range from 15 to 40 feet in height before it starts flowering. This flowering tree can support several moths and butterflies as well. Therefore, this will be a heaven for insectivorous birds.
Its red colored fruit will mature in fall and will only last as soon as the visiting birds eat it. Robins and hummingbirds love dogwood and its flowers. The leaves of this tree turn red in fall and can provide you with a lovely backdrop of your bird photography.
12. Oak (Quercus spp.)
Season: Year-long
Birds that love them: orioles, woodpeckers, thrashers, flickers, grosbeaks, hummingbirds, tanagers, titmouse birds, warblers, nuthatches, and all insectivorous birds.
It is among the best trees that attract birds. Oak is probably the most important of all trees when we talk about its significance for the wildlife and birds in particular. These oak trees grow to be 50 to 900 feet tall, and they have a spread of 40 to 80 feet.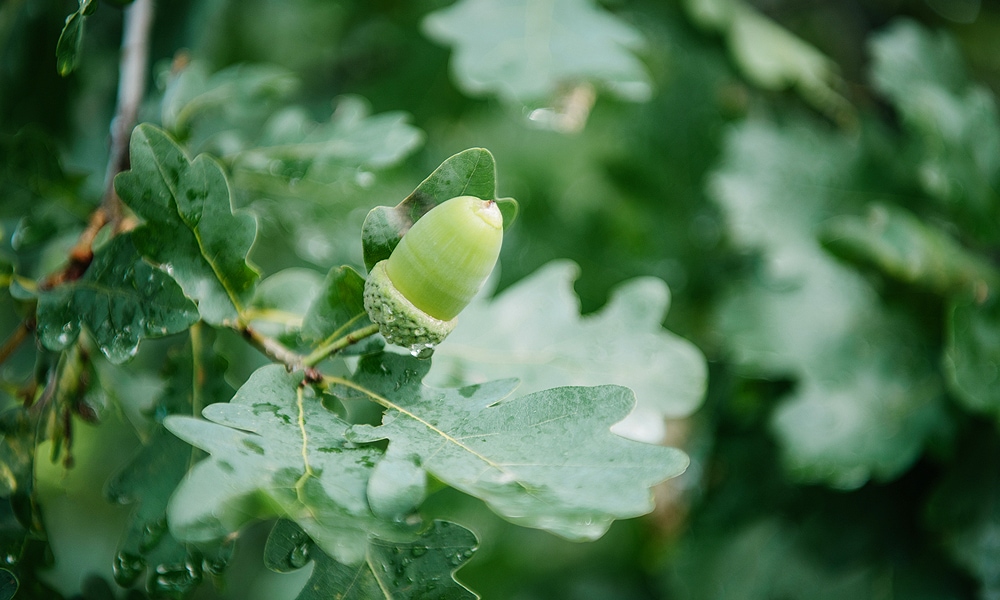 These trees can be a shelter for more than 500 species of caterpillars and also host a number of other insect species, including the likes of arthropods, beetles, and aphids. It can be one of the trees for birds in your garden. Therefore, this tree is best suited for any of those insectivorous birds, including tanagers and warblers.
This tree also produces acorn, which is an essential diet for birds like woodpeckers and blue jays in winter. These trees are a very important location not only for the birds to only as a food source, but it can also serve them as their nesting and breeding ground. Most bird watchers start their season by having a look at the oak trees.