Birds are beautiful creatures, but when they can cause a lot of damage to your crops and flowers. You can use ultrasonic sound to repel them, but you need to pick the right ultrasound bird repeller for this. Here are the best ultrasonic repellers on the market today.
1. Diaotec Ultrasonic Bird Repellent
If you're looking for a model that makes pigeon deterrent sounds over a large range, the Diaotec repeller might be worth considering. 
It has an operating range of up to 1,600 square feet and it detects movement on a surface of 40 feet (radius) using a 120-degree angle. 
The model is an ultrasonic bird deterrent that works not just on birds, but on other animal species, too.
For example cats, dogs, chipmunks, raccoons, squirrels, and mice.
Since it's waterproof, you don't have to worry about it stopping functioning when it's raining. 
As for the frequency of the sounds it emits, it's a good thing that you can set the one you prefer since you can rest assured that it deters the critters that are bothering you.
The lightweight and compact design is convenient, and so is the installation process. Its motion sensor is quite sensitive, from the info we've gathered about it. 
What we liked
Solar-powered, so it works great for farms
Waterproof design 
You can set the automatic frequency 
Comes with a motion sensor 
Combines ultrasonic sounds with a flashing LED 
Sensitive and powerful 
Convenient and easy installation
What we didn't like
It offers better results when you use two devices
It's not as affordable as other, similar models
Sensor angle: 120 degree
Sensor range: 1600 square feet
Frequency: 12- 50 kHz
Features: LED lights, solar-powered, waterproof
Best for: birds and small mammals
2. INTEY Waterproof Animal Repeller
The INTEY animal repeller makes a bird repellent noise that allows your backyard to remain bird and pest-free. 
It's solar-powered and works with 3 AA batteries. You can also charge it through a USB cable on days when the weather is unfriendly.
The ultrasonic bird repellent is waterproof, which means that leaving it outdoors will guarantee that it will keep functioning no matter the weather. 
The model repels animals by using ultrasonic signals and LED light, so it works for a variety of species. 
You can set the frequency of bird deterrent sounds on this device, allowing you to target a wide variety of animals. 
Using and installing the device is straightforward and it doesn't call for a difficult learning curve. As a drawback, the INTEY alternative isn't as affordable as some other options in the same line. 
What we liked
Works for a very broad range of animals 
You can customize the frequency 
The repeller is waterproof
Made of high-quality, durable materials
You can place it anywhere on your property 
Works with solar power, but also AA batteries
Has a wide range of influence
What we didn't like
Less budget-friendly than other models

Doesn't have a wide operating range
Sensor angle: up to 120 degrees
Sensor range: up to 11m
Frequency: 13.5-45.5 kHz
Features: solar-powered, waterproof, adjustable frequency
Best for: small mammals and birds
3. FAYINWBO Solar Ultrasonic Animal Repeller
This solar bird noise maker is a practical option, which you should consider if you are looking for a compact, reliable, and lightweight device that you can move from one place to the other. 
It comes with 120 dB alarm sounds, ultrasound, as well as flashlights, so it relies on 3 types of signals to scare off the birds. 
You can install the device anywhere in your yard, patio, garage, porch, or even on your boat if you want to deter some seagulls. 
What's nice is that the Solar Ultrasonic Animal Repeller is waterproof, so you don't have to worry about it not making any bird repellent sound when the weather is rainy. 
If you are worried about this aspect, though, we'd like to note that the unit is equipped with an internal rechargeable battery that you can charge using a standard power outlet. 
What we liked
The ultrasonic pigeon repeller comes with an adjustable frequency
The LED flashing light scares animals, too
Motion sensor detects when critters reach its range
Customizable distance and signal sensitivity
Solar-powered, so economical
Charging time is just 6 to 7 hours 
Compact and waterproof design
What we didn't like
You can only charge it using the provided USB cable
The instructions could be more straightforward
The range is just 8-9 meters
Sensor angle: 110 degrees
Sensor range: 8-9 meters
Frequency: 13.5-45.5 kHz
Features: white LED flashing light, alarm, ultrasound waves
Best for: small animals and birds
4. Broox Solar Ultrasound Bird Repeller
The Broox solar repeller emits an ultrasonic sound wave that can deter a variety of animal and bird species from eagles and squirrels to cats, dogs, and even rats. 
On top of the sound that they hear, the birds are also repelled by a set of flashing LED lights. 
The unit is outfitted with a passive infrared sensor (PIR), which enables it to detect movement. 
Following that, it emits a high-frequency noise that scares the animals. 
The sound does not affect people in any way. It can take up to four weeks for homeowners to see the results, though. 
The waterproof design boasted by the model allows it to do its job even in bad weather as the elements aren't going to affect its performance. 
You can customize its range but also its frequency, so the Broox model can be used for a variety of animals. 
What we liked
Has flashing lights and sound frequencies 
Waterproof design 
Adjustable frequency
Customizable sensitivity and distance (range)
Charges on solar power, Ni-MH batteries, or a standard power source
Compatible with a USB power cable
Repels a variety of animals from cats to birds
What we didn't like
Strong wind can affect its functionality 
The battery life could be better
The high-pitched sounds are audible to humans
Sensor angle: 110 degrees
Sensor range: 25-30 feet
Frequency: 13.5-45.5
Features: LED flashing light, solar powered, waterproof
Best for: small animals and birds
5. Bird-X Balcony Gard Ultrasonic Bird Repeller
If you are in the market for one of those ultrasonic bird repellents that come with adjustable frequency, then the Bird-X repeller might just be right up your alley. 
The model is battery-operated, but you can use it with a standard AC source if you get an extension cord. 
As for the types of birds that this unit can repel, it's particularly good when it comes to deterring pigeons from coming to your yard. 
It's effective, humane, safe, and more importantly, easy to operate, and the frequency doesn't seem to affect pets or people. 
Its compact and lightweight design allows you to use it on the balcony or in other small places. 
Moreover, you can set the exact frequency you want as per the animal species that you want to repel.
Durability is an essential feature of this model as it has been built with rugged materials. The weather isn't going to affect its performance, either. 
What we liked
It's battery operated
The 50-foot extension cord comes included in the box
The size is perfect for apartment balconies
You can adjust the frequency 
Made of durable materials 
It's not affected by harsh weather
Works right after being turned on
What we didn't like
Customizing the sounds might take some time
It doesn't have a large operating range
Disassembling the unit can be a pain
Sensor angle: N/A
Sensor range: up to 900 square feet
Frequency: 15-25 kHz
Features: compact and lightweight, weather-resistant, fully programmable
Best for: small birds and pigeons
6. Izbie Z1 Ultrasonic Electronic Bird Deterrent
The Izbie Z1 deterrent emits a bird deterrent sound that works for several different animal species. 
Based on the info that we found about it, the Izbie Z1 manages to deter anything from squirrels, bats, and cats and dogs to rats, deer, eagles, and a range of other animals.
The best thing about the unit is that it is solar-powered. 
Therefore, you don't have to worry about anything like the power cord, whether the batteries are going to run out, or other such mishaps.
On top of that, the Izbie Z1 is IP44 waterproof, so it can stand the test of time and handle the abuse of the elements. 
You don't have to worry about critters damaging it, either, since it boasts a durable construction.
Some of the customers note that due to its sensor angle, it might be a better idea to use 2 units to cover a wider area. 
What we liked
Compact and lightweight design 
Made from sturdy ABS plastic
Comes with a solar charging panel, but also rechargeable batteries
You can also power it with a 5V 200mA adapter 
Comes with several different frequencies 
Has a range of 26-30 feet, which should be enough for a medium-sized yard
Using the device is very easy
What we didn't like
It doesn't offer the best results for raccoons
The warning light can be too powerful
Using 2 devices works better than 1
Sensor angle: 110 degrees
Sensor range: 26-30 feet
Frequency: (e.g. 15KHz-50KHz)
Features: 13.5-45.5 kHz
Best for: deer, cats, dogs, small birds, eagles, rabbits and more
7. Bird-X Yard Gard Electronic Animal Repeller
The Bird-X Yard Gard electronic bird repellent is available for a fair price and it seems to get the job done. 
Even if you have to deter birds and a variety of pests from a larger property, you have nothing to worry about with this model as it has a range of 4,000 square feet. 
You can adjust the settings as per the specific type of animal that you want to repel. 
The high-frequency sound waves emitted by this model are inaudible to humans, but they don't have the same effect on the critters in your yard.
The Bird-X Yard Electronic Animal Repeller can be used anywhere from gardens and lawns to patios, barns, farms, and even on boats. 
With its user-friendly and durable design, this model has a good chance of standing the test of time and serving its purpose for many years. 
What we liked
Operating range of 4000 square feet
Repels anything from wild pigs and boars to skunks
Can be installed and customized with ease
Made of rugged parts
Includes a built-in motion sensor plus sonic & ultrasonic sounds
Lightweight and compact design
All of the mounting hardware is included in the box 
What we didn't like
It's not solar-powered
It can get damaged in too low and high temperatures
Sensor angle: N/A
Sensor range: up to 4,000 square feet
Frequency: 15-25 kHz
Features: motion sensor, 90 dB sound pressure, lightweight and compact
Best for: deer, raccoons, and other small animals
8. Bird-X BirdXPeller v2 Pro Electronic Bird Repeller

If you're looking for a bird repellent that actually works, you should consider the Bird-X Peller Pro. 
It's a winner in terms of performance, but it does tend to cost a pretty penny. 
It's equipped with a 6-ft power cord, so while it's not cordless, it does take the cake when it comes to reliability.
What's interesting about this unit is that it works for a variety of birds, from crows and blackbirds to cormorants and ravens. 
It's specifically marketed for birds, although its customizable frequency might be able to deter other animals, too. 
Plus, it has a coverage of up to 1 acre. Using and installing this piece of equipment is very easy, even for less tech-savvy individuals. You can place it anywhere you've noticed pests so long as you set it appropriately. 
From what we have gathered from the user reviews it has acquired, the unit can stand the test of time due to its rugged design.  
What we liked
Completely programmable 
Uses real sounds and plays back predator calls and distress calls 
Works on several different bird species
You can install it in a wide range of places
Easy to install and utilize
Made with high-quality materials 
It covers up to 1 acre of operating range
What we didn't like
Higher price tag
It's not solar-powered 
Sensor angle: N/A
Sensor range: 1 acre
Frequency: 3-5 kHz
Features: fully programmable sound and volume, 6-ft power cord, natural sounds
Best for: blackbirds, crows, cormorants, ravens
9. Aspectek Yard Sentinel Electronic Ultrasonic Bird Repeller
The Aspectek electronic bird deterrent is a budget-friendly option that seems to work for a variety of species, from rats and mice to deer, raccoons, rabbits, and birds. 
The coverage of the device is something worth writing home about as it has a range of up to 5,500 square feet.
The Aspectek model is a sonic bird repeller that also includes an alarm volume control. 
You can turn the volume down using the dial that the unit is equipped with if you find that you're bothered by the loudness. 
The frequency is also customizable, which means that you can set it as per the specific animal species that you want to repel. 
Moreover, you can set it up anywhere, thanks to it being made of durable materials. 
The product is weather-resistant, so that's one less thing to worry about. You can install it in your yard or garden or even use it on your balcony or rooftop. 
What we liked
You can customize the volume of the sound
It comes with an adjustable frequency
Can be installed in a variety of places 
Lightweight and easy to set up 
Made of rugged materials 
It works on larger animal species, not just birds and rodents
It doesn't cost a fortune
What we didn't like
Doesn't deter rabbits or Canadian wild geese
It's not solar-powered
Sensor angle: 110 degrees
Sensor range: 5,500 square feet
Frequency: 15-18 kHz
Features: motion sensor, continuous sweep, 3 operating modes (day, night, and 24h)
Best for: a variety of species from birds and squirrels to deer, skunk, and raccoons
10. Bird-X Transonic Pro Electronic Pest Repeller
The bird deterrent sound made by the Bird-X Transonic Pro pest repeller is quite powerful and it covers areas of up to 3,500 feet. 
It works for a variety of pest species, from flying insects and spiders to bats and mice, crawling insects, and many other small animals. 
This one, too, isn't an ultrasonic bird repellent device, but it gets the job done in most situations. 
It doesn't rely on the use of any potentially dangerous traps or chemicals, so it's safe to use for indoor spaces where humans and pets reside.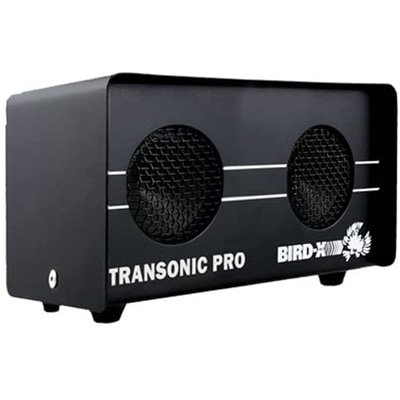 It's also worth noting that it's made in Chicago, Illinois, which is something of a rarity these days when most of such devices are made in other countries. 
Something that some of the user reviews have noted is that placement is very important. Locating the unit in an incorrect spot will result in its soundwaves not being able to reach some places. 
What we liked
Comes with a 20-ft power cord
Can be used indoors and outdoors
Covers up to 2,000 square feet outside & 3,500 square feet indoors
Works on many animal species 
It's economical, since it uses just 5W of power
You can set the volume and the frequency you need
Reliable and made of high-quality materials
What we didn't like
It's not solar-powered 

Bad placement can affect its performance
Sensor angle: N/A
Sensor range: 2,000-3,000 feet
Frequency: 3-40 kHz
Features: economical, 6-ft power cord, 96 dB at 0.5 meters
Best for: raccoons, rats, mice, bats, and more
11. Bird B Gone Solar Powered Bird Repeller

Compared to some of the other pigeon sound deterrent devices in this line, the Bird B Gone repeller has a range of just 5 feet. 
This means that it makes the perfect choice for days when you want to spend some time outdoors with your family, whether on a boat, on the patio, at the pool, or anywhere else. 
In none of these places are you going to be bothered by any birds if you get this model, even though it's not an ultrasonic pigeon repeller.
 It merely relies on the flapping motion made by its arms. 
The model is lightweight and portable, and it can also be used with ease. You can even mount it on angled surfaces if that's what you need. 
The best thing about the unit is that it works both with solar energy, but also with 3 rechargeable batteries for when the weather isn't on your side. 
What we liked
It's solar-powered
It's equipped with a convenient and easy-to-use on and off switch
The 2.5-ft long arms repel a wide variety of birds
Can be used on docks, roofs, skylights, air conditioner units, and more
It repels seagulls, pigeons, but also larger birds
Comes with 3 rechargeable batteries for days with bad weather
It rotates at 30 RPMs
What we didn't like
You have to use it non-stop
Strong wind can influence its performance 
Saltwater can make its retractable pieces rust 
Sensor angle: Not applicable.
Sensor range: 5-ft operating range
Frequency: Not applicable.
Features: solar-powered, lightweight, 30 RPMs
Best for: seagulls and pigeons
12. COKIT Ultrasonic Motion Sensor Animal Repellent
The COKIT electronic bird repeller is another model that you should consider, especially since it is solar-powered and water-resistant, so it can do its job without you worrying about anything. 
There are 3 AA rechargeable batteries inside the device and they can function independently for up to 4 to 7 days whether the sun is shining or not. 
To use this device, you can simply push it into your garden soil or hang it on a wall. 
Additionally, it comes with a LED indicator that lights up each time an animal is detected near the unit. 
This makes it useful for a wide variety of bird and mammal species. 
The installation process is not a nuisance, even for individuals who have little to no technical skills. On top of that, It comes with all of the hardware included.
What we liked
This ultrasonic pigeon deterrent has multiple frequencies (13.5 kHz to 24.5 kHz and above)
Comes with flashing lights
Water-resistant design
Solar-powered and it works with 3 AA rechargeable batteries
Comes with everything you might need in the box
Easy to install and use by anyone
It has an operating angle of 110 degrees
What we didn't like
The sound is loud and humans can hear it, too
The manual isn't exactly helpful if you encounter any difficulties
It doesn't seem to work for rabbits
Sensor angle: 110 degrees
Sensor range: 30-40 ft
Frequency: 0-45.5 kHz
Features: water-resistant, LED flashing lights, sharp alarm
Best for: mice, rats, foxes, raccoons, possums & more
Types of ultrasound bird repellers
Ultrasound bird repellers can be split up into several different categories. Some can be used indoors, others can be used outdoors, but the most important factor when it comes to how they differ from one another is their frequency. 
Low-frequency repellers have a frequency that's under 10000 Hz. Most birds have a hearing frequency in this range, which means that this is the type of product that you should consider. For instance, gulls have a hearing frequency of 100 Hz, crows have one of 300 Hz, European Starlings of 700 Hz, and House Sparrows of 675. 
Mid-frequency repellents have a frequency between 10000 and 20000 Hz. These units can usually affect other species, and they are mostly mammals. However, that doesn't mean that they can't be useful for bird repelling, too, especially if they have specific calls and can be programmed. 
Any unit that has a frequency of over 20000 Hz is considered a high-frequency ultrasound repellent. Unfortunately, you aren't going to do much with such a device as the frequency is too high for the birds to be affected in any way. Most aren't even going to be able to hear it. 
How do ultrasonic bird repellers work?
Ultrasonic bird repeller devices don't all rely on the same technology to do their job. But in essence, they all emit a tone or a specific noise that allows them to have sonic bird repellent capabilities. Ultrasonic sound waves are usually within the range of 15 to 20 kHz or above, which can be helpful for repelling a variety of animal species, not just birds. 
What frequency do birds hear? Most of them detect frequencies between 1 kHz to 4 kHz, but it also depends on the bird species. Pigeons detect sounds from 0.5 Hz or up to 10 Hz, which is very, very low, so you need to get the best bird repellent ultrasonic device that comes with this specific frequency. 
The ultrasonic sound waves emitted by the units that we've mentioned in our selection are safe for humans and are practically inaudible. As high-pitched as the bird scarer noise might be, most people can't hear it. 
Can birds hear an ultrasonic sound? In most cases, they do, but the problem is that their hearing range often matches that of humans, so if you can hear it, the birds can, too. Infrared devices are a little better, and some modern repellers can be programmed so as to attain specific frequencies for certain species. 
How to choose an ultrasound bird repeller?
Ultrasonic bird repellents can be quite challenging to choose, especially if you haven't done any research and you don't know what features are important and which ones you can do without. Check out the list of aspects that you should consider below. 
Most birds have a hearing range of 1,000 Hz to 4,000 Hz, but there are some that are an exception to this rule. 
In this category, you'll find seagulls, house sparrows, starlings, but also pigeons, which create a lot of problems for homeowners since their poop is acidic and can damage plants easily.
Compared to other bird species, pigeons can detect infrared, not loud sound. It's a good idea to first see what birds you want to deter and then pick the appropriate model. 
Safety for pets and humans
The high-pitched sounds made by some bird repellers can be damaging both for people and for animals. In some cases, babies can lose their sense of hearing while women can suffer from headaches. 
These symptoms are encountered in pets, too, which might also show aggression or significant changes in their behavior after you install an electronic pigeon repellent. 
Repeller systems aren't equal in terms of the sounds to scare birds that they make. 
While some can emit loud sound, such as in the range of 75 dB to 120 dB, these might be less of a good choice if you want to avoid suffering any side effects.  
If you get a really loud ultrasonic bird scarer, we advise you to install it as far away from your home as possible. 
All ultrasonic bird repellent devices have an operating range that somewhat resembles a circle. Some can emit sound on an angle of 100, 120, or 160 degrees, which means that they aren't going to cover the whole surface of your yard. Therefore, you might have to get not one, but two units.
These devices can make a pigeon repellent sound only if they are powered by some form of energy. Most work on batteries, which can be built-in or rechargeable, or they can be disposable.
There is also the option of you getting a solar device, in which case you don't have to worry about the batteries running out. 
The best ultrasonic bird repeller typically includes several additional functions, such as a strobe light, predator calls, as well as distress calls. All of these allow you to repel a variety of bird species, not just one. 
In the end, keep in mind that these devices can only do so much. If you want to repel birds like eagles and owls, you'll have to get a repeller that includes powerful light, too, not just infrared or ultrasound technology.