Whether you are a hiker, bird watcher, or shooter, a proper binocular harness is essential to keep the optics in-hand so you won't miss the action.
The best binocular harness is comfortable to wear and comes with a magnetic lid. Here are the best options on the market today.
We Recommend
Binocular Harness
1. Horn Hunter OP-X Binocular Harness System Combo
---
This Horn Hunter harness offers the most value for your money. Mainly because it comes with side loops for radios, rangefinders, or similar devices. It fits most roof prism 8-10 power binoculars.
It's extremely breathable and roomy, because of the air mesh panel that keeps the moisture away. Additionally, it has been constructed with premium quality materials that make it lightweight, durable, and low profile.
This bino harness also features a drop-down magnetic closure lid. The use of mesh fabric allows you to wear it in summers for a long time.
It protects your rangefinder and binoculars, plus you can quickly use them as you want. It comes with comfortable shoulder straps that make it perfect for keeping heavy binoculars. The best feature is that it gives you plenty of storage room to fulfill your specific needs.
---
What we liked
Lightweight & Durable
Low profile type binocular harness
Come with rangefinder or binocular case with rain-fly
Perfectly fits 8 to 10 power Prism binoculars
Magnetic closure lid
Highly breathable
Side-gear loops
Comfortable shoulder strap
What we didn't like
Comes with fewer pockets
Only available in camo style
Type: Low-Profile
Attachment: Clip
Pockets: 1 to 2 Pockets
Weight: 16 ounces
Dimensions: 8.5-inch x 4.0-inch x 7.5-inch
For what size binocular: Up to 10 x 42
2. Vortex Optics Glasspak Binocular Harness
---
The Vortex Glasspak is hands down the best budget bino harness out there. Vortex is producing the best binocular harness that comes with tethers. It prevents your binocular from accidental drops.
Additionally, it has a zippered rear pocket, so you keep your larger items in it for safety, such as cameras, cell phones, etc.
On the other hand, it has a comfortable and premium quality adjustable nylon straps. It is equipped with buckles attachments that provide snug fitting.
You can also use side mesh pockets for keeping additional equipment like a lens pen for quick access.
You'll love its ability to hold a full-size binocular and keep it secure and snug. This bino harness is also equipped with the teether to prevent accidental drops.
---
What we liked
Holds full-size binocular
Durable & easy to use
Protects your favorite binocular
Comes with the mesh and secure side pockets
Equipped with tethers
Rear pocket with zipper
Comes with buckle attachment
What we didn't like
Somewhat limited adjustment of fixed straps
The case closure could be improved
No magnetic lid-closure system
Type: Low-Profile
Attachment: Buckles
Pockets: 3 Pockets
Weight: 11.2 Ounces
Dimensions: 3.8-inch x 7.1-inch x 9.0-inch
For what size binocular: Up to 10 x 50
3. Vortex Optics Binocular Harness Strap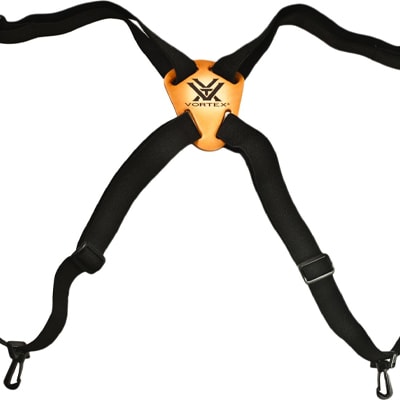 ---
This strap is the best bino strap on the market. The Vortex harness strap spread the weight of your viewing device across both shoulders.
With such a design, you can use your binoculars in a more relaxed position for viewing and can also conveniently do the exploring and hiking.
Vortex has designed this hunting binocular harness in a way to prevent any rocking so your device won't bump into you as you walk.
Whether you are using your binocular chest strap with your binoculars, camera, or rangefinder, you can conveniently move around with your hands-free.
binocular harness
The straps work with any size of the binoculars as long as you can carry the weight on you. You can also adjust the strap according to your needs and comfort.
---
What we liked
Made with nylon and lycra for a sturdy performance
Versatile construction makes it good to use with any device
Easy to adjust
Transfer the weight across both the shoulders
Allows you to conveniently raise the device to your eyes
Won't bump into your chest while you are walking
Durable construction for long-term use
What we didn't like
Only strap and no casing
Not the best option for all-weather performance
Type: Sling and swivel
Attachment: Clip
Pockets: None
Weight: 4.8 oz
Dimensions: 3.8-inch x 7.1-inch x 9-inch
For what size binocular: Up to 12 x 50
4. Alaska Guide Creations Kodiak Binocular Harness Pack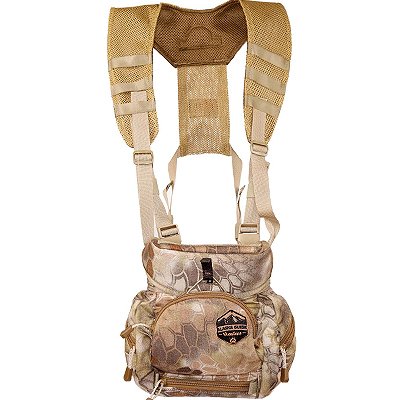 ---
Do you prefer a binocular harness with maximum compartment options?
Well! We recommend you Kodiak harness because this compact utility harness is equipped with five pockets. You can use the main compartment to keep your binoculars.
You can use the front pocket to place a rangefinder, whereas it has two sides, a mesh back flat, and basement MAX pockets as well.
You can keep your other necessary items with you while enjoying sightseeing, exploring nature, or wildlife adventure.
The rear pocket has a hook and bungee system that allows you to access the gear with the use of a single hand. Furthermore, you can use the basement pocket to store gloves, headlamp, blades, and tyto knife.
The best thing is that your purchase includes a harness and tether for protecting your binoculars from an accidental drop.
---
What we liked
Accessible in 10 color options
Best value binocular harness
Plenty of compartments
Tether protects binocular for accidental drop
Premium quality construction makes it durable
Auto-locking buckles enhance safety
Ideal for Leica, Vortex, Zeiss, and Swarovski
What we didn't like
Suitable for limited binoculars
Rangefinder pocket isn't quickly accessible
Type: High-Profile
Attachment: Buckle
Pockets: 5 Pockets
Weight: 19.2 Ounces
Dimensions: 8.0-inch x 6.0-inch x 7.5-inch
For what size binocular: 8 x 32, 8 x 42, 10 x 38, & 10 x 42
5. Badlands Bino X Camouflage Large Binocular Case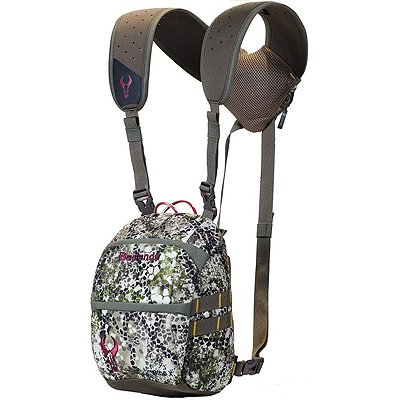 ---
If you are searching for a waterproof binocular case, then there is a need to buy Badlands harness.
This is a highly hydration compatible that can carry more than a 1-liter reservoir. Additionally, the company uses Zip-No technology that uses rare earth magnets.
These magnets deliver silent open and close only with one hand. Due to a zipper-less system, you can quickly access your binocular.
It also features vented and comfortable shoulder straps and the best thing is that you can adjust these straps as your requirements.
Fully four points are adjustable and vented straps allow you to wear the harness without any discomfort. This bino is also equipped with a magnetic closure. You can choose from three colors as per your liking. Last but not least… The lifetime warranty has got you covered.
---
What we liked
Constructed with KXO-32 waterproof fabric
Magnetic closure
1-liter reservoir
Backpack friendly
Comfortable harness
Comes with a lifetime warranty
Ultra-quiet and more comfortable
What we didn't like
May not be ideal for hunting due to bulky construction
Doesn't come with pockets
Type: Low-Profile
Attachment: Clip
Pockets: None
Weight: 16 Ounces
Dimensions: 8.5-inch x 10.1-inch x 4.8-inch
For what size binocular: Up to 10 x 42
6. Nikon ProStaff 6121 Binocular Harness Strap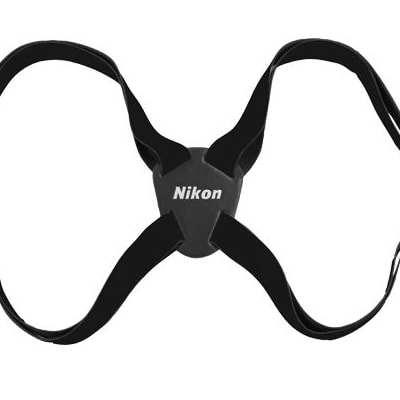 ---
This sling and swivel binocular harness strap is pretty lightweight and user-friendly.
The elastic shoulder strap secures your device and allows you to quickly release it whenever you need it.
Nikon has designed this strap to move smoothly and you can also move them up and down.
The quick-release connection further simplifies the use and the back piece can self-center to keep your device properly balanced.
It is designed to keep things simple for you and can conveniently take on any outdoor elements. Therefore, you can use it for a variety of outdoor activities ranging from hiking to hunting.
---
What we liked
Pretty lightweight and easy to use
Evenly distributes the weight on both shoulders
Very comfortable to make any adjustments
Comes with a self-centering back piece that balances the weight of the device
Elastic shoulder strap keeps the fitting comfortable
Nylon webbing makes the strap breathable and strong
Can easily take the weight of mid-sized binoculars conveniently
What we didn't like
Not the ideal choice for heavier binoculars and cameras
The tabs that come with this harness are pretty flimsy
Type: Sling and swivel
Attachment: Clip
Pockets: None
Weight: 11.2 oz
Dimensions: 9.6-inch x 4.3-inch x 2.6-inch
For what size binocular: Up to 10 x 42
7. Badlands Bino D-Mag Bino Harness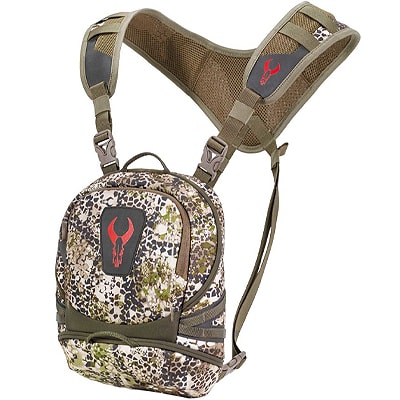 ---
The D-Mag binocular harness case is pretty sleek looking and a strong binocular case harness.
The bino harness case features neoprene that provides proper support to your back for maximum comfort.
This binocular carry case also comes with a removable rain cover.
The binocular holster keeps your binoculars safe from a variety of elements, including cold, snow, moisture, and rain.
With Hypalon reinforcements, your device will remain secure and close to you at all times. The KXO32 fabric is pretty strong and resilient and can stand the test of time.
The neoprene harness of this binocular carrier this bino pack feature comes with is backpack-friendly. The rain cover is removable and the binocular chest harness has a streamlined construction.
---
What we liked
Separate compartments for rangefinders and binoculars
A very streamlined design that stays close to the chest
Inbuilt tethers for both rangefinders and binoculars
The rain cover is fully removable
Can conveniently hold most binoculars with standard size
The neoprene harness is fully backpack-friendly
KXO32 fabric is resilient and breathable
What we didn't like
It doesn't feature any external pockets
A bit too big for bowhunting

Type: Low-Profile
Attachment: Strap
Pockets: None
Weight: 17.6 oz
Dimensions: 6.75-inch x 7-inch x 2.5-inch
For what size binocular: Up to 10 x 42
8. Bushnell 19125C Deluxe Binocular Harness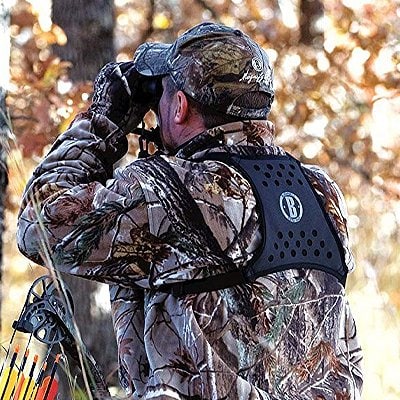 ---
Bushnell is manufacturing the best binocular harness that has been constructed with premium quality material.
These basic harnesses are tested extensively, so you can confidently use it for multiple purposes. You can use this deluxe harness for light cameras, rangefinders, and binoculars.
Furthermore, it is highly durable, built to last and comes with a beautiful design. The elastic straps are perfectly positioned on your chest for a comfortable feel.
It disperses device weight on the torso and shoulder equally. Thus, you can use heavy binoculars too, while exploring the world.
This harness gives you the best carrying solution with comfort and performance. No matter how much your bino weighs, this harness has the capacity to hold on heavyweight binos. The ergonomic design keeps the optics below the chin for easy access and quick sightseeing.
---
What we liked
Premium-quality harness available in black color
Highly comfortable
Deluxe for rangefinders, light cameras, and binoculars
Comes with elastic straps
Disperse weight in torso and shoulders
Quick and easy sighting with optics rest
Supports heavier binoculars
What we didn't like
Elastic straps are constructed roughly
Delivers a moderate comfort and doesn't have pockets
Type: Low-Profile
Attachment: Clip
Pockets: None
Weight: 5 ounces
Dimensions: 5.9-inch x 1.3-inch x 7.6-inch
For what size binocular: Up to 10 x 42
9. Browning Binocular Harness Chest Pack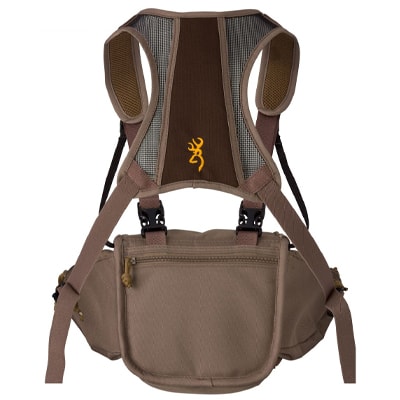 ---
You can keep your binoculars close with this chest pack and secure them.
It features a double adjustment bino strap system to keep things comfortable for you and ensure the device remains safe.
The binocular bag also comes with foam padding to prevent any impacts and shocks. You can access different pockets that come with a zipper.
The binocular carrying system also has different pouches to place different items, including your hunting license, your phone, and rangefinder, etc.
Once you have this binocular harness system, you don't need to place your binoculars in your daypack anymore.
---
What we liked
Double strap with full adjustment ensures even balancing of your binoculars on both your shoulders
Best binocular harness for hunting
Foam padding is there in the primary compartment for additional safety
The top flap provides you with full coverage
2 different storage compartments with zippers
Side pockets with elastic lanyards
Quick-release buckle
Made of high-quality fabric for a long-lasting performance
What we didn't like
Not the best options for larger binoculars
Not enough clearance when bowhunting
Mesh pockets could be larger

Type: Low-Profile
Attachment: Strap
Pockets: 2 side pockets and 2 pouches
Weight: 16 oz
Dimensions: 10-inch x 5-inch x 5-inch
For what size binocular: Up to 10 x 42
10. Eberlestock Nosegunner Binocular Carrying Case
---
The Eberlestock binocular and rangefinder harness comes with a 3D mesh that is fully breathable and makes carrying your bino case an easier task.
It has a versatile design that makes the best binocular case. Most binocular harness reviews focus more on durability but don't talk about compatibility.
There is a webbing present at the bottom of the harness compatible with the Molle and Pals matrix and you can use it to attach a variety of accessories based on your requirements.
Therefore, the binocular holder can matter all your needs for a variety of outdoor adventures.
You can also use this bino harness system for hanging your holsters and have all your devices and weapons close to you as you scout.
These binocular holders are ideally suitable for any small to mid-size binocular device and are pretty resilient.
---
What we liked
Features 3D harness mesh for high breathability
The shoulder harness is fully compatible with Pals and Molle
Features a holster for your rangefinder or your pistol
The main compartment of this harness is magnetic for quick drawing
Side zipper pockets on both sides to palace small-sized items
Fully compatible with the APSK suspension kit by Eberlestrock
The harness features a secure binocular tether that is fully integrated
What we didn't like
The binoculars strap has no locking mechanism
Requires regular adjustments to stay at the chest height
Type: Low-Profile
Attachment: Strap
Pockets: 2
Weight: 20.8 oz
Dimensions: 10.7-inch x 9.3-inch x 4.5-inch
For what size binocular: Up to 10 x 42
11. Mystery Ranch Quick Draw Medium Binocular Harness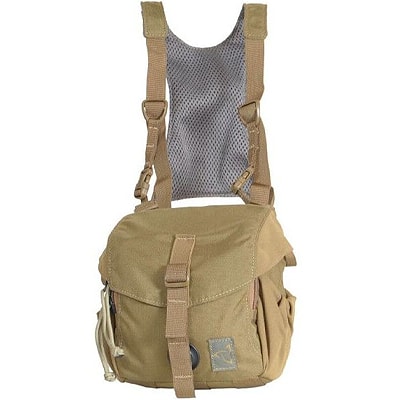 ---
Mystery binocular harness allows you to quickly draw your viewing device.
Your binoculars will always be close to you and secure, whatever you are doing outdoors. The harness features Molle webbing right at the bottom.
You can use it to attach a variety of other accessories, including your bear spray or holsters. Judging by this bino harness review, it is the best bino harness overall for its value and features.
Its harness for binoculars has a low profile and rugged, ideally suitable for outdoor activities. The binoculars harness has a magnetic closure to keep your viewing device secure. With the low profile construction, you can conveniently strap the harness under your backpack harnessing.
---
What we liked
500 denier Cordura for its solids and 610 Cordura HP for the camo stuff
Can comfortably fit a 12×50 binocular device in it
Stretch pockets on the side to play other devices like GPS or wind checkers
The binocular harness strap protects it from any drops
The harness features a clamshell top flap from a variety of elements
Zipper for a secure and convenient storage
Magnetic buckle ensures automatic security of your device
What we didn't like
Heavy binoculars might move the binocular strap with them
All 10×45 Rangefinders won't fit
Type: Low-Profile
Attachment: Strap
Pockets: 2
Weight: 10 oz
Dimensions: 9-inch x 8-inch x 4-inch
For what size binocular: Up to 12 x 50
12. Leupold GO Afield XF Binocular Harness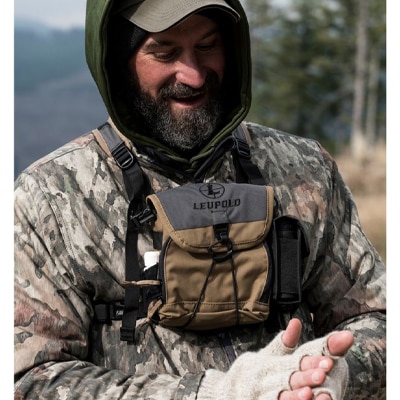 ---
The Afield XF binocular harness will keep your weaving device secure.
Leupold has used 600D nylon in the construction of this harness. It also features TPU backing to ensure extreme durability.
The binocular harness for hunting is made to withstand any harsh weather conditions.
To make it more comfortable, Leupold has used a breathable back panel with air mesh.
There are extra side and front pockets you can use to place your belongings.
You can operate the close lid system with one hand and can use it comfortably even when your other hand is busy.
---
What we liked
TPU backed 600D nylon for durability
Highly breathable back panel with air mesh
The tethering system is not elastic and it holds its position
The closure system is operable with a single hand
Accessories packets are available on the sides and front
These bino straps are easy to adjust
Holds additional items apart from your binoculars
What we didn't like
The binocular pack doesn't fend off rain and better suited for water-resistant devices
Only best suitable for mid-size binoculars
Type: Low-Profile
Attachment: Strap
Pockets: 4
Weight: 3.52 oz
Dimensions: 8-inch x 2.3-inch x 5.75-inch
For what size binocular: Up to 12 x 50
Types of harnesses
Basic
The basic type of harness will only feature a strap with clips for your binoculars. It's suitable for travel, hike, and sightseeing. Not recommended for professional hunting.
Low profile
A low-profile harness would cover a small surface area on your back and has a thin strap. This would be an ideal option for hikers to carry binoculars during summers.
Full size
A full harness would keep the binoculars fully in place and right next to you. Your piece will be very safe from any scratches or dings particularly when you have a full harness with a case.
Dual harness
This type is capable of carrying multiple equipment. Photographers and professional hunters would love to have this type since they have to carry various equipment such as rangefinder, binoculars, camera and lens. But you won't find any pockets to place small gadgets like a compass or torch.
Binocular harness vs. binocular straps
You can use Binocular straps instead of harnesses. However, these straps can put a lot of strain on your neck muscles and you will not feel comfortable wearing it on the field for long hours.
Straps will not take much of your time when you wear them as compared to something like a harness. However, you cannot put much load on it. Binocular straps are available in different shapes and sizes. You can choose any of them according to your preferences and requirements.
Straps don't distribute the weight of your binoculars evenly, but you can use them if you're using your binoculars for bird watching and sightseeing.
On the other hand, a harness is not going to be displaced from its position. The reason behind the popularity of harnesses with outdoor enthusiasts and hunters is the protection it offers to your expensive binoculars.
What's the difference between a pouch and a case?
With a pouch, you don't have to do much when taking in and out your binoculars due to the magnetic closures. But with a case, you will need a few seconds to take in or out your binoculars because you will need to tuck them in properly.
A case harness provides your binoculars with some sort of impact resistance if you happen to drop them accidentally. This resistance is not there when you use pouch harness. Due to the extra layer of protection, a full harness with a case is going to be a little expensive as compared to harness with pouch.
Comfort is essential
Your comfort should be the most important thing that you need to keep in mind when buying a binocular harness. And as we are talking about comfort, binocular straps are not going to be very useful here.
Binocular straps are the reason why birders and hunters develop "bino neck pain" in the first place. This neck pain develops when hunters or birders wear their binocular straps for long hours on a frequent basis. These straps don't evenly distribute the weight of your binoculars and put too much strain on your neck muscles.
Wearing the straps for long hours puts the muscles of your neck through a lot of stress and they get tired. This is not the case when you use a harness. If you are tight on budget, then you can always go for a basic harness. But if budget is not your concern, then you need to use a full harness.
For extra comfort, you need to go for a harness that has straps with some padding and the closure mechanism doesn't make much noise when you are using it on the field.
RELATED: Best Monoculars for Bird Watching (2022)
Will you be carrying other gear?
You also need to carefully consider the fact that whether you will be carrying other gear alongside on the field. If you are going to carry a lot of gear with you on the field, then you will need some extra pockets and compartments to place them all. Even if you have enough storage available, a full harness still provides you with some extra space.
This harness will provide you with extra compartments to put in gear like rangefinders, lenses, etc. if you think that you will need some additional space, then you can consider going for a binocular harness that comes with some storage compartments.
If you don't have other gear to carry with you, then you won't need to consider a harness with extra storage compartments. This way you will be able to spend less because for extra storage you will have to pay more.
How to choose the best binocular harness?
There are various features that you need to consider before buying the best binocular harness. It is key for you to understand what are your needs and requirements so that you don't end up buying the wrong product.
Attachment type
Either basic or full, binocular harnesses come with a range of different attachment and closure types. Some of them come with clips while others come with laces. You can also find different harnesses that feature Velcro along with hook-and-loops.
Just pick the right one according to your needs. Clips are usually the best to consider because they don't make much noise and they keep everything pretty secure too.
Padded straps
Padded straps will be a better choice for you to consider if you will be wearing your harness for long hours. Your muscles will feel less strain due to the extra padding and you can comfortably wear your harness for as long as you want.
Binocular case
The harness with a binocular case is going to be very useful for you if you want to keep your binoculars safe from any scratches or dings. A case will also make your binocular impact resistance in some way and you won't have to worry much if in case you accidentally drop them
Materials
The most popular material for the straps of these harnesses is nylon. Most of the harnesses that you will find on the market will feature nylon straps. For the pouch and cases, the most commonly used fabric is KXO-32 fabric, which is water-resistant. The padded straps come with polyurethane. These materials are proven to be the most functional and budget-friendly options on the market.
Durability
When it comes to durability, the harnesses with cases are the best because they will make your binoculars resistant to impact as well. Nevertheless, these harnesses are slightly expensive as well if you compare them with bagged harnesses.
Frequently asked questions
What is the best binocular harness?
The best binocular harness is the Mystery Ranch Quick Draw Medium Binocular Harness and for premium quality, the best binocular harness is the Leupold GO Afield Binocular Harness XF.
What is a binocular harness?
A binocular harness is a mid-sized chest pack to place your viewing device and keep it safe. You can conveniently move hands-free as you can use it to store other small items too.
How do you use a Bushnell binocular harness?
Bushnell binocular harness needs to be secured right around your body as it comes with a quick-release feature. The harness is designed to alleviate neck strain.
How do you wear a binocular harness?
It's like wearing a dress shirt where you just put one arm in while the other arm in the straps. The next step is to slide the middle towards your head like a school bag. Both straps will rest on your shoulders comfortably.
How do I attach a strap to binoculars?
You need to unthread the webbing of your lanyard from its buckle and end up with a single piece of webbing. Now, thread this webbing right through the lug on your binocular device. Thread it back through the buckle's bottom hole through the top hole and back through the bottom hole to make it secure.
How do you adjust a binocular harness?
First of all, put the binoculars in the push and start adjusting from there. Adjust the binocular shoulder harness to your body using the straps. Be sure to keep the harness close to your chest. It should neither be too tight to make you feel uncomfortable nor too loose so the binoculars keep moving.