There's a misconception that landscape lens means ultra-wide angle lens.
You can use ultra-wide angle for landscape, but it truly excels in interiors where you want to emphasize a foreground object.
For the best landscape shot, you want a zoom lens for different focal lengths with a decent angle.
The best landscape lens for Nikon offers proper zoom and sharp images. Here are our favorites.
We Recommend
Best Landscape Lens for Nikon
1. Nikon AF-S NIKKOR 14-24mm f/2.8G ED Landscape Lens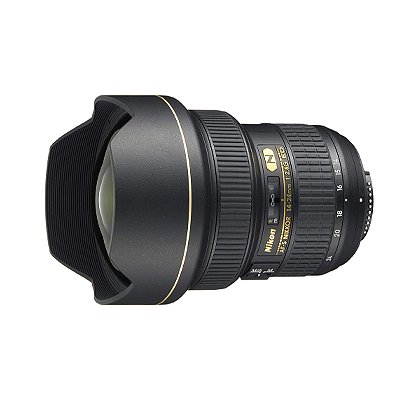 ---
This Nikkor is one of the best options for normal and wide-angle shots. The maximum aperture in this lens is f/2.8 and ultra-wide-angle zoom optimized for edge-to-edge sharpness.
It comes with Two Extra-low Dispersion (ED) elements and PGM aspherical lenses control chromatic aberrations while enhancing sharpness and contrast even at the widest aperture settings.
This lens has the Nikon's Silent Wave Motor, which enables fast autofocus while being extremely quiet, which might become handy when shooting in nature.
Internal Focus (IF) provides fast and quiet autofocusing without changing the length of the lens, retaining subject-working distance through the focus range. It has a quite rugged construction with professional-grade dust and moisture resistance.
---
What we liked
Enhanced optical formulas
Exceptional sharpness
Image integrity is outstanding
Moisture and grade dust resistant
Rugged construction
What we didn't like
Heavy
The lenses do not accept screw-in filters
2. Nikon AF-S FX NIKKOR 24-70mm f/2.8E ED VR Zoom Lens
---
The AF-S NIKKOR 24-70mm f/2.8E ED VR improves upon nearly every aspect of its acclaimed predecessor-sharpness, speed, consistency, control, and durability.
This is a truly versatile telephoto lens with a constant f/2.8 maximum aperture and electromagnetic aperture mechanism.
The optical design incorporates a unique aspherical extra-low dispersion element, in addition to three aspherical, two extra-low dispersion, and one high refractive index elements, to help reduce chromatic aberrations and distortions.
It also has an optical precision to the edge of the frame, a new aspherical extra-low dispersion (ASP/ED) element is paired with traditional as, ED and HRI elements for a thrilling new level of optical precision.
24-70mm is the sweet spot of the zoom range for many photographers, great for everything from landscape photography and studio work to weddings and press events.
The F/2.8 constant aperture allows for faster shutter speeds to freeze fast action, renders a beautiful bokeh blur, and performs brilliantly in low light.
When using vibration reduction, press the shutter-release button halfway and wait for the image in the viewfinder to stabilize before pressing the shutter-release button the rest of the way down.
---
What we liked
Fast f/2.8 constant aperture with an electromagnetic diaphragm
Great image quality and sharpness with virtually no distortion
4 stops of Vibration Reduction for handheld and low light shooting
Very speedy lens
Worth the money if you can afford it
3. Tamron AFA012N700 SP 15-30mm f/2.8 Di VC USD Wide-Angle Lens
---
The Tamron AFA012N700 SP 15-30mm f/2.8 Di VC USD Wide-Angle Lens is the best Nikon lens for landscape and travel – particularly for experienced photographers who do not want to spend too much money on a new lens.
The performance will be similar to an ultra wide angle lens Nikon offers. This is due to the adjustable focal length.
The focal range can be adjusted between 15mm and 30mm. This allows you to get more precision when configuring your camera and lens for the perfect shot.
The lens features a constant f/2.8 aperture exposure. The lens also has a nine-blade aperture design. This is a great feature for people who are looking to take bokeh shots.
The Tamron AFA012N700 SP 15-30mm f/2.8 Di VC USD Wide-Angle Lens offers a 110-degree viewing angle too. This allows you to get more imagery into every shot you take. While a professional lens, it does come at a surprisingly affordable price tag.
---
What we liked
Adjustable focal length
Fixed constant aperture
Wide angle lens
9 blade aperture design
Compatible with full-frame DSLR cameras
110-degree angle of view
Affordable price tag
4. Nikon AF-S DX NIKKOR 16-80mm f/2.8-4E ED VR Zoom Landscape Lens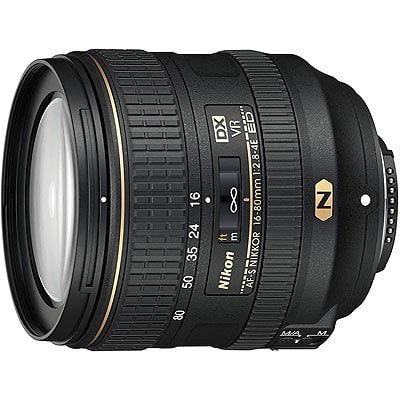 ---
This Nikon AF-S DX NIKKOR 16-80mm f/2.8-4E ED VR lens has a fast f/2.8-4 aperture, VR image stabilization, and Nikon advanced lens technology.
It covers wide-angle to portrait views with absolutely brilliant image quality. An ideal lens for landscape photography, conveying a sense of place, blogging, low light, HD video, and much more.
This is the world's lightest 5x zoom lens with an F/2.8-4 aperture, which is excellent for softening foregrounds or backgrounds and highlighting your subject.
On a DX-format camera, it's zoom range is equivalent to Nikon 24-120mm FX lens (35mm format), a staple in many pro camera bags.
Nano Crystal Coat virtually eliminates glare, while extra-low dispersion glass and aspherical elements reduce color aberration and enhance sharpness and contrast.
There's even a specialized Tripod VR mode, a first for this zoom range*, that eliminates the effects of tripod vibration.
A specialized electromagnetic diaphragm mechanism operates in precise sync with the camera's shutter for reliable exposure control during high-speed sequences.
---
What we liked
World's lightest 5x zoom with an f/2.8-4 maximum aperture
Versatile zoom range that covers wide-angle to portrait views
Minimum Focus Distance: 1.15 feet.(0.35 meter)
4 stops of VR image stabilization for handheld and low light shooting
Nonstick protective fluorine coatings on the glass resist water, dirt, and smudges
What we didn't like
Low-light performance could need improvement
Some vignetting
5. Sigma 18-35mm F1.8 Art DC HSM Lens
---
The Sigma 18-35mm 1.8 DC HSM is the first wide-angle to standard zoom lens to achieve a large aperture of 1.8 designed specifically for APS-C sized sensors.
This lens incorporates a wide glass-molded aspherical lens with Special Low Dispersion (SLD) glass to compensate for aberrations and curvature at the widest angle.
The 18-35mm is ideal for landscape photography, portraits, casual, and close-ups. This has been my main lens for years. It is super sharp and the autofocus is out of this world.
This lens, however, is very heavy, and since I shoot with a battery grip attachment, it makes it that much heavier. This is the only negative behind this lens if you even want to consider it a negative since it is expected.
The motors are silent and the fluidity of the autofocus is insane. Sometimes I let the autofocus do its job because it keeps up with my moving subjects better than I can.
---
What we liked
Fast and versatile design
Art-series zoom, covering wide-angle to normal focal lengths
Bright f/1.8 constant maximum aperture, which suits its use in difficult lighting conditions
Impressive depth of field control throughout the zoom range
The 18-35mm is ideal for landscape photography, portraits, still, life, snapshots, casual, and close-ups
What we didn't like
Not compatible with Full Frame cameras
6. Nikon AF-S FX NIKKOR 20mm f/1.8G ED Fixed Lens
---
Nikon 20mm/1.8 is lightweight and compact with an FX-format. These lenses offer a combination of an ultra-wide perspective of a focal length worth 20mm.
The maximum ratio of reproduction in this lens is 0.23x. Aspherical lens and extra-low dispersion glass elements.
These also consist of (SWM) an innovative silent wave motor. This motor uses electronic waves for accurate, fast, and nearly quiet autofocus operations, which lie approximately 78 inches in proximity to your subject.
This lens allows you to freely capture architecture and expansive landscape photography, crowd shots, concert stages, wedding parties, and lots more. With this lens, you also have the low-light capabilities for your view.
---
What we liked
Compact and lightweight
Shallow depth of field
f/18 maximum aperture
Nanocrystal coat combat sagittal flare
High resolution
No ghosting
Extreme sharpness
What we didn't like
For a perfect view, you need to go live view
With distinct good focus too the stars have distinct glares
7. Nikon AF-S FX NIKKOR 16-35mm f/4G ED Zoom Lens
---
Nikkor 16-35mm/f4 is best option for normal and wide-angle shots. The maximum aperture in this lens is f/4 and offers two modes of focus. The lenses also offer manual and autofocus with manual override.
The lens construction consists of 12 groups and 17 elements. There is also vibration reduction, image stabilization with up to 4 stops. You can use the Nikon F mount for DX DSLRs and FX.
These lenses are extra wide in angle and ideal for capturing interiors, cityscapes, and landscape photography.
With the 16-35mm AF-S NIKKOR and f/4G ED VR, you can not only capture a perfectly complete image but also get focal lengths that cover a tremendously large range. The images also benefit greatly from the steady handgrip of the Nikon image stabilization and vibration reduction technology.
---
What we liked
Rich color rendition
Sharp focus
f/4 fixed aperture lens
the focal range does not compromise on depth of field or brightness
Creative bases have astonishing versatile covering
2.5 stops of blur-free shooting option manually
Does not rely heavily on a tripod
What we didn't like
Slight compromise with a shutter speed
The lens may be slightly heavy for some users
8. Nikon AF-S NIKKOR 70-200mm f/2.8E FL ED VR Lens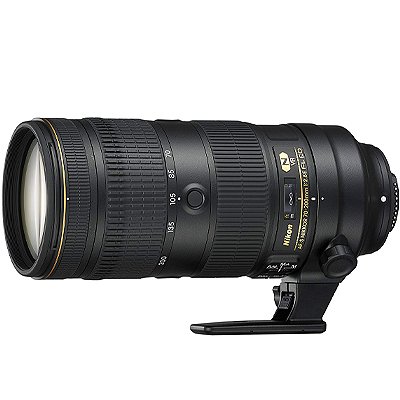 ---
This Nikon's 70-200 f/2.8 lens has been the benchmark for fast telephoto zoom lenses, unrivaled for low-light, sports, wildlife, concerts, weddings, portraits, and everyday shooting.
This is the best Nikon lens I have ever had the pleasure to use. The images are super crisp and clear all and I see no barrel distortion or chromatic aberration.
It is lighter than the previous model and has 4 stops of vibration reduction! You can remove the tripod collar or just the foot if you wish.
The buttons work very well when I want to autofocus with those and then shoot with the main button, just like using back-button autofocus.
It performs exceptionally well in low light thanks to constant f/2.8 maximum aperture. You can shoot with the aperture wide open at f/2.8 across the entire zoom range—from 70mm to 200mm.
---
What we liked
Masterful design
Aperture gives Creamy background
Focus and zoom rings have a reverse position and give stable zooming
Built for field
Improved AF tracking
What we didn't like
A bit costly
Is only suitable for experienced photographers but not beginners and amateurs
9. Nikon AF-S FX NIKKOR 24mm f/1.8G ED Fixed Lens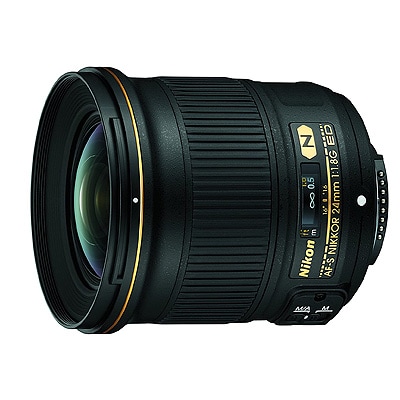 ---
When it comes to looking at a Nikon wide-angle lens FX, some people do prefer something with a fixed focal length.
This keeps the shot stable and reduces the need for constantly switching settings to get a good shot.
The Nikon AF-S FX NIKKOR 24mm f/1.8G ED Fixed Lens is a top option for photographers looking at the best Nikon lens for hiking.
It features built-in autofocus. This lens offers a fixed focal length of 24mm.
It also has a constant minimum exposure rating of f/1.8G. It also provides great performance in a low-light condition.
It has a fast focus system. The autofocus function ensures you are able to focus on a subject without the need to manually adjust a ring.
While this is primarily a prime lens, it does feature a focal length that would also classify it as a wide-angle option. With this in mind, you can use the lens for more than just landscapes – including portraits, wildlife, and more.
---
What we liked
Great price tag
Good for beginners
Constant f/1.8 aperture
Fast focus system
Wide-angle prime lens
Can be used for bokeh photos
Good for more than landscapes
What we didn't like
Does not have image stabilization
May not be suitable enough for professionals
10. Tokina AT-X PRO DX for digital SLR 11-20mm f/2.8 Pro DX Lens
---
This Tokina AT-X PRO is a versatile wide-angle zoom for Nikon DX-format DSLRs.
It offers a 16.5-30mm equivalent focal length and features a constant f/2.8 maximum aperture for maintained brightness throughout the zoom range.
One P-MO hybrid aspherical element and two glass-molded aspherical elements work in tandem to minimize distortions and control various aberrations while three SD ultra-low dispersion elements reduce chromatic aberrations for increased clarity.
It's well-suited to working in a wide variety of situations, and this ultra-wide zoom covers an array of wide-angle perspectives while maintaining consistent illumination for working in challenging lighting.
The main reason I decided to purchase this lens in the first place was for night landscape photography. The 11-20 was supposed to fix several issues the 11-16 had while adding 4mm to the focal range.
This lens is one of my favorite and most used. I couldn't be happier with the choice—great quality and no troubling issues to speak of.
---
What we liked
The lens is very, very sharp
Build quality is great
Zoom ring feels just right (not too stiff, not too loose)
Constant f/2.8 maximum aperture for maintained brightness throughout the zoom range
Very versatile lens
What we didn't like
May have some flare when in direct sunlight (depends on what you shoot)
11. Nikon AF-S DX NIKKOR 10-24mm f/3.5-4.5G ED Zoom Lens
---
The Nikon 10-24mm zoom is ideal interiors, cityscapes, landscape photography, architecture, and other purposes too. It has a focal length of 10-24 mm with f/ 0.8.
This model gives you a 109 degrees angle of the image through 61 degrees. The focal length is equivalent to 15-36mm in length.
With the SWM, users have access to quiet and accurate autofocus operations. It also offers color correction and superior sharpness and efficiently reduces chromatic aberration.
With the aspherical lens present, the elements virtually reduce coma and other kinds of aberrations caused by the lens. Even under the widest aperture use, there are no malfunctions or aberrations. The model also accepts the screw-on filter type.
---
What we liked
Compact yet ultra-wide angle
Ideal for HD videos and photos of landscape photography
Captures with remarkable clarity
Advanced, optimized lens for DX-format
Peak performance in both HD and still shooting
Great color reproduction, contrast and image quality
What we didn't like
A little distortion at the wide end
Manual focusing is a little tricky
12. Sigma 35mm F1.4 Art DG HSM Lens
---
This Sigma 35mm 1.4 DG HSM is a state of the art lens designed for full-frame cameras but can also be used with APS-C sensors as well.
The 35mm 1.4 DG HSM includes new features based around a unique lens concept and design.
The 35mm is a staple focal length in the world of photography and paired with Sigma technology. This lens can take artistic expression to the next level.
The lens is equipped with technology including a Hyper Sonic Motor (HSM), floating internal focusing system, SLD, and FLD Glass elements.
The HSM ensures quiet, high speed, accurate autofocusing, while the floating focusing system allows for superior optical performance with subjects at a closer shooting distance.
The SLD glass elements, along with the FLD glass elements, which are equal to fluorite, help correct both axial and chromatic aberration. This Sigma 35mm 1.4 DG HSM is a must-have for any camera bag.
---
What we liked
Great value for money
F1.4 maximum aperture and is compatible with all current Nikon cameras (both DX and FX)
Ring-type ultrasonic-type AF motor with full-time manual focusing
Available in Canon EF, Nikon F (FX), Pentax KAF3, Sony Alpha, Sigma SA mounts
What we didn't like
May be some spotty focus during lower light when shooting wide open
Types of landscape photography lenses
Wide-angle Lens
Wide-angle is better suited for landscape photography. At any given setting of the aperture, a wide-angle lens offer more depth of field. These subject distances more than telephotos.
With a wide-angle lens, photographers can obtain more sharpness in front to back images. Wide-angle lenses offer more perspective and understanding of the image.
They add more depth by distancing the horizon further away than it is in reality. Wide-angle lenses include up to 40 mm of focal length on a camera with a full-frame.
Prime lens
Prime lenses offer the best value for cost regarding image quality. They work well for photographers within a budget.
The maximum apertures of prime lenses are wider. When bending down to f16 or f11, these are more useful to shoot handheld images in low light. Nifty fifty prime lenses and bokeh are good examples.
Telephoto and Zoom
These are considerable any type of lens consisting of a more than 50 mm focal length. These lenses specialize in magnifying the subjects lying at far to moderate distances like animals and birds.
These lenses allow you to capture subjects that lie at a distance away within your landscape.
These are good for sports events and wildlife photography.
Macro Lens
Allow you to explore flower or leaves patterns, moss clumps and lichen.
They offer a limited depth of field even with small apertures.
These are good for capturing small subjects at close by distances.
What is the best focal length for landscape photography?
14mm
This focal length lies at the end of the spectrum for landscapes. It requires a massive scene and far-stretched places to capture. It covers a tremendous area from one side to the other. This focal length requires the photographer to make the best use of the foreground. The lens poses difficulties in the correct use of the foreground, dramatic and appropriate large size of landscapes, and simplifying scene so as not to overwhelm the viewer.
18m
The 18mm lens allows things to open up with no pressure on framing everything. Photographers can capture an image with fantastic foreground and steady composition without the image feeling as huge as 14mm. Offers more versatility in capturing scenes.
21mm
21mm offers great uses and opportunities to aim narrower or wider. The focal length still allows wide-open to feel but not overly wide in several situations
24mm
24mm normalize scenes. The 24mm offers the option of capturing people and urban scenes in addition to landscapes. However, these are not as ultra-wide, and the scale and grandeur slightly dip with this lens. The more photographers try to zoom in with 24 mm the more their images may flatten out. A high-quality lens offers an extremely wide-angle frame and should be less than 24mm, preferably – This allows photographers to capture more detail with the images looking more panoramic (If you regularly indulge in landscape photography, we strongly advise investing in a wide-angle lens.)
DX vs. FX
DX (Crop sensor)
DX lenses and cameras are cost-efficient. It gives a telephoto effect, which means a lens of 200mm is visually a 300 mm lens.
It also offers versatility with specifically designed smaller lenses and a normal lens too. DX gives quality images with the focus on the center of the image circle.
From the negative side, DX Offers images of the smaller viewfinder and the dim light performance is inferior to FX. Also, the dynamic range is smaller.
FX (Full-frame sensor)
FX lenses have more depth of field control and higher dynamic range. It offers true focal lengths or angle of view and has larger pixels offering better low-light performances.
The downside is that it is more costly and you are unable to use lenses having smaller sensor design. Although there are exceptions, however, full-frame cameras are usually heavier and larger.
FX and DX lenses can be interchangeably used. So if photographers decide to convert from a DX formatted DSLR camera to an FX camera, they will still manage to work just well enough with the FX lens full frame.
Production using smaller and lighter cameras is possible with the DX sensor.
An example could be that a lens of 24mm in a camera with a DX sensor will offer a view of 36mm approximately. If a photographer is upgrading to an FX-format camera from a DX, it is possible to work with DX lenses since the cameras are designed to cooperate automatically. The DX crop mode, however, automatically avoids vignetting.
RELATED: Best Canon Lenses for Landscape Photography in 2022
The Landscape Photography Lens Price Timeline
Bargain up to – $250 – If offers classic prime lenses with optical designs boasting modern technologies. You can get a 24mm f/2.8 lens with easy to carry compact models. They offer good color rendition and robust manual focus features. Weather resistance is available only in some models.
Budget $250 – $500 – Again, you will enjoy a wide range of features such as the wider capacity of angles, compactness, prime lenses, motor supports, optimized lens coatings, and mount lenses. You will also get filter kits with UV filter protection. You will get some protection against unwanted and distracting reflections such as glass or water etc. The best thing is the tripods you get in some models, especially the mini tabletop variety. Other features included microfiber cloth, sensor swabs, and screen protectors.
Mid-range $500-$1000 – These models usually have larger sizes of the sensor with clear images and high-quality delivery. Micro thirds and APS-C are the best options. You will also get a video recording in 4k 1080P. The lifelike video experience is a plus. The megapixels are usually higher than what you get with models in previous budget ranges.
You also get a large range of ISO for capturing premium quality images even under low-light conditions. Some models in this range will offer up to 25600 expandable ranges. Some other great features of this range include excellent quality of the viewfinder, Wi-Fi, editing features, and flash adjustability. You will see some models with bright LCDs too.
Advanced $1000-$1500 – You will usually find these with both video and still options. You can take pictures in RAW format so you can easily edit them later. Focus tracking and eye detection features are a great addition. The interface is user-friendly and 4k footages are easily available in these models. With in-body stabilization, you can take clean photos and videos even when your hands are shaking, or you are moving at high speeds.
How to Choose the Best Landscape Lens for Nikon?
Lens correction
It helps in offsetting imperfections, which are always a part of every camera image. If not performed carefully, lens correction tends to worsen the images. They correct straight lines appearing curved, darkened frame corners and color fringes near the detailed edges. Three common lens correction vignetting, distortion and chromatic aberration
Ultra-wide
Ultra-wide angle lens creates images that possess a tremendously wide angle of view. It makes a good option for landscape photographers and architectures and is an excellent fit for the foreground and surrounding photo elements. The focal length is smaller than a normal lens. Additionally, the best ultra-wide-angle is 8-16mm with an f/4.5-5.6
Low-Light Performance
Large apertures are appropriate for qualitative low-light performances. These allow photographers to control blur with fast speeds of the shutter. They have lower settings of ISO to control the noise. Shutter speeds are essential for avoiding blurs caused by camera shakes.
Aperture
Aperture affects the brightness in the images and controls the level of exposure in the pictures. Aperture can alternate in size, which varies the overall volume of light sent to the camera sensor. The brightness of the image depends on the alternations of the aperture. The sharpest aperture range is 16-35mm f/4 between f/11 and f/8.
Autofocus Speed
Autospeed offers the assurance of images being crisp, clear, and having perfect sharp focus by the majority. An optical system with autofocus uses a control system, a sensor, and a motor for focusing on manually or automatically selected areas or points. For landscape photography, autofocus is not of paramount importance because most of the scenes are static or at least not moving at great speed.
Vibration Reduction
This is a technology that works to stabilize your lens when the user's hand trembles or is unsteady. This way, the blurry images are controlled, which are caused by unsteady usage or if the shutter speed is not up to par. A camera must have two angular velocity sensors, one that detects yaw or horizontal movement and the other, which detects the pitch or vertical movement.
Weather-Sealed
Weather sealing allows the opportunity to shoot in wet conditions or rains. The weakest links are in non-internal zoom lenses and bodies and internal zooms. It, therefore, blocks all the harmful elements for the electronic detailing in the camera- like humidity, snow, dust, and water, etc.