This is a comprehensive Zeiss Terra ED Review!
These binoculars come with high light transmission and Schott ED glass, which means you can see sharp images with high definition in any weather condition. The ergonomic design gives you ultimate comfort in the field. Thanks to the terra ed compact binocular and its lightweight design, you can use them on the go for birding, hunting, and nature observation.
In this review, we are going to explore the different specs, features, and available sizes in detail.
---
Zeiss Terra ED Overview
The lenses and prisms are made of extra-low dispersion glass. So, they are going to be extremely clear and bright without compromising on color quality.
These binoculars are known for their optical quality and their ruggedness to handle all terrains. They come with Schott ED glass optics with hydrophobic multi-coating for accuracy and clarity no matter what the light conditions are.
Though the Zeiss Terra binoculars ED are assembled in China, the optics are made in Germany by Schott, which is a sister company of Carl Zeiss.
These binoculars are pretty lightweight, and we have found them to be ideal for use on the go. Ornithologists, explorers, and bird watchers are going to love these Zeiss terra binos.
These binoculars come in six different sizes, and most of them are designed to use on the move.
The most popular sizes of all the Zeiss Terra ED binoculars are the Pocket size and the 10×42. The pocket sizes are commonly used for sightseeing and leisure, while the 10×42 is the favorite among bird watchers and wildlife observers. 
In the following two sections of this review, we will discuss some common features of all sizes. Later on, we will talk about specific functions of different sizes.
Optical Performance
You can observe even the minute details of nature with these Terra ED binos. The use of high-quality Schott ED glass allows 88% light transmission and allows you to see images with optical clarity.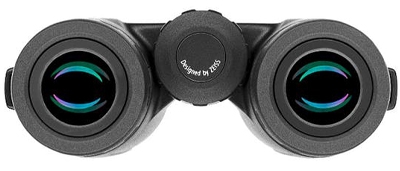 Lens quality
The use of extra-low dispersion glass allows you to see sharp and bright natural colors with crystalline resolution.
The hydrophobic multi-coating glass brings exceptional color precision and high-definition images. No matter what the conditions are, these lenses are going to perform exceptionally well. 
I didn't find any excessive blacking out of images because I set the interocular distance correctly. The lens cap is missing here. But you can buy it separately. It's not a dealbreaker by means.
Image quality
The Zeiss binoculars terra optics can manage up to 88% light transmission and are bright. You won't have to worry about chromatic aberrations because these binoculars can produce accurate colors without any fringing.
Thanks to the high-quality extra-low dispersion glass used to develop lenses and prisms, image quality is of high standards for nature lovers.
With Zeiss T* coatings, you'll get high-contrast images, mainly in twilight and low light conditions. The LotuTec coatings enable you to view a clear and unhindered view even in rainy weather conditions. Whereas the hydrophobic multi-coatings provide natural clarity and precision.
Construction and Design
These binoculars are compact, but they don't compromise durability. The lightweight and ergonomic grip allow you to use it for hours without getting tired.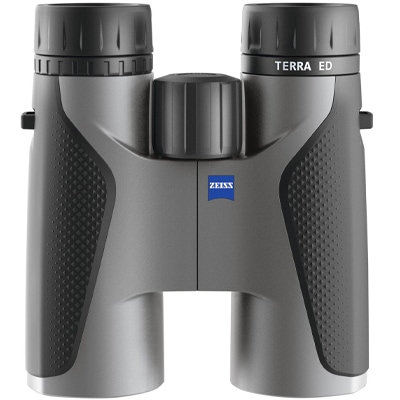 Body and grip
The binoculars have waterproof casing and are reinforced with glass fibers. These binoculars give you a comfortable grip, thanks to their compact construction. They are convenient to carry, and you can fit them in any bag. 
These binoculars are almost indestructible, which makes them last for many years to come. Their lean come with LotuTec coating, and Zeiss has nitrogen purged them to make sure moisture or fog doesn't enter them and hinder your view.
It is comfortable to hold, particularly during cold weather, because it is fully armored without any metal exposure.
Focus wheel and focusing
These binoculars come with fast-focusing features. The focus wheel is pretty easy to grip and makes adjustments very easy. 
The wheel is placed right in the middle of the two barrels, and you will notice that as soon as you pick the binoculars, your finger will land automatically on the focus wheel. And adjusting them is equally easy even with your gloves on.
You can adjust interpupillary distances for the left or right eye to get a clear view using the right barrel diopter wheel.
However, I found the diopter settings unmarked, which means if you change it between people, you have to readjust the settings.
Eyecups and lens covers
The lens covers and eyecups are pretty standard by Zeiss. These are very easy to adjust with their twist-up design, and they will stay in the place no matter what. Most brands tend to forget about these small details on their products but not Zeiss.
These lens caps and eyecups are pretty sturdy and are designed to stay on no matter what. They won't come off where you place your binocular in your pocket or use a harness.
You can adjust the eyecups fully-in if you're wearing glasses for a comfortable view and fully out if you don't wear glasses. These eyecups are so comfortable and rest on your brow while you gain full unobstructed natural, bright, and enjoyable views.
Terra ED Model Sizes
There are six different sizes available in Terra ED binoculars. Most of them are designed to be used on the go, but the pocket 8×25 is truly pocket-friendly. That's why they are more popular among explorers and sightseers. The following table is going to provide you with a detailed overview of all these sizes.
| | | | | | | |
| --- | --- | --- | --- | --- | --- | --- |
| | Pocket 8×25 | Pocket 10×25 | 8×32 | 8×42 | 10×32 | 10×42 |
| Magnification | 8x | 10x | 8x | 8x | 10x | 10x |
| Objective lens diameter | 25 mm | 25 mm | 32 mm | 42 mm | 32 mm | 42 mm |
| Eye relief | 16 mm | 16 mm | 16.5 mm | 18 mm | 16.5 mm | 14 mm |
| Exit pupil | 3.1 mm | 2.5 mm | 4 mm | 5.3 mm | 6.1 mm | 4.2 mm |
| Linear field of view | 357 feet/1000 yards | 291 feet/1000 yards | 405 feet/1000 yards | 375 feet/1000 yards | 336 feet/1000 yards | 330 feet/1000 yards |
| Angular field of view | 6.5 degrees | 5.4 degrees | 7.63 degrees | 7.0 degrees | 6.1 degrees | 6.0 degrees |
| Close focus | 6.2 feet | 6.2 feet | 5.3 feet | 5.3 feet | 5.3 feet | 5.3 feet |
| Dimensions (height/width) | 4.4 x 4.5 inches | 4.4 x 4.5 inches | 4.9 x 4.6 inches | 5.6 x 4.7 inches | 4.9 x 4.6 inches | 5.6 x 4.7 inches |
| Weight | 10.9 oz | 10.9 oz | 18.0 oz | 25.6 oz | 18.0 oz | 25.6 oz |
| Handheld | Built for use on the go | Built for use on the go | Great for on the go | Great for on the go | Better to use when stationary | Better to use when stationary |
Zeiss Terra ED Pocket 8X25
The Zeiss Terra ED Pocket 8X25 binoculars are the lightest of all the Terra ED sizes and the Pocket 10X25. These binoculars are very compact and can comfortably fit in your pocket.
The Terra pocket 8X25 is best suited for explorers and sightseers. You can also use them for bird watching, but they are more suitable for sightseeing. These binoculars come with pretty decent eye relief and field of view.
Thanks to the ED glass, the chromatic aberrations are fairly controlled even in low light conditions.
---
Zeiss Terra ED Pocket 10X25
---
There is not much difference if you compare the Zeiss Terra ED Pocket 10X25 binoculars with the 8X25 Pockets. This size comes with a better magnification of 10x. But You will have to give up on the linear field of view up to some extent.
Still, the Terra pocket 10X25 binoculars are pretty lightweight and are compact in size, and you can conveniently put them here and easily access them when you want to get on the action that is right in front of you. These are pretty comfortable for you to use, even if you wear eyeglasses.
---
Zeiss Terra ED 8X32
The Zeiss Terra ED 8X32 binoculars are pretty lightweight; weigh around 18 ounces. They also come with a very compact design but have robust construction. They come with the best linear and angular field of view, and you will find the best for sightseeing and exploring.
The Terra ed 8X32 are pretty easy to handle and come with slightly better eye relief on them. So, eyeglasses wearers will find them easier to handle. And they are pretty easy to focus on, and you won't miss out on anything at all.
---
Zeiss Terra ED 8X42
The Zeiss Terra ED 8X42 binoculars are best when it comes to long eye relief. This pair is most comfortable to use with eyeglasses. However, these binoculars come with heavier optics; therefore, they are going to be a bit tough to hold for long hours.
But you can expect high-quality images at a distance and with clarity and sharpness. The Zeiss terra ed 8X42 review has revealed that they come with a pretty decent field of view, which makes them an excellent choice for wildlife observation and bird watching.
---
Zeiss Terra ED 10X32
If you are looking for better optics but don't want to go with a heavier unit, then the Zeiss Terra ED 10X32 binoculars will work out for you pretty well. These binoculars come with powerful magnification, and a 32mm objective lens will allow you to view your targets with clarity.
The Terra ed 10X32 binoculars come with an average field of view, but eye relief on these binoculars is good. You can conveniently use its lightweight design to carry it around on the field.
This size is an all-rounder and caters to different demands as it comes with good magnification, a decent FoV, quality optics, robust design, and lightweight construction.
---
Zeiss Terra ED 10X42
The Zeiss terra ed 10X42 binoculars come with the best magnification and with the most powerful optics in this range. If you are looking for some details in your images, then you should go with this pair. The combination of the waterproof casing and its operating temperature range (+5F to +140F) makes it usable in all weather conditions, from scorching heat to any rainy weather.
In this Zeiss terra ed 10X42 review, I found that the use of aluminum makes them lightweight and easy to hold for hours. However, we would suggest using a tripod or a window mount because these binoculars are pretty heavy, and at full magnification, you might end up losing track of your target if you shake a lot with your hands. These binoculars are meant for steady hands.
---
Zeiss Optics Warranty
Zeiss is globally recognized as one of the best brands in the optical industry. It has been around for many years now; it is known for its quality since the time of its inception.
That's why Zeiss stands behind the quality of its products. The Zeiss Terra warranty offers 2 years on the optics, components, and accessories of all its binoculars. This warranty covers any issues with the materials and craftsmanship of these binoculars.
However, it excludes loss, theft, or cosmetic alteration of the product. You can see more details about the warranty on the following page.
Downsides
Overall, I'm pleased with these binos, but the case is disappointing because it does not open fully. I cannot fit the binos in it. Plus, I haven't found any instructions on how to attach the lens cover.
These are the only two issues that I found when using these binoculars. But you can't take them as deal-breakers.
What's In the Box?
The package pretty much includes everything that you will need, but for the larger size, we thought Zeiss could have gone for a tripod or a window mount and included it in the package as well. The rest is all fine with the entire package. A window mount or a tripod will become a must for you if you have shaky hands.
A carrying case
A strap
2 objectives lens covers 
A rainguard 
2-years warranty
Other User Reviews
The Zeiss Terra ED binoculars come with a user rating of 5.0 stars which is awesome!
Utmost of the users have complimented about how light but durable these binoculars are. Apart from that, most people loved the fact that these binoculars can effectively handle chromatic aberration as well as certain low-light conditions.
However, only a few people have mentioned that they didn't like a slight stiffness in its focus knob. Here's a review that will help you out in some sort.
I ordered a different pair of binos first and they were terrible, 1/3 of the view was obscured by glare when I used them in the sun. These binos are great low light, sun, and everything in between. Can't wait to take them out hunting. Thanks again to OpticsPlanet who recommend them.

From OpticsPlanet
Alternatives
If for some reason you don't like these binoculars, don't worry we have some alternatives here.
Nikon Monarch 7
The Nikon Monarch 7 will present you with a bit wider linear field of view, but you will notice that they are slightly heavier too. But these binoculars do come with comfortable eye relief and care pretty easy to use when it comes to focusing.
Vortex Viper HD
The Vortex Viper HD is a better alternative because these binoculars come with longer eye relief and a wider field of view and are lighter. If you are getting all of that in a package at the same price, you need to consider it seriously.
Zeiss Conquest HD
The Zeiss Conquest HD is way ahead in terms of price, and if you are willing to pay more, you won't be disappointed. These binoculars come with longer eye relief and wider eye relief, but these are slightly heavier to hold. They offer the best light transmission on the market.
Our Verdict
I found the Terra ED Zeiss binoculars as a good budget-friendly option. They come with quality optics and produce crisp images and HD results in bright daylight.
The most popular of all sizes is the 10X42 because lightweight makes them easy to hold for hours. This size is suitable for hunting and bird watching, while 8X425 is suitable for general exploring and sightseeing.
You can purchase Zeiss Terra ED binoculars in-store and online directly from the company or from its authorized dealers located in different regions throughout the country.