This is a comprehensive Vortex Fury HD review!
Splurge for this high-definition binocular if you're a professional rifle shooter or a hunter because it's equipped with a rangefinder. I have used it for a spring bear hunt that involved a lot of glassing. The clear optics and magnification helped me to get a stress-free hunt of the bear in the forest.
In this Fury review, we will have a close look at all the features, specs, and sizes available in this model.
---
Vortex Fury HD Overview
These Vortex Fury binoculars come with an HCD scan that shows angle compensated distance. You can use this scan for ranging a target for both archery and rifle shooting. 
This bino comes with a powerful battery that can last for up to 4000 ranging cycles.
The Fury binoculars come with HD optical lenses with select glass elements that eradicate chromatic aberrations and show you superior light transmission and sharp images.
Although these Vortex rangefinder binoculars are made in China, I haven't seen any issue with the build quality. No one has reported any issues with this pair. Furthermore, the company gives a lifetime warranty so you don't need to worry about the quality.
Since the Fury HD binoculars come with quality optics and feature a rangefinder, they provide a high value for money.
There are two sizes available in these models:
The Fury HD 5000 is more popular among hunters and for occasional long-range shooters. However, the Fury HD 5000 AB is the top choice for accurate long-range shooting.
In the following two Fury review sections, we will discuss common features of both sizes. However, in the latter section of this Vortex Fury review, we will shed some light on each size's specific features.
Rangefinder functionality
The rangefinder present in the Vortex Fury rangefinder is second-generation laser units that are the lightest, smallest, and power-efficient modules in all rangefinder types. They can conveniently measure targets up to 17 kilometers with high accuracy. Its range is ultra-fast and highly efficient, which is useful when you want to locate moving targets.
It also comes with different preset target modes, including the Best Mode and the Last Mode. The Best Mode provides you with the target range with the strongest range results, while the Last Mode provides you with the farthest distance while scanning and panning.
The Last Mode will work better when your target is behind a group of rocks, trees, or brush. On the other hand, the best mode is better suited for most hunting or shooting situations. With these Vortex binoculars with rangefinder, you can easily spot a reflective objective at 5000 yards, a deer at 1600 yards, and a tree at 2000 yards. So, this powerful rangefinder for your hunting excursions can produce angle compensated results with its HCD (Horizontal Component Distance) mode.
Optical Performance
As Fury HDs come with HD optical systems, you can see an accurate image with high light transmission and precise colors without chromatic aberration.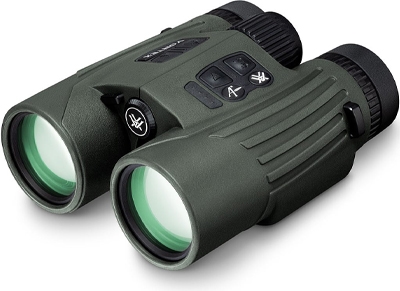 Lens quality
The Vortex Fury binoculars come with quality glass elements in their HD optical system that show high-resolution images and reduce chromatic aberration. These binoculars come with multi-layered phase-coated dielectric prisms to make sure you get accurate colors with clarity. 
Vortex has used its trademark XR multi-coating on both prisms and lenses for even brighter results and sharpness.
This anti-reflective layer ensures seven better light transmissions on all glass surfaces. With these features, you will get high-quality image results even during low light conditions.
Image quality
There are multi-layered coatings on Vortex Fury HD binoculars' optics to ensure you get an HD image of your target even in the dark.
The dielectric prism coating also does a fine job producing accurate images with sharp resolutions if you're going for hunting and long-range shooting in low-light conditions.
The clear, bright, and color-accurate images allow you to identify the targets and lock-in them from far distances. This is very important because you need to act quickly otherwise, the target can move and hide. The HCD sensor in the image quickly calculates the right elevation to give you an accurate reading of your prey so that every shot on prey counts.
Construction and Design
These binoculars are comfortable to hold in your hands and come with a rubber armor body that prevents it from shattering if you drop it accidentally.
Body and grip
The lens has an ArmorTek coating to prevent scratches. The body is compelled to shock, fog, and waterproof with nitrogen gas purging and o-ring sealing to deliver reliable performance in foggy and rainy environments. 
The ergonomic design makes it feel pretty comfortable in your hands. Due to its rubber armor body, you won't have to worry about the binoculars slipping in your hands due to moisture. The Fury rangefinder binoculars come with a lockable diopter present on the binoculars' right barrel, which means you don't have to readjust it if you're using it to locate a target. Moreover, the Fury HD rangefinder binoculars are tripod adaptable, and you can use these binoculars with a window mount.
Focus wheel and focusing
The Fury HD binos come with a central focus wheel that you can use conveniently to adjust both barrels simultaneously. It just makes viewing and focusing the lenses a lot simpler job. The focusing itself is smooth.
Due to an ergonomic design, you can easily move the wheel with your finger to focus on the object. You can do this even with your gloves on. The focus wheel has small clicks, which are satisfying and feels good.
Eyecups and lens covers
The quality eyecups of Vortex range finding binoculars are multi-positioned and are twistable for a comfortable fit. They come with a tapered design and construction for a comfortable viewing experience. The eyecups have a durable design, and you won't have to go for a replacement at all. 
I also found the lens covers relatively solid. They are of quality materials and fit nicely on the lenses to keep them safe from external environments and exposure to different elements. You won't have to worry about losing them because they fit comfortably.
Fury HD Model Sizes
Fury HD binoculars are available in two different sizes. The 10X42 binoculars are great for hunters, while the Fury HD AB 5000 is for long-range shooters for their Applied Ballistics feature. The following table will provide you with a detailed overview of both the Vortex Fury HD 10×42 binoculars models.
| | | |
| --- | --- | --- |
| | 10X42 | 10X42 AB |
| Magnification | 10x | 10x |
| Objective lens diameter | 42 mm | 42 mm |
| Eye relief | 16 mm | 16 mm |
| Exit pupil | 4.2 mm | 4.2 mm |
| Linear field of view | 6 to 321 feet/1000 yards | 6 to 321 feet/1000 yards |
| Angular field of view | 6.1 degrees | 6.1 degrees |
| Close focus | 18.5 feet | 18.5 feet |
| Dimensions (height/width) | 5.75 x 5.0 inches | 5.75 x 5.0 inches |
| Weight | 32.3 oz | 32.4 oz |
| Handheld | Suitable for using when stationary | Suitable for using when stationary |
Vortex Fury HD 5000 10X42
The Vortex Fury HD 5000 10X42 binoculars come with a magnification of 10x and a field of view of 321 feet at 1000 yards.
In this Vortex Fury HD 10X42 review, I found that they will provide you with a good quality wide-view image and a powerful magnification to have a more detailed view.
Its eye relief is 16mm, which means you can easily use the Vortex laser rangefinder binoculars with your eyeglasses on. These binoculars weigh over 32 ounces, so you will need a tripod or a window mount if you have shaky hands.
---
Vortex Fury HD 5000 AB 10X42
---
The Vortex Fury HD 5000 AB 10X42 binoculars come with Applied Ballistics. This is a third-party program that provides unbiased ballistics information to assist you in various long-shooting applications.
The ballistic features include wind speed, temperature, pressure, and profile sections. The Fury HD AB 10X42 model is ideal for long-range shooters because it takes out the guesswork by providing highly accurate readings of the target object.
---
---
Vortex Warranty
Vortex is a quality brand, and it is well recognized in the industry because of its durable products. The company stands behind its products and provides its customers with an unlimited and unconditional lifetime warranty.
No matter what has gone wrong with your binoculars, Vortex will repair or replace them for you. The entire product, along with its accessories and components, is fully covered under this warranty.
The only damage excluded from this warranty is if the product is stolen, lost, or is cosmetically altered for some reason. The alteration is hindering its optical performance.
Downsides
The only weakness in these Vortex Fury rangefinder binoculars is they are slightly heavy. Your hands may start feeling tired if you hold them for long hours.
Therefore, you will need a tripod adapter, or a window mount to get the best results from this pair.
Although they come with chest straps, you need a separate harness if you weigh more than 150 lbs.
What's In the Box?
I think it's a complete package. But I missed a tripod or a window mount in this package because these binoculars are slightly heavy and used to get highly accurate target readings.
Vortex Fury HD 5000 rangefinder binoculars
Neck strap
GlassPak harness
2 objective lens covers (tethered)
Eyepiece covers (rain guard)
Case strap
CR2 battery
Vortex VIP warranty
User Reviews
The user rating of these binoculars is 4.7 stars, proving the point we are trying to make in the above text. 
Most people found the Vortex Fury 5000 binoculars excellent for hunting as well as long-range shooting. These binoculars are quick to focus and work well in most conditions because of their solid construction.
Most people love the accuracy of the rangefinder and how it helps in spotting the target quickly. Some people also complimented how these binoculars ensure light transmission and work great in low light conditions.
I sold my Bushnell Fusion 1 mile because I wasn't happy with the clarity, its size & weight on my last sheep hunt. I needed a new binocular with laser range finder capabilities in a smaller package and better customer service. The new Vortex Fury 5000 Gen II fits the bill. Everything I needed to be packed into a quality brand of optics. Edge to edge clarity and low light visibility. Vortex customer service is top-notch. I am always answering my emails in a timely manner, and it's a third of the euro glass price! Besides the quality of the Fury Gen II, you can't beat the Vortex lifetime-no-fault warranty! I highly recommend them!!!

From OpticsPlanet
Alternatives
However, if you still don't like to buy these binoculars and are looking for alternatives, we have some options for you to consider.
Nikon LaserForce Rangefinding Binoculars
You can consider the Nikon LaserForce that comes with a max capacity of 1900 yards. These 10X42 binoculars also come with the ID laser rangefinder and run on a CR2 battery. The ED glass optics on these binoculars produce exceptional quality results.
Sig Sauer Kilo 3000 BDX Rangefinder Binoculars
If you are looking for a decent maximum range, then these SigSauer BDX binoculars will work fine for you as they come with a max range of 3200 yards. They also feature an OLED display, so they are going to be very clear in gloomy conditions. They also come with a long battery life of 20000 hours, and your device is not going to run out of battery when you need it the most.
Zeiss Victory RF Rangefinder Binoculars
These Zeiss RF binoculars come with a max range of 2500 yards and have a field of view of 345 feet @ 1000 yards. These are premium quality binoculars but quite expensive. So, they are for professional hunters and long-range shooters to want to be perfect in their craft.
Our Verdict
The Vortex Fury HD 5000 10X42 binoculars are quality binoculars meant for serious hunters and long-range shooters. These binoculars come with rangefinders, and they can trace a reflective object at a distance of 5000 feet.
These binoculars are robust in construction and can take a toll in the outdoors if you drop them accidentally. Their quality optics and range-finding modes can produce target images even in low light conditions.
The Vortex Fury HD 5000 AB 10X42 binoculars are equipped with advanced ballistic features that make them ideal for professional hunting and long-range rifle shooting. You can buy Vortex Fury HD binoculars in-store and online directly from the company outlets and its authorized dealers located all across the US.