This is a comprehensive Nikon Prostaff 7s review!
Nikon Prostaff 7S binoculars are suitable for serious bird watchers, hunters, and researchers looking for a good magnification with shaky hands.
The Nikon Prostaff 7 binoculars are heavy, so holding them in your hands for long or hanging them in your neck is a bit hard, but it's not a dealbreaker.
In this in-depth review, we will review the specs, performance, and overall built.
---
Nikon Prostaff 7s Overview
The Nikon Prostaff 7S binocular device is a quality pair of binoculars with enhanced brightness thanks to the high reflection mirror casting on its prisms. The long eye relief makes it comfortable to use them, even with glasses. 
The turn and slide rubber eyecups come with multiple clicking adjustments for comfortable viewing. It's a lightweight pair, which is purely due to its optics.
All Prostaff binoculars are made in Japan, including their accessories. We all know that made in Japan binos are a symbol of top quality. 
Although the adjustable rubber eyecups are easy to adjust but be careful, they might break if you have a knack for doing extra tweaks.
The Nikon Prostaff 7 binocular is available under the $200 price range. You won't find many binoculars in this price range that can produce better image quality and brightness than Profstaff 7s. 
It certainly won't match the high-end quality that is used for astronomy.
You can find this model in different sizes to suit your needs. Here's a list of sizes you can find in Nikon Prostaff 7S.
The most popular size is the 10×42. It has the best specs in all the models, and you can enjoy clearer and brighter images thanks to the high reflection mirror coating on the prism system. Both wildlife lovers and explorers love to use them.
The next two sections of this Nikon Prostaff 7S binoculars review are similar for all sizes and versions of this model. And in the later sections of this review, we will uncover the different sizes through a comprehensive chart.
Optical Performance
The mirror-coated prisms of Prostaff 7S give you bright images. You will notice chromatic aberration at magnification, especially with darker objects against a brighter backdrop. But overall, the clarity feels relatively nice.
Lens quality
The objective lens gathers extra light, making it useful for looking into shady areas and evening viewing. These binoculars come with powerful multi-coated Eco-Glass lenses and produce brilliant image production by enhancing the depth of field without any distortion.
They are backed up well by the phase correction high reflection mirror-coated prisms that handle resolutions and brightness very well. All this mechanism makes sure you get a natural and clear view.
The Prostaff 7S is suitable for daytime viewing; that's why it's not recommended to use for hunting during dawn.
Image quality
With the multi-coated lens and phase-coated prisms, you won't have to worry about those dull images. The purpose of these coatings is to maximize light transmission for a brighter result. 
But one aspect of these binoculars that have bothered us more than anything else is its color fringing at high magnification. When you see a darker object against a brighter background that chromatic aberration occurs.
Construction and Design
Nikon has given it a stylish exterior to enhance its fashionability. The overall construction of the Nikon Prostaff 7S is good. It's all rubber armored and extremely ergonomic to hold.
The nitrogen-gas-filled waterproof structure allows you to use it in any outdoor condition. You can use it for nature watching, birdwatching, and sightseeing without being affected by the weather.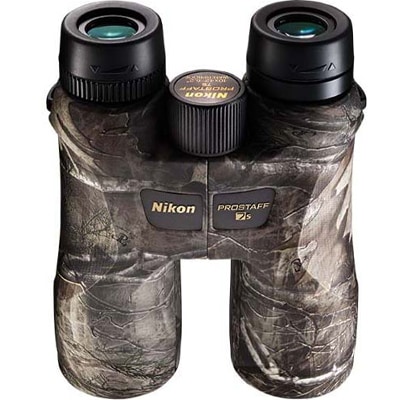 Body and grip
The Prostaff 7 features a rubber-armored body, ensuring an anti-slip grip. So, you won't have to worry about your binoculars slipping away from your hands in rainy conditions. Like all Prostaff models, this one is O-ring sealed and nitrogen-filled to make it fog and waterproof.
The ergonomic pressed handholds design won't let your hands feel strain even if you hold them for a longer time. These binoculars are tripod and window mount adaptable as well. At higher magnification like 10×42, you might want to go for these add-ons, especially if you have shaky hands.
Focus wheel and focusing
Its focus knob is simple to use as well (even with your gloves). The most intriguing part of this knob is its design with an ergonomic clickable adjustment, and it's located right in the center of both the eyecups. You can adjust the magnification using the centralized knob with your fingertips without adjusting the binos' grip.
Of course, it is a manual focusing device, so you will have to focus on it each time you use it, which might be an ultimate bummer. But at this price, you can't expect much, especially if you are getting an outstanding image quality.
Eyecups and lens covers
You can adjust the eye relief depending on whether you are using it directly or with your glasses. The adjustment operation itself is okay, but these eyecups are quite flimsy. Sadly, Nikon hasn't done much in this department.
You might end up losing them all together because they come off in no time. You don't need to bother if you wear it around your neck, not worthy of influencing your buying decision, though.
Prostaff 7s Model Sizes
We loved the Nikon 7S because it's available in different sizes. The 10×42 is the most popular because they are the most versatile and produce the best images in terms of clarity and brightness of all the Nikon 7S binoculars.
In the following table, we highlight each of these sizes' features to make the comparison easier for you.
| | | | | | |
| --- | --- | --- | --- | --- | --- |
| | 8X30 | 10×30 | 8X42 | 10X42 | 10X42 TrueTimber Kanati |
| Magnification | 8x | 10x | 8x | 10x | 10x |
| Objective lens diameter | 30 mm | 30 mm | 42 mm | 42 mm | 42 mm |
| Eye relief | 15.4 mm | 15.4 mm | 19.5 mm | 15.5 mm | 15.5 mm |
| Exit pupil | 3.8 mm | 3 mm | 5.3 mm | 4.2 mm | 4.2 mm |
| Linear field of view | 342 ft at 1000 yds | 315 ft at 1000 yds | 357 ft at 1000 yds | 325 ft at 1000 yds | 325 ft at 1000 yds |
| Angular field of view | 6.5° (real) 48.9° (apparent) | 6.0° (real) 55.3° (apparent) | 6.8° (real) 50.8° (apparent) | 6.2° (real) 56.9° (apparent) | 6.2° (real) 56.9° (apparent) |
| Close focus | 8.2 ft | 8.2 ft | 13.1 ft | 13.1 ft | 13.1 ft |
| Dimensions (height/width) | 4.7-inch x 4.8-inch | 4.7-inch x 4.8-inch | 6.6-inch x 5.1-inch | 6.6-inch x 5.1-inch | 6.6-inch x 5.1-inch |
| Weight | 32.54 oz | 23.17 oz | 32.54 oz | 32.54 oz | 22.8 oz |
| Handheld | Easy to hold | Easy to hold | Easy to hold | Might need a tripod for a longer period. | Can hold for long time |
Nikon Prostaff 7s 8X30
The Nikon Prostaff 7S 8X30 binoculars are best suited for general purpose observations. If you are looking for a decent pair of binoculars to explore the outdoors, you'll love this bino.
These binoculars are pretty comfortable to hold because they have smaller dimensions in all 7S Prostaff sizes. Birding wildlife observation at closer ranges can be done comfortably with them.
We loved the Prostaff 7S 8X30 because they come with an 8x magnification. So, you will find their wide-angled field of view to be a trusty companion out there in the wild.
---
Nikon Prostaff 7s 10X30
---
The Nikon Prostaff 7S 10X30 binoculars are an excellent choice for general uses like bird watching. It comes with higher magnifications for you to zoom in on your target and have a closer view. But of course, you will have to give up on FoV with it too.
Keep in mind that the Prostaff 7S 10X30 binoculars come with slightly less powerful optics at 30mm, so you might wanna' use them in brighter conditions only. So, these will work for various outdoor activities, including exploring, birding, and wildlife observation.
---
Nikon Prostaff 7s 8X42
Want to see a bigger picture in dark conditions? The Nikon Prostaff 7S 8X42 binoculars are good when it comes to enjoying sightseeing during low-light conditions. The 8x magnification will allow you to enjoy a wider FoV. With a wider FoV, you can enjoy the views even under an overcast sky without any image distortion.
Again, these binoculars work superbly if the observation is done at close ranges like woodland hunting or general nature watching from your backyard. The Prostaff 7S 8X42 binoculars are better suited for general observation and sightseeing.
---
Nikon Prostaff 7s 10X42
The most powerful of them all, the Nikon Prostaff 7S 10X42 binoculars, are suited for closer observers who enjoy birding and wildlife observation. Because these binoculars produce brighter images with better light transmission, researchers can use them as well.
With 10x zoom, you might not have much FoV to deal with, but a 42mm objective lens works marvelously to create sharper images and allow you to have fun in the outdoors by having a look around closely. The Prostaff 7S 10X42 binoculars are great, but you might want to use a tripod if you have shaky hands.
---
Nikon Prostaff 7s 10X42 TrueTimber Kanati
---
The TrueTimber Kanati binoculars are a custom model of Nikon Prostaff 7S 10X42. If you hunt quite frequently, you will need a pair of binoculars with an adequate finish. The Nikon Prostaff 7S 10X42 TrueTimber Kanati binoculars do that for you on your excursions.
They camouflage well in the woods and even out in the open. Plus, they also come with a 42mm lens and a 10x zoom. The Nikon TrueTimber Kanati binoculars are good for researching and wildlife observations too. And the best part is they are lightweight.
---
Nikon Warranty
Nikon is a globally recognized brand, and you can expect a good warranty period from them. You'll get a lifetime limited warranty from Nikon for binoculars if you purchase them from a Nikon authorized dealer.
You'll love the limited lifetime warranty from Nikon because it gives you peace of mind that you won't get a faulty piece from the company. This warranty is only applicable to be free from defects in workmanship and material. But the warranty will become void if you accidentally drop it.
Downsides
We love each and everything about Nikon's Prostaff 7S. All its sizes are geared towards different users. But two things are bothering us.
You have to deal with color dispersion at higher magnification, making you feel you are using a low-quality device. It's not a deal-breaker if you're using the binos for sightseeing. The eyecups are of low quality but this doesn't affect buying decisions anyways.
Stargazing requires a large magnification lens size, preferably 15X70. The Nikon 7s binoculars are not meant to be used for stargazing because it doesn't handle low light conditions.
What's In the Box?
As these binoculars come with powerful optics, Nikon could have slipped in a tripod or a window mount as well. Because at high zooms, images might become hard to focus on due to shaky hands. Everything else is great.
A carrying case.
A neck strap
Single-piece rainguard (ocular)
Two caps for objective lenses
A limited lifetime warranty (can be extended)
User Reviews
The 7S Porstaff binoculars come with a rating of 4.6 stars, which is good. Going through the Nikon Prostaff 7 reviews, we found out that most people loved the crystal-clear images. Many users also love the way this bino handles light transmission. It is one of the best options out there in this price range that can handle gloomy conditions.
But some users also complained about those flimsy eyecups, along with the color fringing at higher zooms in overcast conditions.
Great Binocular for the price. Bought these for my wife and she loves them. I have several sets of binoculars used for hunting and these are as clear as any I have purchased. Coupled with Nikon's outstanding warranty these are a bargain.

From OpticsPlanet
Alternatives
If this bino's downsides are too much for you, there are some available alternatives, which are equally great.
Leupold BX-1 McKenzie
Leupold BX-1 McKenzie is a good alternative to Nikon Prostaff 7S because you won't have to deal with color fringing, and the eyecups have better quality. These are light binoculars, and they also come cheaper. These binoculars come with a rubberized body, and they are fog and waterproof too.
Vortex Diamondback HD
If the price is not your concern, you can go for Vortex Diamondback for just a few dollars. These binoculars are fog, shock, and waterproof and pretty light to carry. These binoculars are argon purged and come with phase-corrected prisms with multi-coated lenses.
Nikon Monarch 5
If quality is something you cannot compromise, go with Monarch 5 by Nikon. These binoculars are on a whole different level with better eye relief, close focus, eyecups quality and locking system, and ED glass lenses with high reflections coating prisms. You won't have to deal with chromatic aberrations here.
Our Verdict
You'll get decent FoV and eye relief while using the Nikon Prostaff 7S binoculars. Apart from the lightweight construction, the ergonomic grip and centralized adjusting knob will help you to hold and use it for longer times. Overall image quality, construction, and design are good if you want to use them for daylight conditions such as sightseeing. 
The only thing to worry about is you can't use them for great results in slightly gloomy conditions. Plus, you will have to replace those low-quality eyecups and a flimsy neck strap before any damage occurs.
The most popular size of them all is the 10X42, and that is because it comes with the best optics in all sizes and can produce high-quality images and handle light transmission relatively well.
You can buy your Nikon Prostaff 7S binoculars in-store or online from authorized Nikon dealers. You can also directly buy them from the company or selective retailers.