This is an in-depth Nikon Monarch 7 review!
The exceptional wide view allows you to easily locate your subject, making it a top choice for hunting and bird watching.
These binoculars are slightly heavy, which is not a dealbreaker as the quality is so good. But if you want to use them for longer hours, then we suggest either a monopod or tripod.
In this detailed Monarch 7 review, we will review everything from the overall built, specs, and performance of these binoculars.
---
Nikon Monarch 7 Overview
The Nikon Monarch 7s are high-performing waterproof binoculars designed for serious hunters, bird watchers, and wildlife viewing. 
The Nikon 7548 Monarch 7 has an ergonomic design and can take on different weather conditions. They are completely fog-proof thanks to the nitrogen-purged and O-ring sealed construction. The rugged all-terrain construction of these binoculars makes them suitable for all outdoor activities. 
They come with extra-low dispersion glass for better resolutions for their 42mm objective lenses. The high-quality roof prisms of these binoculars feature dielectric multilayer coating to provide you with a wider view.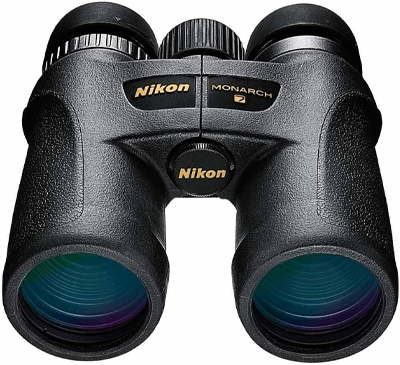 They have a long eye relief, and the phase-coated prisms will provide you with true colors so you can enjoy better resolutions.
The binoculars themselves are made in Japan, so you can imagine we are talking about high-quality here.
I didn't like the quality of eyecups. They are loose by design, and you might end up losing them easily. The Nikon Monarch 7 is available in different sizes to meet different needs.
The most popular model is the Nikon Monarch 7 10×42 ATB. These are rugged all-terrain binoculars, and they are practical to use outdoors.
The next two sections of this Nikon Monarch 7 10×42 review are the same for all four models listed above. We'll cover the specific size details of each model in the next sections.
Optical Performance
Due to the use of dielectric multilayer phase-coated prisms and ED glass lenses, you'll experience nearly the same brightness level as you see through a naked eye. The images are super clear with high contrast and accurate colors.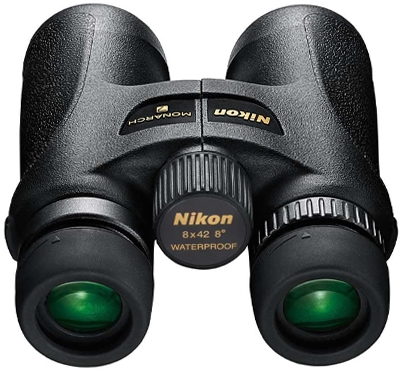 Lens quality
Nikon has used Extra-low dispersion (ED) glass to construct its lenses and prisms in these binoculars. ED glass allows the light to pass through the prism and minimizes the color fringing effects and image distortion (Color fringing is a problem that shows blur colors of the object as compared to its original colors). 
This glass for the prisms and lenses pushes the contrast and brightness high along with the resolution. The ED glass is so effective that the image remains of high quality; this is especially valuable for hunters even during low-light conditions. No matter what distance you view, Monarch 7 will provide you with crisp images with great clarity.
Image quality
With fully multi-coated lenses and dielectric phase-coated prisms, you can enjoy a wide view with sharp resolutions and true colors because these coatings minimize light loss. This improved resolution delivers a bright and natural-looking image even when you look far from normal. 
Thanks to the ED glass, you'll enjoy the images with superior resolution and contrast. These binos give excellent results during twilight because they draw light into the image.
These are the attributes you will love as a bird watcher and a hunter. As these binoculars can deliver details in the images, you can use them for general observation and sightseeing.
Construction and Design
Monarch 7's are pretty ergonomic to hold and use in your hands. Plus, with the durable rubber-armor body, you won't have to worry about losing your grip on them no matter how wet the conditions are. Due to their weight, you don't want to take them into the backcountry unless you want to view wildlife.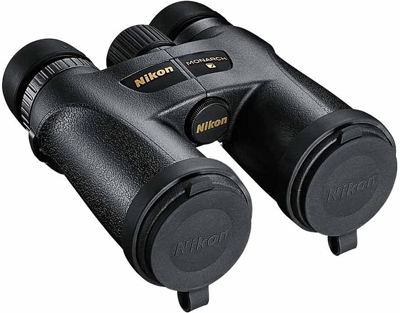 Body and grip
The use of a rubber-armored coating provides a non-slip grip and makes them withstand extreme conditions. They are fully fog, water, and shockproof, and you can comfortably use them in the wettest outdoor conditions. 
Holding them in your hands is pretty convenient, thanks to their ergonomic design. But due to their heavy weight, you will need a neck strap or a tripod if you are going to use them for long hours. You won't get any noticeable alignment issues.
Focus wheel and focusing
The focus wheel on these binoculars is pretty durable too. We were highly impressed with its smooth operation that magnifies and focuses on the target. The focus itself is pretty smooth, and you can easily use this knob even with your gloves on. 
Using this knob with just one finger is pretty easy and simple. But keep in mind that at high magnifications, you will need to have steady hands or a tripod; otherwise, you will find it difficult to get the focus right.
Eyecups and lens covers
You can easily adjust your viewing difference by using its multi-setting click-stop eyecups. These eyecups do come with an adjustable design, and they make viewing pretty comfortable. But they are pretty flimsy, as they loosely slip, particularly when you use them with a neck strap. 
Therefore, you can think about using a shoulder harness with them. But the covers can't be used with such a harness because they will fall as they don't fit properly and have loose-fitting. We would advise you to go for a replacement straight away, or you might end up losing them for good.
Monarch 7 Model Sizes
Monarch 7 binos come in four different sizes. The 10×42 is the most popular because of its high-powered optics and quality construction.
The table below illustrates the specs that each of these models comes with.
| | | | | |
| --- | --- | --- | --- | --- |
| | 8X30 | 10×30 | 8X42 ATB | 10X42 ATB |
| Magnification | 8x | 10x | 8x | 10x |
| Objective lens diameter | 30 mm | 30 mm | 42 mm | 42 mm |
| Eye relief | 15.1 mm | 15.8 mm | 17.1 mm | 16.4 mm |
| Exit pupil | 3.8 mm | 3 mm | 5.3 mm | 4.2 mm |
| Linear field of view | 435 ft at 1000 yds | 351 ft at 1000 yds | 420 ft at 1000 yds | 351 ft at 1000 yds |
| Angular field of view | 8.3 degrees | 8.3 degrees | 8.0 degrees | 8.0 degrees |
| Close focus | 7.8 feet | 7.8 feet | 8.2 feet | 8.2 feet |
| Dimensions (height/width) | 4.7-inch x 4.8-inch | 4.7-inch x 4.8-inch | 5.6-inch x 5.1-inch | 5.6-inch x 5.1-inch |
| Weight | 15.3 oz | 15.3 oz | 22.9 oz | 26.3 oz |
| Handheld | Great for on the go | Good for usage when stationary | Great for on the go | Hard to hold for long hours |
Nikon Monarch 7 8X30
The Nikon Monarch 7 8×30 binoculars are the smallest and the lightest of all Monarch 7 binoculars. That's why these are pretty good for anyone who needs a quality pair of binoculars on the go. You will get a pretty decent image quality if you want to use it for sightseeing and general observation.
These binoculars also come with the widest field of view in all Nikon Binoculars Monarch 7 at 435 feet / 1000 yards, which is good enough for bird watching. Plus, the close focus is the shortest and stands at 7.8 feet for better viewing up close.
However, these binoculars do come with the shortest eye relief in all these sizes at 15.1mm, and you will find them slightly difficult to use with your eyeglasses on.
---
Nikon Monarch 7 10X30
---
The Nikon Monarch 7 10×30 binoculars perform better than 8×30 because they have a better magnification at 10x. It also means that you will have to compromise on a field of view up to some extent. But it still is 351 feet at 1000 yards, which is quite decent. Eye relief gets better for eyeglasses wearers.
Nikon Monarch 7 binoculars are slightly heavier than 8×30, and you can better use them when you are stationary.
This size is better suited for sightseeing, and you can also do birding with better magnification at a distance comfortably. But these binoculars still lack the all-terrain construction.
---
Nikon Monarch 7 8X42 ATB
The Nikon Monarch 7 8×42 binoculars do come with all-terrain construction, and you can use them in any condition thanks to their water, shock, and fog-proof rubber-armor body.
These binoculars also come with more powerful lenses and deliver crystal clear image results. You can also enjoy the field of view at 420 feet / 1000 yards.
So, this size is better suited for outdoorsmen who like to explore. Even hunters will find these binoculars pretty handy due to the sharp contrast that they can manage.
But they are heavy, and at high magnification, you better have a neck strap or a tripod to maintain the focus.
---
Nikon Monarch 7 10X42 ATB
The Nikon Monarch 7 10×42 ATB comes with all-terrain construction, and they are the best in all sizes. They feature ED glass lenses and prisms with full multi-coating and dielectric phase costing, respectively. They are sharp, clear, bright, and can handle gloomy conditions too.
However, the Monarch 7 ATB binoculars are pretty heavy, and at high magnification, you will have a hard time with focus. It's better to use a tripod or a window mount with them for better performance. These binoculars are best for any outdoor purpose, including hunting, birding, sightseeing, and wildlife viewing.
---
Nikon Warranty
Nikon is widely regarded as one of the best brands in the industry. Therefore, it stands behind all its products and provides the customers with limited lifetime warranties.
You won't find any problems with the construction and materials used in these binoculars. In case you do, all these products come with limited lifetime warranties, and the company will replace or repair if there is an issue with the quality of the materials used or craftsmanship.
However, you cannot claim the warranty if your binocular gets damaged through breakage or mishandling.
You might don't want to deal with a warranty claim because Nikon only provides a warranty if you purchase it from an authorized dealer. You'd also need a dated invoice from an authorized dealer to launch a warranty claim. Be careful because some online sellers won't give you the dated invoice.
Downsides
You'll find the Nikon 7 binoculars eyecups pretty flimsy, and it was pretty irksome to use them because of their loose design. Frequent adjustments are mandatory. And you might end up losing them too, so you will surely go for a replacement.
Secondly, there is a slight hint of color fringing when you look at a dark object in front of the right backdrop. But this only happens a few times, and you shouldn't consider it to be a dealbreaker.
Moreover, these are slightly heavy binoculars. You should think about getting a tripod or a window mount because focusing will become troubling at high magnification, especially if you have shaky hands.
What's In the Box?
The lens covers are pretty cheap, and you will have to go for a replacement. Everything else looks great.
A carrying case
A neck strap
A single-piece rainguard (ocular)
Two objective lens covers
Optical lens limited lifetime warranty
Optical components 7-year warranty
Electrical components 1-year warranty
User Reviews
The average user rating of Nikon Monarch 7 binoculars is 4.8 stars, which is excellent. 
Most people like them because of their high-powered optics and image quality. They also love the fact that these binoculars produce bright images even in gloomy or overcast conditions.
Some users have also complained about a little bit of color fringing when viewing a dark object in front of a bright backdrop. Most users have complained about the low-quality eyecups and that these binoculars are pretty heavy.
I agree with the majority of other reviewers, these binoculars are wonderful. I'll only raise a few points I haven't seen mentioned elsewhere:

The binoculars have a standard 1/4-20 thread on the front of the center hinge for tripod mounting. It amazes me that higher-end binoculars (e.g Leica Trinovid) lack this feature.

The case is a poor design, it uses velcro instead of a bungee hook and eye to close the flap. It's way too loud to open and close while hunting in stock form, you'll have to modify it.

The objective lens covers are good, the eye cup lens covers are not; they fall off too easily and appear to be an afterthought.

From OpticsPlanet
Alternatives
If you don't want to carry a heavy, then we have a few same or better quality alternatives.
Vortex Viper HD
Vortex is a top brand when it comes to binoculars. The Viper HD binoculars are slightly lighter, and they also come with a slightly longer eye relief too. You won't have to deal with any color fringing while using these binoculars out in the open, no matter the conditions.
Zeiss Conquest HD
The Zeiss binoculars might be double in price and a bit heavier too, but they can handle chromatic aberration very well, and they also come with even longer eye relief and a wider linear field of view.
Steiner Predator
Steiner Predator binoculars will not only save you some money, but you won't have to deal with any issues associated with the eyecups and lens covers. However, you will have to compromise a bit on eye relief, field of view, and overall weight.
Our Verdict
Overall, the Nikon Monarch 7 binoculars are pretty good in almost all the departments. The 10×42 ATB is the most popular size because of its optics and how it handles the images no matter what the conditions are. Clarity and sharpness with true colors and high resolutions are always there. But they are not suitable for stargazing. 
These binoculars are heavy, and it's better to go for a tripod or a window mount. The neck strap and shoulder harness will make those flimsy eyecups pop out in no time. You can buy the Nikon Monarch 7 10×42 binoculars and other models from any of the authorized Nikon dealers and other retailers both online and in-store.