This is a comprehensive Leupold BX-1 Mckenzie review.
You can use these binoculars to see depth, premium resolution, color fidelity with crisp clarity at different magnification levels, making them useful for sporting events, birding, and sightseeing.
Its lightweight yet robust constructions allow you to use it for long sessions, even in the wettest conditions.
In this review, we will look at all the features, specs, and sizes available in this model so get ready to go through all that stuff in detail.
---
Leupold BX-1 Mckenzie Overview
The Leupold BX 1 binoculars come with Leupold's advanced optical system, including HD calcium fluoride lenses for exceptional clarity. These are great for high-definition performance and long-range viewing.
The BAK 4 Prisms display a flawless round exit pupil to show you a bright, sharp, and crystal-clear image without any edge distortion.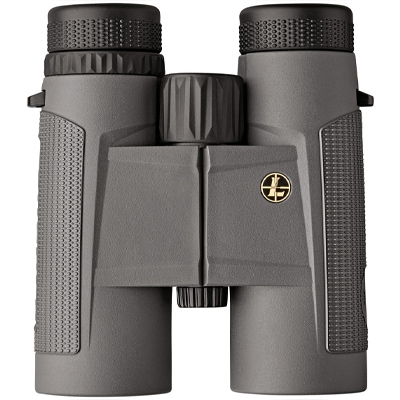 The BX 1 binoculars are great for budget users and will work absolutely fine like any expensive bino for birding and sightseeing. The BX 1 binoculars offer incredible clarity with their HD lenses and at this price.
The Leupold BX 1 Mackenzie binoculars are not made in Beaverton like the rest of the Leupold models. These are made in China along with their accessories and optics, but it's not a dealbreaker because Leupold offers a full lifetime warranty for these models.
There are four different sizes available in this model:
The most popular sizes of them all are the 10X42 and the 12X50. The 10X42 Mckenzies are suitable for game spotting and birdwatching. In contrast, the 12X50 HD is useful for hunters because it gives more shooting light during dawn and dusk light conditions.
The next couple of sections in this Leupold BX 1 Mckenzie review are similar for all the sizes. We will cover all the specific details of each model in the later sections of this review.
Optical Performance
The BX 1 Mckenzie bino can handle twilight conditions very well and produce sharp and clear images due to Twilight Light Management System and high-density glass with fully multi-coatings.
Lens quality
The fully multi-coated lens allows maximum light transmission and produces bright, crystal-clear, and high contrast images.
These binoculars come with high-definition CaFL (calcium fluoride) lenses that provide you with exceptional clarity no matter what magnification you are going for. 
The phase coatings on the roof prisms increase the image's resolution and give you an edge-to-edge view of the field.
The advanced Twilight Max HD Light Management System amplifies light to show you brighter views during twilight so you can clearly see your target even during low light conditions.
Image quality
These Mckenzie HD binos show bright images without any chromatic aberration, even in rainy conditions. The multi-coated lens system produces bright, clear, and high contrast images, which allow you to identify the targets in low light conditions from far distances.
I used them for viewing sandhill cranes and was more than happy because I can see even minute details of the sight with edge-to-edge clarity from a far distance.
The image remains fog-proof, and the bino is waterproof so that you can use it in rainy and foggy conditions.
Construction and Design
These are ergonomic and very convenient to hold. Aluminum is used in the overall construction quality of these binoculars with rubberized armor, making them impact-resistant and shockproof. It won't get damaged if you drop it accidentally.
Body and grip
The roof prism design is an open bridge and is lightweight. With this design, the binoculars become extremely ergonomic and comfortable to hold.
The aluminum body has rubber armor that ensures an anti-slip grip, and you can comfortably hold your binoculars in wet weather. Leupold has also nitrogen purged, and O-ring sealed these binoculars to ensure the design remains water and fog-proof. 
Tripod adaptability is there, but I didn't find a diopter lock on these binoculars. It is certainly not a dealbreaker, however.
Focus wheel and focusing
I loved how these binoculars handled the focusing mechanism. The central focus knob is present right in the middle of the two barrels, and it makes sure that you can conveniently move the wheel and focus both lenses simultaneously. 
It has an ergonomic design on it as well, and you can conveniently rotate it with just one finger when you need it. You can even rotate it with your gloves on without any issues. The operation is relatively smooth itself and satisfying.
Focusing itself doesn't take much time either, no matter the magnification and light conditions.
Eyecups and lens covers
I found the field-replaceable twist-up eyecups handy. You can conveniently replace them if they get damaged in the field while you were using them. These twist-up eyecups also come with a generous eye relief to make sure you can carry on using them for an extended period.
The lens covers are pretty standard too, and they won't come in your way while you are on the field with your Leupold BX-1 McKenzie. Whether you have your eyeglasses on or not, you will be very comfortable using these binoculars on the field.
BX-1 Mckenzie Model Sizes
There are four sizes available in Leupold BX 1 Mckenzie, and the most popular among the birders and explorers is 10×42. In comparison, hunters like 12×50 because they handle low conditions very well due to their quality optical systems. 
The below table will provide you with a detailed overview of all the models available in the Leupold BX-1 Mckenzie HD binoculars.
| | | | | |
| --- | --- | --- | --- | --- |
| | 8X42 | 10X42 | 10X50 | 12X50 |
| Magnification | 8x | 10x | 10x | 12x |
| Objective lens diameter | 42 mm | 42 mm | 50 mm | 50 mm |
| Eye relief | 17.7 mm | 13.7 mm | 17.7 mm | 13.7 mm |
| Exit pupil | 5.3 mm | 4.2 mm | 5 mm | 4.2 mm |
| Linear field of view | 330 feet/1000 yards | 305 feet/1000 yards | 273 feet/1000 yards | 242 feet/1000 yards |
| Angular field of view | 5.25 degrees | 5.8 degrees | 5.2 degrees | 4.6 degrees |
| Close focus | 9.85 feet | 9.85 feet | 11.5 feet | 12.5 feet |
| Dimensions (height/width) | 5.8 x 4.5 inches | 5.8 x 4.5 inches | 6.7 x 5.0 inches | 6.7 x 5.0 inches |
| Weight | 22.1 oz | 22.1 oz | 28 oz | 28 oz |
| Handheld | Good for on the go | Good for on the go | Good only when stationary | Good only when stationary |
Leupold BX-1 Mckenzie 8X42 HD
The Leupold BX 1 Mckenzie 8X42 binoculars are pretty lightweight binoculars great for the birders on the go and game spotting. The Leupold BX1 Mckenzie 8X42 has the widest FoV of them all it means that you can conveniently see the big picture with exceptional details and colors.
The close focus on this size is the smallest as well, which means that these binoculars are the best in all Mckenzie binoculars to focus on a close object. The BX-1 Mckenzie 8X42 HD also comes with the longest eye relief of all the BX 1 Mckenzies, which means that they are the best to use with eyeglasses.
---
Leupold BX-1 Mckenzie 10X42 HD
The Leupold BX 1 Mckenzie 10X42 binoculars are also lightweight and are suitable for use on the go. Of course, they come with slightly better optics in terms of magnification than the 8X42 binoculars. So the BX-1 Mckenzie 10X42 HD is better suited to you if you are looking for more details associated with your target.
So, hunters and birders will find the Leupold BX1 Mckenzie 10X42 very useful. But you will have to compromise on FoV here, which gets reduced up to 305 feet @ 1000 yards from the 8X42 size.
Consequently, eye relief also gets shorter, which means that you will feel a little uncomfortable using these binoculars if you have your eyeglasses on.
---
Leupold BX-1 Mckenzie 10X50 HD
The Leupold BX 1 Mckenzie 10X50 binoculars get a light upgrade in the objective lens, which also improves the image quality than the 10X42 size.
You will also have to bear more weight with better optics as this size weighs just over 28 ounces. So the BX-1 Mckenzie 10X50 HD is not going to be a comfortable device to be used on the go. You can use a tripod or a mount for a long viewing session.
Eye relief is pretty good here at 17.7m, and you can use these binoculars with your eyeglasses on. The exit pupil on the Leupold BX1 Mckenzie 10X50 is very good, standing at 5mm, which means the light transmission is going to be nice.
You will get a shorter FoV because it drops down to 273 feet @ 1000 yards. But it's not going to be that bad if you use them for detailed viewing instead of sightseeing.
---
Leupold BX-1 Mckenzie 12X50 HD
The Leupold BX 1 Mckenzie 12X50 binoculars have the most powerful magnification, but these binoculars are heavy. The BX-1 Mckenzie 12X50 HD is not suitable for use on the go, and it's better to use it with a tripod or a window mount.
I loved how these binos picked up light at the crack of dawn and 30 minutes after the sunset and still produced bright images even during the low light conditions.
The FoV goes down further and stands at 242 feet @ 1000 yards. Therefore, the Leupold BX1 Mckenzie 12X50 is best suited for a more focused observation than general viewing.
Eye relief here is the least of all the sizes at 13.7. I have had some difficulty while viewing through these binoculars with my eyeglasses on.
---
Leupold Warranty
Leupold takes pride in producing high-quality products for its users that stand the test of time. The company also stands behind its products and provides the customers with a lifetime warranty on the optics and its accessories.
This warranty covers any issues associated with the workmanship and materials used in the construction of these binoculars.
However, this warranty doesn't cover loss, theft, or any cosmetic alteration or damage to the product, reducing its performance and reliability. This is one of the best warranties offered across the industry.
Downsides
Many users have complained about the BX 1 Mckenzie binoculars lens cap fitting. The objective lens cap fits loosely and falls off. But it's not a dealbreaker.
Frankly, I don't want them to be hard to take off because when you spot something, you need to get the glass on it quickly.
What's In the Box?
The box contains everything that you need to use these binoculars on the go. But I think Leupold could have included a tripod for 10×52 HD size, at least.
A lens cloth
A shoulder strap
2 lens covers.
A Leupold binocular case for carrying
Leupold Gold Ring Lifetime Warranty 
A 2-Year Warranty for electronics
User Reviews
The average user rating for this Leupold BX 1 Mckenzie binocular device is 4.5 stars which is pretty awesome. 
Most people loved using these binoculars for various purposes and found them very handy in various situations. These Leupold Mckenzie binoculars are highly versatile, and they produce clear images thanks to their HD CaFl lenses and phase-coated prisms.
But some users also complained about the loose fittings of the Leupold Mckenzie binoculars lens caps. That's the only issue most people found disturbing about these binoculars. They love the price range of these quality binoculars.
These binoculars are an amazing deal. Glass quality is every bit as good as my Cabelas guide gear binoculars for about 1/3 the cost. Used them recently for viewing sandhill cranes here in Nebraska and was more than happy in every way. Bright clear high detail viewing was possible in a variety of conditions. Highly recommended.

From OpticsPlanet
Alternatives
If you still have some reservations about these Leupold binoculars, then don't worry. We have some alternative options available for you.
Vortex Diamondback HD
The Vortex Diamondback HD binoculars also fall in the same price range and come with a range of different specs similar to the Leupold Mckenzie binos. However, the Diamondback HD is lighter and comes with a better close focus.
Nikon Prostaff 7S
The Nikon Prostaff 7S comes with a good eye relief of 15.5mm. The rest of the features are almost similar. These are good options if you wear eyeglasses and don't want to go with the Leupold Mackenzie binoculars.
Redfield Battlefield
The Redfield Battlefield comes with a good eye relief of 16.3mm, a better field of view (341 ft @ 1000 yards), good close focus (4.3 feet), and lightweight (26.4 oz). The only thing is that these binoculars don't come with HD glass.
Our Verdict
The most popular of all the sizes in this model are the 10×42 and 12×50 because of their powerful objective lenses and superior light transmissions with better color production.
I have found the Leupold BX 1 bino pretty extraordinary to use in sporting events, recreational activities, and leisure birding due to the optics it is equipped with.
Although 12×50 produces bright results, these powerful optics are slightly heavy to use. It would be better to use a tripod or a window mount with these binoculars to get the most out of them.
You can buy Leupold BX-1 Mckenzie HD binoculars in-store and online directly from the company and various authorized dealers located throughout different states.