This is an in-depth Leica Trinovid review.
The HD optics in this Leica bino produce outstanding color fidelity and image sharpness. The lightweight and compact form makes it a perfect bino to use on the go.
An ergonomic design gives you maximum grip for safe handling and rubber armor makes it impact resistant. If you drop it accidentally, it won't break.
The price is slightly on the high side, but in binos, you get what you pay for. In this review, we will discuss all the specs, construction, sizes, and overall performance of Leica Trinovid in great detail.
---
Leica Trinovid HD Overview
Leica Trinovid binos are excellent for exceptional image performance and durability. It has HD optics, which means you'll get high light transmission and image sharpness during twilight conditions.
When I used these binos for countryside sightseeing, I enjoyed high contrast and sharp images without any chromatic aberration. These are pretty solid in construction with their rubber armor, which makes them impact-resistant.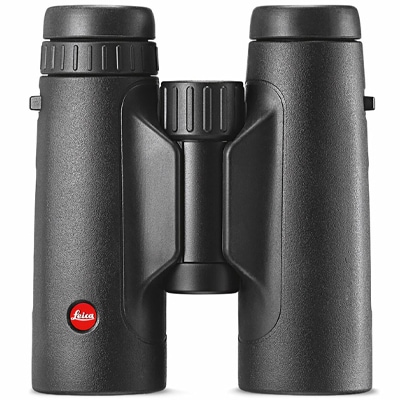 The compact size and lightweight make them handy for birders and serious hunters. However, it's not great for extremely long distances, so not an ideal choice for stargazers and astronomers.
The Leica Trinovid binoculars are made in Portugal. Still western Europe, which means they are sturdy and long-lasting as compared to any China-made. There are four different sizes available in these binoculars.
The most popular size of all the Leica Trinovids for birders is the 10×42 because it comes with a pretty decent field of view and is very much lightweight. These binoculars also come with a rugged design and are built to take on the outdoors.
In the following two sections, we'll discuss the features that are common in all four sizes. We will discuss each of these sizes in further detail in the latter part of this review.
Optical Performance
The high-light transmission allows you to spot wildlife with sharp images. It works great both day and in low light conditions. The use of rugged rubber armor makes these binoculars highly resilient, and you can hold them securely in any wet condition.
Lens quality
Leica has used quality glass to construct the lenses and prisms to make sure that the binoculars can produce high-quality images with accuracy. Both the prisms and lenses have HDC coatings on them to ensure that they can provide you with a quality viewing experience even in rainy conditions.
These optics also come with AquaDura coating to ensure that the lenses' performance is not affected by rain. These binoculars do a superb job in most conditions, and explorers will find them pretty useful.
Image quality
I loved how these binoculars performed while birding. It was fast enough to follow birds' flight. While using them for birding, you'll love the edge-to-edge clarity and color precision, thanks to its high light transmission and HDC Coating. 
Your view of long distant objects with these will be really good due to a wide field. Its long eye relief of 15mm makes them comfortable to use with glasses.
Construction and Design
When it comes to the overall construction of these binoculars, they are compact and easy to hold for long sessions. They are rugged to take on harsh conditions.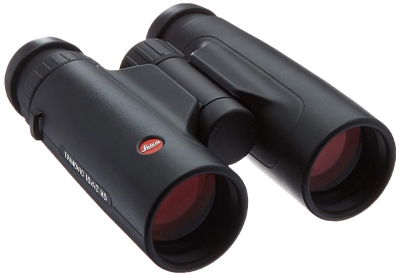 Body and grip
These binoculars are rugged and compact, so they can survive almost anything. Thanks to their full rubber armor body, they are completely impact-resistant. No matter what the terrain conditions are, we found these binoculars truly reliable. 
These binoculars have a very ergonomic design, and they are pretty comfortable to hold. They are not going to slip away no matter how wet the conditions are, and you can keep using them with confidence.
Leica has also made these binoculars resistant to water with their durable construction, and they are submersible up to four meters. So if you are looking for some reliable outdoor performance, we will recommend you these absolute bunkers of binoculars.
Focus wheel and focusing
Leica has kept everything pretty simple with the design and made sure that it remains ergonomic and practical to use outdoors. The focus wheel is right in the middle of the two barrels, which makes it easy to use from both hands. 
Instead of having an adjustable diopter on the knob, these have a typical ring on the right eyepiece. The lock is missing, but the adjusting mechanism is smooth and easy as compared with the adjustable diopter.
The design is pretty ergonomic, and we found that you can conveniently use it with just your finger and even with your gloves on. The focusing itself is pretty nice and smooth, and you won't feel any lags at all.
You will only have to make sure that you have steady hands when working with high magnification. Otherwise, you will have a pretty tough time locating your target.
Eyecups and lens covers
The cups are twist-up eyecups and click-stop. There are four click-stop settings on these eyes, and you can conveniently adjust the eye-relief based on your preferences. 
Adjustable eyecups are always great for quick viewing. Your binoculars are always ready, and you will only have to put them on your eyes and start enjoying the views.
These eyecups are pretty durable, and the same is the case with the lens covers. Most binocular manufacturers tend to forget about the quality of their lens covers and eyecups, but not Leica.
Trinovid HD Model Sizes
There are four different sizes available in Leica Trinovid HD binoculars. The best and the most popular one is the 10X42 because they produce bright images even in low light conditions as if you're using a night vision. The table below will provide you with a detailed overview of all the Leica Trinovid HD binoculars.
| | | | | |
| --- | --- | --- | --- | --- |
| | 8X32 | 8X42 | 10X32 | 10X42 |
| Magnification | 8x | 8x | 10x | 10x |
| Objective lens diameter | 32 mm | 42 mm | 32 mm | 42 mm |
| Eye relief | 17 mm | 17 mm | 16 mm | 15 mm |
| Exit pupil | 4 mm | 5.25 mm | 3.2 mm | 4.2 mm |
| Linear field of view | 407 feet/1000 yards | 414 feet/1000 yards | 371 feet/1000 yards | 355 feet/1000 yards |
| Angular field of view | 7.1 degrees | 6.75 degrees | 6.1 degrees | 6.1 degrees |
| Close focus | 3.3 feet | 5.9 feet | 3.28 feet | 5.3 feet |
| Dimensions (height/width) | 5.1 x 4.6 inches | 5.1 x 4.6 inches | 5.1 x 4.6 inches | 5.1 x 4.6 inches |
| Weight | 22.93 oz | 25.8 oz | 22.58 oz | 25.8 oz |
| Handheld | Best for on the go | Best for on the go | Best for on the go | Best for on the go |
Leica Trinovid 8X32 HD
The Leica Trinovid 8×32 binoculars are suitable to use on the go. Its 22.93 oz weight and 8x size make it ideal for backpacking. If you are looking for long eye relief and a wide field of view, this is the right choice.
The Leica Trinovid 8×32 HD binoculars come with the most extended eye relief at 17mm and the widest FoV at 407 feet @ 1000 yards of all the Trinovids. Moreover, with a close focus of 3.3 feet, you can certainly have a clear view of closer objects with ease.
---
Leica Trinovid 10X32 HD
---
The Leica Trinovid 10×32 binoculars are also great if you are looking to use them on the go and want better magnification. This size is the lightest of all the Trinovids.
With Leica Trinovid 10×32 HD FOV of 371 feet @ 1000 yards, you can get a clear long-distance vision. It also features a long eye relief of 16mm, which is great for users with glasses.
These binoculars are also great for on-the-go, and they also allow you to magnify your target for even more detailed observation.
---
Leica Trinovid 8X42 HD
The Leica Trinovid 8×42 binoculars are great if you are looking for better optical performance. I loved the 8×30 size, but I'm starting to have problems with a small exit pupil size. So I switched to an 8×42 HD binocular. Now, this size gives a more comfortable viewing experience.
These Leica Trinovid 8×42 HD binoculars are the heaviest, and you will find a little difficulty handling them. If you have shaky hands, then make sure you use these binoculars with a tripod or a window mount so you don't end up wasting your time finding your target.
---
Leica Trinovid 10X42 HD
The Leica Trinovid 10×42 binoculars give the perfect balance between distance and wide view. These binoculars are better suited for use when stationary.
This Leica Trinovid 10×42 HD bino size is compact and niche to hold. You will see nice, clear, and crisp images without any circles. You can carry it for your global travel trips.
---
Leica Warranty
Leica offers a 2-year warranty on all its binoculars, including the accessories and components. This Leica binocular warranty covers all the issues associated with the quality of the materials and craftsmanship. But you cannot claim the warranty if you drop it accidentally.
The company will repair or replace faulty goods, excluding anything that has been stolen, lost, or cosmetically altered. Leica optics warranty is pretty decent, and it comes from a quality brand, and you will get the peace of mind that you deserve. Leica is very meticulous on quality, so it stands behind all its products.
Downsides
The only thing we found concerning these binoculars is that they curve off towards the edge instead of a flat field, so you may feel a slight blur to the field stop. But you can focus away from the blurring, so it's not a dealbreaker. These are somewhat higher price binos, but again in optics, you get what you pay for.
What's In the Box?
This is a complete set, and we think that nothing else is required to be added to it. However, Leica could perhaps include a carrying strap in the box then it would have been slightly better.
Single-piece ocular rainguard
Two objective lens covers 
Cloth pouch with zipper
2-year limited lifetime warranty
User Reviews
The Trinovid HD binoculars come with a user rating of 5.0 stars, which is great!
Most users have said that these binoculars produce accurate colors with crystal-clear clarity. They also liked the fact that these binoculars handle color fringing very well too.
However, some people also talked about the price is too much and that they cannot afford these binoculars.
If you are looking for a $1000 binocular that functions like a $2000 binocular this is It! The quality of these is second to none. Well worth the price and still offers all the great customer service and warranty as all other Leica products.

From OpticsPlanet
Alternatives
If you don't like these binoculars for any reason, we have some alternatives that you can consider.
Vortex Razor HD
These binoculars come with a good linear field of view, and they are lightweight. These binoculars are nitrogen purged and O-ring sealed to make sure you get clear images even in foggy conditions. They also have a rubber armor body, which makes them impact-resistant.
Zeiss Conquest HD
These binoculars come with good color handling and light transmission capabilities, which means you get high-definition images even during low light conditions.
ATN BinoX 4K
The BinoX comes with a night vision mode, which makes it a great weapon to use during your night hunt. You won't get that massive field of view here, but the color accuracy and image clarity are extraordinary. These binoculars are full of fog, water, and shockproof. 
Our Verdict
The Leica Trinovid HD binoculars are great for a variety of conditions with their waterproof and fog-proof construction. The clear images in low-light conditions make them a great gadget to have in your arsenal when you go out for a hunt.
Overall, the images are excellent; contrast, brightness, and color details are all above average. It works like an expensive bino. This is great stuff.
You can buy Leica binoculars online and in-store directly from the company and the designated authorized dealers throughout the country.