High-end binoculars offer the brightest view, the sharpest details, and exceptional low-light performance without making compromises. If you look for optical perfection, then you are in the right place.
These high-end binoculars are the best that money can get today.
We Recommend
High-End Binoculars
1. Swarovski 10X42 EL Binocular with FieldPro Package
---
The Swarovski EL 10X42 are by far my favorite binoculars out there. This is "optical perfection".
The Swaro EL also is probably the only binocular out there, which comes with actually working and high-quality lens caps. It sounds like a small win, but when you are on the go, you understand what I'm talking about.
If I would need to choose only 1 pair of binos to use the for the rest of my life, I would choose these!
The Swarovski EL features optimized glass coatings, enhanced lenses, and prisms, that guarantee excellent color reproduction at a high transmission level.
You are guaranteed picture sharpness with the help of a field flattener mechanic that is built into these top-of-the-line binoculars. The field flattener enables even the smallest details to appear with razor-sharp clarity in any part of the image.
It also helps that the EL Binoculars provide fluoride-containing High-Density lenses to go along with its innovative optical design, which ensures that there will be less color infringing and strengthened color fidelity.
With these binoculars, you are guaranteed significantly better resolution and a higher contrast that consistently performs every time you use the binoculars.
What is also noteworthy is the focusing wheel on these binoculars is both non-slip and solid, which is very user-friendly. When you grip the binoculars, the EL wrap-around grip, an original Swarovski design, you are given great comfort, especially if you use binoculars for long periods.
---
What we liked
The Swarovski quality (optical perfection)
Actually high-quality and decent eyecaps
The enhanced lens and prism coatings
High-Density lenses help ensure less color infringing and a strengthened color fidelity
20 mm Eye Relief is great for eyeglass wearers
The field flattener enables stunning picture sharpness for even the smallest details
Swaroclean makes these binoculars weatherproof
Aperture: 4.9 mm
Magnification: 10x
Lens coating: Swarotop
Lens diameter: 42 mm
Field of view: 399 feet at 133 yards
Eye relief: 20 mm
Weatherproof: Yes
Weight: 29.5 ounces
2. Zeiss Victory SF 10X42 Binoculars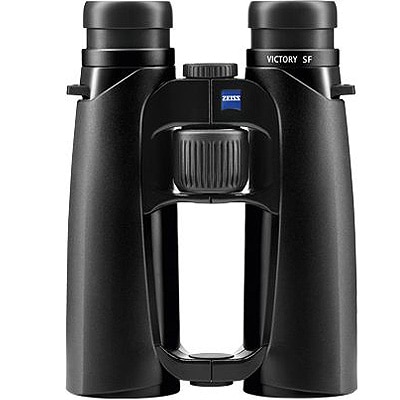 ---
The Zeiss Victory SF binocular is the most versatile premium option out there. It thrives in bird watching, hunting, nature, astronomy, and in all other outdoor activities.
The Victory SF offers 92% of light transmission, which makes it extremely easy to use in low-light conditions.
You will also be getting extra-low dispersion fluoride lenses, and along with the optics and the phase corrected prisms they work together to create clear and bright images without having any distortion across the entire field of view.
High contrast and resolution enable colors to be accurately represented with these binoculars. The field of view is a wide 65 degree angle which provides expansive views.
These binoculars have a short Close Focus of 5 feet which ensures that you won't miss a single detail. Inside the binoculars are compact Schmidt-penchant prisms.
The physical design of these binoculars is what Zeiss calls a "triple link bridge" design, which means there are three bridges linking the two ocular tubes: one both above and below the focus knob, and a third one down by the objective lenses. The focusing mechanics of these binoculars is very smooth and nearly effortless.
---
What we liked
Fully multi-coated lenses deliver a fantastically crisp, clear and bright image
"Triple link bridge" design makes these binoculars sturdy and serviceable
T* and LotuTec fully multi-coated Optics – weatherproof
Focusing mechanics are smooth and nearly effortless
Zeiss guarantees a lifetime warranty
Very lightweight
Interpupillary distance range of 55 to 76 mm (broader than average)
Aperture: 4.9 mm
Magnification: 10x
Lens coating: Fully multi-coated
Lens diameter: 42 mm
Field of view: 360 feet at 1,000 yards
Eye relief: 18 mm
Weatherproof: Yes
Weight: 27.5 ounces
3. Leica Noctivid 8X42 Binocular
---
The Leica Noctvid series has proven to be some of the best rated binoculars on the market.
This pair of binoculars fits the needs of many wildlife enthusiasts as it is perfect for birding, hunting, or any outdoor activity that requires optical perfection.
Fairly lightweight at 30.3 ounces, you will have no problem handling these binoculars.
Considering that this pair has the 8x magnification – great field of view range ,which is 443 feet at 1,000 yards, making this the best long range binoculars on this list.
What sets these binoculars apart is that it was designed to cater to the needs of your eyes. Having a great eye relief of 19 millimeters and a solid exit pupil of 5.2 millimeters, your eyes will get the right amount of comfort.
Along with the sleek ergonomic body for a physical appearance, these binoculars provide a sharp, high contrast view with the help of High Transmission glasses.
The texture of the glass is weatherproof, which means you can take these binoculars out in just about any weather condition. A Roof Prism System and a Center Focus System make up the viewing mechanics of these durable and stylish binoculars.
---
What we liked
Lightweight at 30.3 ounces, which is easy to handle
This pair is very eye-friendly with the eye relief and the exit pupil (great for glasses wearers)
Extremely sharp and bright image
Contains a water-resistant mark of 5 mm, and has weatherproof glass textures
Dimensions are 4.88 x 5.91 x 2.68 in., compact and convenient to take on trips
Aperture: 5.2 mm
Magnification: 8x
Lens coating: HDC Plus-multicoating, AquaDura
Lens diameter: 42 mm
Field of view: 443 feet at 1,000 yards
Eye relief: 19 mm
Weatherproof: Yes
Weight: 30.3 ounces
4. Zeiss Victory HT 8X54mm Binoculars
---
The Zeiss Victory HT provides exceptional light transmission of 95% which makes them the ultimate low-light binoculars (e.g. great for hunting).
This value is achieved by the combination of SCHOTT HT glasses, ZEISS T* multi-layer coating and an Abbe-König prism system that ensures maximum brightness.
That means as a hunter you can enjoy observing your surroundings for long periods of time.
It takes exactly 1.75 turns of the knob to go from minimum close focus to infinity, which takes some time, but not annoyingly so.
What this translates to is very precise focusing on the field. The eyecups can be regularly adjusted, clockwise to close them down, counter-clockwise to open them up.
You will also be pleased with the ergonomics. The double-link bridge of these binoculars is embedded with the ComfortFocus Concept, which is a new and improved large focusing wheel.
Being small and compact in size, these binoculars are easy to handle because of their extremely robust design. Users will be very satisfied with the field of view range this pair possesses as 427 feet at 1,000 yards is sure to keep outdoor enthusiasts engaged with their surroundings.
---
What we liked
95% light transmission value is one of the best values in any binocular pair
Large focusing wheel and extra long translation
Zeiss T* Coating
Optimized objective lens diameter for reduced weight, ensuring smooth imaging in any situation
Width at an interpupillary distance of 65 mm: 142 mm
Aperture: 6.7 mm
Magnification: 8x
Lens coating: Fully multi-coated
Lens diameter: 54 mm
Field of view: 427 feet at 1,000 yards
Eye relief: 16 mm
Weatherproof: Yes
Weight: 36.5 ounces
5. Leica Ultravid 8X42 HD Plus Binoculars
---
The Leica Ultravid HD provides crystal clear vision with this pair of binoculars that has a 8x magnification. The lenses are covered by AquaDura coating, which allows you to clearly see the images you want to view.
This coating will prevent any weather conditions from penetrating the lenses, so there will be no scratches nor any abrasions.
The size of these binoculars is pleasantly small and compact at 4.7 x 7.2 x 3.0 inches. The Leica Ultravid Binoculars meet the standards for focusing as internal focusing by way of a central focusing device is included.
The interpupilary adjustment of these binoculars is a range of 58 to 75 millimeters. These binoculars were designed with a roof prism that comes with a phase correcting coating P40 and Highlux-system HLS. The Ultravid is also mechanically sound because of the automatic diopter compensation it has for the user.
The High-Density optics make a real difference with the Ultravid as extraordinary details will be revealed on objects that are a few hundred meters away. When using these binoculars you can expect there to be a light transmission of around 92%, so you will be assured enough brightness in the images you focus on.
---
What we liked
The deep sculpts set close to the eyepiece give perfect comfort and balance
Diopter is very easy to adjust
Leica's AquaDura lens coating makes it weatherproof
Watertight to a depth of 5 meters at 16 feet
Impressive Twilight Factor of 24.5
Easily removable eyepieces with two 4 click stops
Aperture: 42 mm
Magnification: 8x
Lens coating: AquaDura coating
Lens diameter: 42 mm
Field of view: 299 feet at 1000 yards
Eye relief: 13 mm
Weatherproof: Yes
Weight: 36.7 ounces
6. Vortex Razor UHD 10X42 High-End Binoculars
---
Vortex Razor UHD binoculars provide ultra high definition optical quality and prescription for great image resolution.
The objective lenses of these binoculars also promote exceptional color fidelity, edge-to-edge sharpness, and light transmission.
These binoculars just meet the right eye relief level at 16.7 millimeters, giving users enough comfortability. The lenses are index-matched which correct color across the entire visual spectrum.
The coatings of these lenses are anti-reflective, which provide maximum light transmission for clarity and sufficient low-light performance.
What sets this pair of binoculars apart from many other pairs is that they give a very impressive field of view range. The Razor UHD Binoculars have a field of view of 420 yards per 8 degrees. The Center Focus mechanic is used along with the diopter to adjust for vision differences in each eye.
The eyecups can be simply twisted up or down to see the full field of view. The eyecups can be kept fully extended if you don't wear glasses. These binoculars are also compatible with a tripod adapter, which allows for use on either a tripod or a car window mount.
---
What we liked
Exceptional color fidelity, edge-to-edge sharpness
Meets the ideal eye relief level at 16.7 millimeters
Features superior ergonomics while decreasing total weight and bulk in its design
Made up of scratch-resistant armortek which protects the lenses from scratches, oil and dirt
O-ring seals provide lifetime protection from water and fogproof performance
Return policy that lasts a lifetime
What we didn't like
Higher price tag (but cheaper than others in this list)
Aperture: 42 mm
Magnification: 10x
Lens coating: Scratch-resistant armortek
Lens diameter: 42 mm
Field of view: 420 feet at 1,000 yards
Eye relief: 16.7 mm
Weatherproof: Yes
Weight: 32.2 ounces
7. Steiner Rangefinder 10X50 Military BRF Binocular
---
The Steiner 398 binoculars is design with military forces in mind. This is a top choice for military services and tactical units.
It comes with a laser rangefinder that contains a class 1 / eye safe laser and a measuring range of 27 to 1,860 yards on reflective targets.
Being small and compact in size, these binoculars can be easily connected to a tripod mount. The setup of these binoculars regarding the viewing mechanism would be a floating prism system that has a flexible silicone lens mount.
Along with the floating prism system would be a Sports-Auto Focus system that allows the binoculars to produce razor sharp images from at least 20 yards away. On top of that would be an N2 injection system with 14-psi pressurized dry nitrogen that has been inserted into the optic.
What makes this pair of binoculars unique is the inclusion of a special Scan Mode where users are allowed to measure small or moving targets. This Scan Mode was built into the binoculars to meet military specifications, so you are getting a product that is both advanced and easy to handle.
---
What we liked
Laser rangefinder
Scan Mode to measure small or moving target is included
Sports-Auto Focus system for razor sharp images from at least 20 yards
N2 injection system with 14-psi pressurized dry nitrogen into the optic
Compatible with a tripod mount for more viewing flexibility
Compact and ergonomic design
Aperture: 50 mm
Magnification: 10x
Lens coating: Fully multi-coated
Lens diameter: 50 mm
Field of view: 327 feet at 1,000 yards
Eye relief: 17 mm
Weatherproof: Yes
Weight: 36 ounces
8. Steiner Optics HX Series 15X56 Binoculars
---
The Steiner HX Series was specifically built for hunters to enjoy as they are proven to be reliable in all types of weather, including rainfall, snowfall and fog.
When it comes to performance, Steiner Optics HX delivers with a high-precision roof prism design and a unique Fast-Close-Focus system that only requires minimal rotation for quick and complete sharpness fro close up to infinity.
You are assured of quality optics as this pair incorporates index-matched glass and advanced lens coatings to have the best-in-glass image clarity.
These binoculars are easier to grip thanks to the updated frame design. These binoculars are built with a Markolon housing, featuring a polycarbonate chassis with NBR Long Life rubber armoring, so they will be able to endure tons of impact.
Though this series doesn't have 8x magnification, you will have a comfortable maximum interpupillary distance setting of 7.5 centimeters.
The minimum distance is a little wider than a more compact pair of binoculars, but unless you have a really narrow set of eyes, the central hinge of 6 centimeters should work for most people.
The gearing on the focus wheel mechanism is smooth as it takes 2 full turns to move from one extreme setting to the other.
---
What we liked
Durable Markolon housing and rubber armoring make up a strong chassis
These binoculars have a Twilight Factor of 29
Prisms inside the binoculars are dielectrically coated, providing more than 99% of reflectivity
Prisms are treated with a Phase Shift correction material
Focus wheel requires minimal rotating for quick, complete sharpness of images
Has hydrophobic lens coating
Diopter adjustment ring is tight and takes effort to move
Aperture: 56 mm
Magnification: 15x
Lens coating: Fully multi-coated
Lens diameter: 56 mm
Field of view: 241 feet at 1000 yards
Eye relief: 15.4 mm
Weatherproof: Yes
Weight: 42.3 ounces
10. Leupold BX-5 Santiam HD 15X56mm Binocular
---
The BX-5 Santiam HD Binoculars feature a open bridge, dual-hinge design that is extremely lightweight and ergonomic, which means it is easy for users to handle.
The lenses are protected by guard-ion lens coating which sheds water, dirt, and fingerprints for a sharp and clear image. This waterproofing technology pioneered by Leupold is designed to endure even the harshest weather conditions.
The Twilight Light Max HD Management System adds much value to these binoculars as it adds up to 30 minutes of extra glassing light at dawn and dusk. Along with advanced prisms, this system ramps up the light transmission and redefines low-light performance.
Your viewing needs will also be met with a friendly eye relief of 18 millimeters. The optical design of these binoculars is superior as it features field-replaceable eyecups, which adds to the eye relief. These eyecups eliminate eye strain for extended viewing that can last all day.
An extremely smooth central focusing system included in this pair enables you to make fine and seamless adjustments while viewing an image. With this attention paid to detail, you can be assured that you will be getting high end binoculars with this pair.
---
What we liked
Eye relief is ideal length for eyeglass wearers
Field-replaceable adjustable eyecups will extend the comfortable viewing experience
Features an innovative open
Central focusing system is extremely smooth for fine adjustments
Guard-ion lens coating makes it waterproof
Twilight Light Max HD System adds up to 30 minutes of extra glassing light
Aperture: 56 mm
Magnification: 15x
Lens coating: Fully multi-coated
Lens diameter: 56 mm
Field of view: 231 feet at 1,000 yards
Eye relief: 18 mm
Weatherproof: Yes
Weight: 45 ounces
What do you get for the higher price tag?
Binoculars are an essential tool for outdoor activities, which include birding, but it can be difficult to tell which binoculars to buy on the market. When testing out binoculars, you should take into account factors like clarity, brightness, color rendition, and eye relief. High end binoculars offer the following perks that cheaper models don't.
7- or 8-power binoculars are bright and have a wide Field of View magnification.
Optics with objective lenses larger than 42 millimeters are heavier, more ideal than lightweight models.
The most expensive high end binoculars have fully multi-coated lenses.
They feature BAK4 prisms, which are superior to the more prominent BAK7 prisms.
They have an Exit Pupil of 5.5, which is ideal for those with pupil sizes 5 or greater.
In most cases, the best binoculars money can buy for outdoor enthusiasts would feature 8×42, which is often considered to be the best bird watching binocular size, though anything between 7x and 10x will work.
General recommendations for top quality binoculars include the Vortex Viper HD, which provides great eye relief of 16-18 millimeters, and the Zeiss Kinsey's Archery Terra ED, which has multi-coated hydrophobic lenses that ensure great clarity of images.
Related: 12 Best Night Vision Goggles Worth the Money
Are the expensive binoculars worth it?
High end binoculars can be used for many jobs, such as the following;
bring wildlife in for a great view from a safe distance
help you to see what wildlife is out there to hunt
help you participate in activities such as hiking, skiing and water sports
help you to observe backyard astronomy at night
People who avidly enjoy viewing wildlife will benefit from the best quality binoculars as they won't need to get too close to any animals. Hunters benefit from using high end binoculars because they will be better positioned to catch wildlife.
Hunting is an activity that requires high end optics. Even if you are not interested in viewing wildlife for any reason and you simply enjoy the outdoors, taking binoculars while you go on a hike will keep you visually alert.
Anyone who is interested in astronomy will likely own a good pair of binoculars, which are a great entry piece for amateurs looking to get a better view of the night sky.
The value of high end binoculars is long-lasting and they are mainly great for those who regularly view wildlife and who normally have trouble seeing objects from long distances.
Related: 10 Best Rangefinder Binoculars Worth the Money
What are the most expensive binoculars?
The top binocular brands understand that their products need to be both powerful and adjustable. While you want to be wise with your money, if you want the best high end binoculars, you will have to be willing to buy expensive binoculars. Here are some of the more popular brands.
Zeiss
This brand's strength is in optics. Movie cameras, medium format film cameras, and digital camera lenses, Zeiss provides outstanding quality.
Swarovski
This brand puts a great emphasis on both the functional and aesthetic designs of their products. Solid mechanics in products like the CL Companion make for reliable optics.
Leica
This brand makes lenses that are practical, compact, and ergonomic. Their products like the Trinvoid-HD are made with reliability, durability, and sustainability in mind.
Steiner
German-engineered to deliver amazing visual quality, this brand makes binoculars suitable for hunting, adventure, marine, tactical and military activities.
Vortex
This brand features products like the Viper HD, which has High-Density extra-low dispersion glass for great edge-to-edge clarity, and low-light-conquering XR anti-reflective coatings.
Leupold
This brand makes binoculars that deliver brightness and edge-to-edge sharpness that will help eliminate glare. They are known for binoculars such as the BX-4 Pro Guide.
How to choose the best high end binoculars?
Looking for the quality binoculars that suit your needs can be confusing at first, so how do you know what to look for? The best binoculars for the money include these features.
High end focus system
This system enables the binoculars to adjust within a range its mechanics are built for. Close or near focus is the distance between the scope and the nearest object you can focus on while maintaining a good image.
Field of view
The best binoculars for long-distance often have to compromise the field of view to get higher magnification. Recommended magnification levels would be from 7x to 10x.
Quality glass coatings
Color aberration can be noticed with refractor scopes, and light transmission can be increased by reducing reflections. You can mostly eliminate this with fully multi-coated glass coatings.
Eye relief
If you wear glasses, your eye is further away from the spotting scope eyepiece. This means you need a longer eye relief such as 12-15 mm in order to see the entire field of view.
Warranty
You get what you pay for in quality, so make sure you buy binoculars that have a guaranteed warranty of at least 3 years.
Frequently asked questions
What are the most expensive binoculars?
The most expensive binoculars would be the Zeiss Victory SF Binoculars.
Are expensive binoculars worth it?
It depends on your needs and resources. If you want the best binoculars ever, you should be willing to save up the money for quality.
Which is the best binocular?
What is the best brand of binoculars depends on your preferences. Each of these listed brands have their own strengths that appeal to various consumers.
What are the top rated binoculars?
Out of all the listed brands, the Steiner Optics HX Series Binoculars were the top rated binoculars.
What makes Swarovski binoculars so good?
Swarovski binoculars set themselves apart because of its enhanced lens and prism coatings. The best Swarovski binoculars are also those that are unparalleled in ergonomic comfort.
Which Swarovski binoculars are best?
The EL Binoculars are superior to the SLC Series because of the 8.5x magnification and 20 mm eye relief. The EL Binoculars are one of the most expensive binoculars in the world for a reason
What are the best Zeiss binoculars?
If the field of view range is your main concern, then the Zeiss Victory HT Binoculars is your preference. The 95% light transmission these binoculars produce is also hard to ignore.
Who makes the best binoculars for the money?
What is the best binoculars money can buy? It comes down to Zeiss vs. Swarovski binoculars, and the best binoculars for the money would be the Swarovski EL Binoculars because of its 8.5x magnification, its 20 mm eye relief, and High-Density lenses.