Night vision is an indispensable technology when it comes to tactical applications as well as many different types of outdoor hobbies. From hunting to scouting to surveillance, a good night vision monocular should allow you to see clearly in the dark while also functioning well as a monocular in daylight. With so many options available, deciding on the best night vision monocular for you can seem like a daunting task. In this article we'll go over the best night vision monoculars available and analyze their value based on their features, technical specifications, and price in order to provide you the best purchasing guide possible.
We Recommend
Best Night Vision Monocular
1. Luna Optics 6-36X50mm Digital G3 Day & Night Vision Monocular
---
The Luna Optics G3 is both a strong piece of night vision equipment and a very nice all around monocular. With a fifty millimeter objective lens and variable magnification between 6x and 36x, this monocular is a powerful and handy tool for the nighttime outdoorsman as well as the daytime adventurer.
The Luna Optics G3 comes with a 12.2-megapixel camera that provides you with distortion-free images no matter the light conditions. With both green night vision and black and white night vision available, this monocular is capable of recording videos in 1080p at a frame rate of 60 fps. This is very impressive and is made all the more impressive by the compact eighteen ounce weight of this tool.
Powered by two CR123A batteries that can last for up to three and a half hours before recharging, the Luna Optics G3 is convenient and simple to use. This night vision monocular comes with an incredibly long night viewing range of 438 yards. While certainly not the cheapest option available, the G3 is nevertheless fairly affordable and provides an exceptional value for its price. The Luna Optics G3 is one of the top contenders for a night vision monocular.
---
What we liked
Best price/value ratio
Optical and digital zoom
High powered IR illuminator
FHD image sensor
12.2MP camera
Adjustable controls and menu
Focus range varying from 2.6 feet to infinity
Fully multi-coated optics
What we didn't like
Low battery duration 
Slightly narrow field of view
Generation: Digital night vision
Resolution: 64 lp/mm
Objective lens: 50mm
Magnification: 6x to 36x
Field of view: 9°
Battery life: 3.5 hours
Weight: 17.6 oz
2. ATN PVS14-3 Generation 3 Night Vision Monocular
---
The PVS14-3 by ATN is a military grade third generation night vision monocular which is geared towards tactical applications. With only 1x magnification available, this tool is less applicable to activities like stargazing or nighttime birdwatching, however the PVS14-3 is difficult to beat when it comes to strategic operations.
With a large lens, water resistant and rugged construction, and a battery life which is advertised to last for up to fifty hours, the PVS14-3 is clearly equipped to handle the demands of the field.
This night vision monocular is compatible with head mount and features an adjustable diopter adjustment range from -5 DPT to 2 DPT. While this monocular does function in daylight, with extremely limited magnification power, the PVS14-3 is clearly a tool designed for nighttime operations. The PVS14-3 is both pricey and subject to some export restrictions here in the United States. Both of these drawbacks are natural consequences of the military precision of this device.
---
What we liked
Operable temperature varies from -40C to 55C
Excellent battery life
Lightweight
Diopter is adjustable form -5 DPT to 2 DPT
25mm of eye relief
Waterproof
Several accessories
What we didn't like
Limited magnification
Higher price tag

Generation: Generation 3 night vision
Resolution: 64 lp/mm
Objective lens: 27mm)
Magnification: 1x
Field of view: 40°
Battery life: 40 hours
Weight: 11.1 oz
3. Bushnell 4.5X40 Equinox Z Digital Night Vision Monocular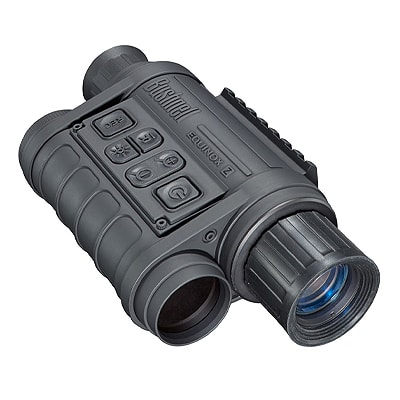 ---
The Bushnell Equinox Z is a night vision monocular that features a 40mm objective lens and 4.5x magnification. Like most Bushnell products, this monocular is a fantastic compromise for the buyer on a budget who does not want to settle for a cheaply manufactured or unreliable tool. Bushnell is a great option for affordable optical tools that maintain a high standard for quality.
With a rugged, water resistant construction, the Bushnell Equinox Z can withstand the rough terrain wherein outdoor hobbies often take place.
Equipped with video recording capabilities, the Equinox Z is well-suited for a wide range of applications. Unfortunately, this monocular is a bit unwieldy compared to some more compact options. It is tripod mountable, but with a barrel length of over eight inches, this tool is not likely to work well with head gear.
---
What we liked
One of the best budget options
Large diameter objective lens
Good magnification for most applications
750 feet of viewing range with IR illuminator
Adjustable IR brightness
Comes with a tripod mount
Daytime coloring option
Image capturing and video recording
What we didn't like
Not the best option for short distance observations
Unwieldy and long. Not ideal for head gear
Generation: Generation 1 night vision
Resolution: 40 lp/mm
Objective lens: 40mm
Magnification: 4.5x
Field of view: 11°
Battery life: 72 hours
Weight: 22 oz
4. Bering Optics 4.3X60 HiPo Gen I Night Vision Monocular
---
The Bering HiPo Gen I NV monocular is equipped with quite a large objective lens. At sixty millimeters, this lens provides images that are sharp and high in contrast. Capable of achieving up to 4.3x zoom, the Bering HiPo boasts up to seventy hours of operation on one set of batteries. According to Bering, the HiPo is "20% more energy efficient than the competition."
As night vision technology advances, newer generations tend to provide pretty major leaps forward in visual experience and quality consistency. For users looking to keep their budget small, generation one night vision may be sufficient, however state-of-the-art equipment will need to belong to a later gen. This monocular is a solid choice for gen 1 night vision, however it does not hold up against the superior technology of later generations.
---
What we liked
60mm objective diameter
4.3x high magnification
Excellent battery life
IPX4 certified water resistance
Focus range varies from 1 yard to infinity
Fully multi-coated lens
Integrated IR illuminator
What we didn't like
Feels somewhat heavy in the hand
Lower quality generation one night vision technology
Generation: Gen 1 night vision
Resolution: 40 lp/mm
Objective lens: 60mm
Magnification: 4.3x
Field of view: 20°
Battery life: 70 hours
Weight: 24.7 oz
5. iGen 20/20 Day/Night Vision Image Processor Monocular
---
The iGen 20/20 monocular by Night Owl Optics claims to be the latest in night vision technology, with proprietary "iGen" night vision which is advertised as surpassing generations two and three in terms of image quality and infrared sensitivity.
Lightweight and programmable, the iGen is versatile and can be used for a pretty wide range of outdoor activities and hobbies. The iGen has ten different infrared intensity settings as well as four adjustable brightness settings. Capable of recording video to an external device, the iGen is another very solid budget option for night vision enthusiasts and beginners.
As a budget option, and especially one which uses its own proprietary technology, the iGen has been subject to some negative reviews. While many consumers rave about this product, others have found it to be un-ergonomic and uncomfortable to hold, inconsistent in quality, or disappointing in range or field of view.
---
What we liked
Infrared intelligence
High sensitivity
Even better than several Gen 3 night vision monoculars
Programmable controls
Different colors view
Works well with any standard quality video recorder
Automatic light amplification
What we didn't like
A feeble carrying case
Not the most ergonomic design
May have some quality control issues
Generation: Generation 1 night vision
Resolution: 30 lp/mm
Objective lens: 41mm
Magnification: 2.6x
Field of view: 16°
Battery life: 70 hours
Weight: 21 oz
6. Firefield Nightfall II 5X50 Gen 1 Night Vision Monocular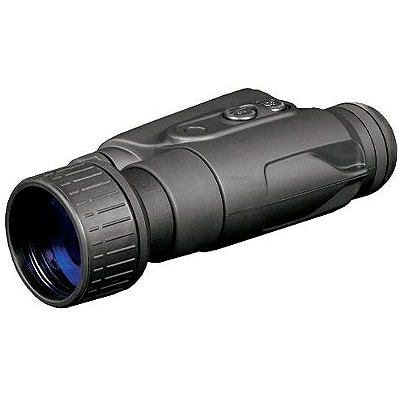 ---
This first generation night vision monocular is unlikely to be competitive against later night vision gens, however with a large fifty millimeter objective lens and 5x magnification, this may be the ideal budget tool for the night vision beginner.
At less than one pound, the Firefield Nightfall II is fairly portable and perfect for camping, stargazing, and hunting.
The Nightfall II has an ergonomic and easy-grip design so that you can comfortably hold this device for hours on end. This handheld night vision scope comes with a large IR illuminator allowing for clear views in dark conditions.
Like other generation one night vision tools, this monocular is unlikely to satisfy the enthusiast who is used to working with higher gens which provide more precision and clarity. At under 300 dollars, though, this is a great entry level tool.
---
What we liked
Large diameter objective lens
Better nighttime zooming
A decent field of view
2 AA batteries required
12mm eye relief
IPX4 water resistance
Wide operating temperature range
What we didn't like
The battery runs out fast
Inferior Gen 1 technology
Generation: Gen 1 night vision
Resolution: 36 lp/mm
Objective lens: 50mm
Magnification: 5x
Field of view: 15°
Battery life: 8 hours (with IR on)
Weight: 15.2 oz
7. TRYBE Optics GEN2 and GEN3 PVS-14 Night Vision Monocular
---
Much like the ATN PVS-14, the PVS-14 by Trybe Optics is a military-grade piece of equipment that was designed with tactical and field applications in mind. Like the ATN as well, the Trybe Optics PVS-14 has very limited zoom capabilities at 1x magnification. Instead, this tool focuses on top-of-the-line night vision technology.
This device comes with a 40 degree angular field of view, which is plenty for scouting or surveilling large tracts of land.
With up to fifty hours of operation using just one AA battery, the Trybe Optics PVS-14 is reliable and energy efficient. This tool is nitrogen purged to prevent moisture and resist water damage. This device is covered by Trybe Optics' standard two year warranty. The PVS-14 is a professional level tool which is reflected in its price. For users who are shocked by this price tag, earlier generations of night vision technology might be the way to go.
---
What we liked
GEN 3 night vision
Innumerable accessories
Diopter adjustment from -6 to 2 dpt
Wide field of view
High-quality Gen 2 monocular
22mm eye relief
Waterproof up to 66 feet
Generation: Generation 3 night vision
Resolution: 57 to 64 lp/mm
Objective lens: 24.5mm
Magnification: 1x
Field of view: 40°
Battery life: 50 hours
Weight: 10.8 oz
8. Carson OPMOD MiniAura Digital Night Vision Monocular
---
This Carson OPMOD Night Vision monocular features a 10mm objective lens with 1x magnification. This device is a very special product which delivers night vision capability into the hands of consumers at a price that cannot be beat.
Compact enough to fit neatly in one's hand, the Carson MiniAura is the night vision tool for beginners who want to explore the night's views without diving into the expensive and complex world of professional level night vision.
The MiniAura OPMOD features an adjustable diopter ranging from -4 to 2 DPT. It also comes with a carrying pouch or a wrist band. This entry-level night vision monocular can produce sharp images in black and white, but it also functions quite well as a daytime compact monocular.
This device runs on three AAA batteries and is ridiculously easy to operate. Optics Planet user reports suggest that the MiniAura may just be the best in show for affordable night vision equipment.
---
What we liked
Great entry-level device for small scale observations
IR on/off button
A decent 10mm objective lens
19-degree FoV angle
82 feet focus range
Runs on 3 AAA batteries
Lightweight
What we didn't like
Uncomfortable wrist strap
Only 1x magnification
Only suitable for short-range viewing
Generation: Gen 1 night vision
Resolution: 30 lp/mm
Objective lens: 10mm
Magnification: 1x
Field of view: 19°
Battery life: 12 hours
Weight: 3.40 oz
9. ATN PVS14-4 Multi-purpose Gen 4 Night Vision Monocular
---
The ATN PVS14 GEN 4 features a 27mm objective lens with a wide 40-degree field of view. It is, a professional-grade generation four piece of night vision technology, which, predictably, represents the state-of-the-art in night vision equipment.
This tactical monocular runs on a single AA battery that can easily last for more than 40 hours. For the user who wears eyeglasses, the PVS14 GEN 4 comes with a comfortably long eye relief of 25mm.
Operable at a wide range of temperatures and capable of withstanding almost anything, the PVS14 GEN 4 by ATN is a truly tactical piece of equipment which can be relied upon to perform under field conditions. This device is, predictably, quite expensive. This is a natural result of its advanced technology.
---
What we liked
Rare GEN 4 night vision
Wide field of view
Extended battery
Modern tubing technology
Crystal clear images with high resolution
Lightweight
Gated power supply
Comes with a range of accessories
Generation: Generation 4 night vision
Resolution: 64 to 72 lp/mm
Objective lens: 27mm
Magnification: 1x
Field of view: 40°
Battery life: 40 hours
Weight: 11.1 oz
10. Night Owl Marine 3X Lightweight Night Vision Monocular
---
The Night Owl Marine monocular with digital night vision features a resilient waterproof design that is built to be used for aquatic excursions. Night Owl has designed this digital night vision monocular to withstand the extreme weather conditions that nautical applications usually entail.
The Night Owl Marine is designed for use in search and rescue operations, and floats on the water so that it can be retrieved if dropped.
With high contrast night vision images, a rugged and durable body, and a design that was specifically tailored for the demands of the sea, the Night Owl Marine may just be the best marine night vision monocular on the market.
---
What we liked
High magnification with a large objective lens
Diopter adjustment range is 4 to -4 dpt
Up to 100 hours of battery life
Waterproof
Floats on water
Rubber armor construction
All glass optics
What we didn't like
Uses only CR123 battery
No rubber eyepiece
Generation: Generation 1 night vision
Resolution: 35 lp/mm
Objective lens: 42mm
Magnification: 3x
Field of view: 14°
Battery life: 45-100 hours
Weight: 12.3 oz
11. Carson Aura 2X/4X Digital Night Vision Monocular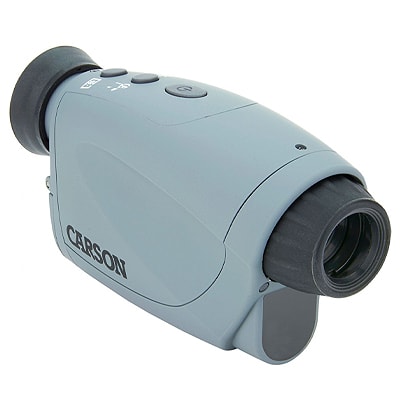 ---
The Aura NV-150 digital monocular comes with a variable magnification that ranges from 2x to 4x. Like the previous entry by Carson, the Aura is designed to compensate users who don't have quite enough budgetary freedom for some of the expensive top-of-the-line equipment.
The Aura has a view of 546 feet per 100 yards and runs on three AAA batteries. With sharp, high contrast optics and solid infrared technology, the Aura is capable of producing crystal clear images even under complete darkness.
Ruggedly built but very compact, the Aura is a great night vision tool for campers, backpackers, hikers, and hunters who prefer to travel light.
---
What we liked
Ergonomic and lightweight
Variable magnification
Inbuilt IR illuminator
Wide field of view
User-friendly controls
Easy to carry and use
Dioptric compensation
What we didn't like
Battery life is not that great
Takes a bit time to focus
Generation: Gen 1 night vision
Resolution: 40 lp/mm
Objective lens: 24mm
Magnification: 2x to 4x
Field of view: 8.5°
Battery life: 10 hours
Weight: 4.20 oz
12. Sightmark Ghost Hunter 2X24 Night Vision Monocular
---
This Sightmark Gen 1 night vision monocular comes with 2x zoom and a modest 24 millimeter objective lens. The Ghost Hunter is compatible with both hand use and head gear mounting.
Infrared technology allows the Ghost Hunter to deliver clear views under complete darkness while automatic light sensors power the device off when bright light is detected.
The Ghost Hunter is yet another budget-oriented gen one night vision monocular. For hobbyists with less extensive needs, this monocular performs just fine, however professionals and connoisseurs may be disappointed with the Ghost Hunter's inability to keep up with more advanced night vision technology.
---
What we liked
24mm objective lens gathers more light
Field of view of 500 feet at 1000 yards
Good battery life
12mm eye relief
IPX3 water resistivity
Excellent operating temperature range
Comes with carrying case and lens cloth
What we didn't like
Not best for fast-moving targets
Generation: Gen 1 night vision
Resolution: 36 lp/mm
Objective lens: 24mm
Magnification: 2x
Field of view: 25°
Battery life: 20-72 hours
Weight: 8.8 oz
Types of night vision devices
Different types of night vision devices are designed to serve different purposes. If you are looking for a viewing device that is equipped with night vision capabilities, make sure you do your research and determine what exactly it is that you need.
Night vision binoculars
A binocular is a device that comes with two lenses and is designed to be viewed with both eyes. Binoculars are slightly bigger than monoculars, and this increased size comes with less eye strain and better overall optics. Night vision binoculars have more powerful night vision capabilities.
Night vision monoculars
A monocular is a device that comes with a single lens, and must be viewed with one eye. Eventually, monocular use can begin to cause eye strain. For use over long hours, binoculars are preferable, however a monocular can be a very portable and handy little tool.
Night vision goggles
Goggles with night vision are incredibly convenient because they are typically worn over the head. They are lightweight, and can comfortably be operated for an extended period. These devices are suitable for search and rescue operations, tactical scenarios, or law enforcement applications.
Night vision scope
To cover more distance and work with extended ranges, you may want to opt for a night vision scope. For surveillance applications, these scopes work well, as they feature a large objective lens and heavy body which is typically mounted on a tripod. 
Night vision generations
There are four different generations of night vision technologies. Each of them serves a different purpose. Let's take a brief look at each.
Generation 1
Gen 1 is the most popular of them all and utilizes basic principles of image processing. This technology provides very bright images by amplifying available light several thousand times. 
First generation night vision is an ideal choice for a multitude of applications, including general observation, boating, hunting, or close-range surveillance. The images will often be slightly blurry on the edges. First generation night vision equipment tends to be lower quality than later gens, however it is also typically a more affordable option.
Generation 2
Gen 2 is more suitable for law enforcement, long-range hunting, and surveillance. It is more advanced than the previous generation. With all the features of Gen 1, it also features a micro-channel plate that works as an electron amplifier which further amplifies light, even several times more than that of Gen 1.
Generation 3
For Gen 3, the manufacturers add a sensitive chemical (gallium arsenide) layer to its photocathode. With the application of this chemical, the images produced become sharper and brighter as compared to the second generation. For better tube life, an ion barrier is also added for better low light performance. Generation three equipment tends to be quite pricy, but this price reflects the quality of the product's optical technology.
Generation 4
Gen 4 devices feature filmless or gated technology for better image intensification. The ion barrier is removed, and a gated system is introduced that substantially improves the detection range and resolution. The device achieves this in low light environments. Generation four night vision is extremely expensive and represents the state-of-the-art for night vision technology.
Related: 12 Cheap Night Vision Goggles Worth the Money
Night vision vs. thermal vision
These two technologies are designed to achieve similar purposes, but they are pretty distinct from one another. 
Thermal vision
Thermal imaging can detect even the most minutes differences in heat when it is detecting its target. This technology detects heat signatures and doesn't require light for image production. For longer ranges, thermal technology is better because it doesn't need any ambient light and relies on heat alone.
Night vision
Night vision, on the other hand, relies on the light from the surroundings to create an image. It needs ambient light, even when that light is too faint for the human eye to see, so target detection becomes quite difficult at very long ranges. For short ranges, night vision is a better option because can be more precise.
How to choose the best night vision monocular?
When choosing a night vision monocular, keep in mind your needs as well as your budget, then look at the listed features to determine whether a certain tool might be a good fit for you.
Night vision generation
The first point you need to consider when buying a night vision monocular is the night vision generation. 
Gen 1 is budget night vision technology popular for general-purpose viewing. 
Gen 2 features more sophisticated technology and is more powerful than Gen 1, and more costly too. It is a suitable choice for law enforcement and short-range hunting. 
Gen 3 is even more powerful and requires a larger budget. This high powered generation of night vision is suitable for a variety of applications, both long and short-range. 
Gen 4 is the most expensive and the highest in terms of image quality and performance. It is better suited for professionals or deep-pocketed enthusiasts. 
Resolution
Recorded as ip/mm, resolution determines how clear an image a device can produce. Based on skeletal and digital radiography, the unit measures the level of sharpness in an image that a night vision camera can produce in pitch black conditions. For most applications, 30 ip/mm or sorts is the better option. But for more precision applications, a choose resolution over 54 ip/mm is more suitable.
Field of view
Field of view or FoV is the total area that a scope can scan if you don't move the frame. The maximum distance it can cover in a single frame typically falls between 9 degrees and 40 degrees based on various factors. 
For long-range applications, higher magnification is necessary, which usually means a smaller field of view. For short-range operations, a larger FoV might be preferable instead of powerful magnification.
Detection range
The detection range for a night vision monocular is essential because it works with ambient light. At longer distances, there is limited availability for ambient light. Therefore, a larger detection range is essential if you are using your monocular for long-range viewing. Anything over 300 yards will be sufficient for this purpose.
Price
Of course, as technologies advance so too do prices. Gen 4 is the most expensive of them all, and better suited for the professionals. Gen 1 is a good fit for general use but may disappoint enthusiasts. It is an unfortunate truth that high quality night vision just does not come cheap.
IR illuminator
Night vision monoculars typically come with infrared illuminators. These illuminators emit light in the IR spectrum and work as a flashlight that is not visible to humans and animals. If you are taking images or recording videos in the dark, infrared helps you keep a low profile.
Water-resistance
Water resistance is essential if you are using your night vision monocular in varying weather conditions. On the off chance that you are out in the open and don't have anything to cover yourself, water can quickly cause damage to an expensive tool if it does not have water resistant capabilities.
Extra features to look for
Here are some additional features that you may consider before buying the best night vision monoculars. We have listed them as follows:  
Magnifiers
If you want to focus on short-range objects, you should consider higher magnification. You will have to compromise on the field of view because with a higher magnification field of view is limited. For long-distance viewing, again, you will have to go for better optics if you need better zooming with a decent field of view.
Auto-gaging unit
An auto-gaging unit can be very helpful for first time users or novices. Even if you are a professional, such features will save a lot of time. auto-gaging devices can quickly make adjustments according to your viewing needs.
Video feed
If you are documenting your data from your night vision monocular then video capabilities are a must-have feature. You can connect most devices with a laptop or a phone to access the feed.  
Recording
This is an important feature for documentation purposes. But for law enforcement and surveillance, this is indispensable.
Head mount
If you don't like to carry your scope in your hands, you may like using your night vision monocular with a head mount. For search and rescue operations or surveillance projects where you are carrying something in your hand, a head mount is very handy.
Power source
Most night vision monoculars run on various different types of batteries. Consider the availability of the battery as well as the energy efficiency of the device before making your purchase.
Rubber coating
Rubber coating makes sure your device stays resistant and durable in varying conditions. Such coating also ensures a stable grip on your monocular. For rugged outdoor conditions, rubber coating can be an important feature to look out for.
Related: 12 Best Monoculars Worth The Money
Frequently asked questions
What is the best Gen 1 night vision monocular?
The best Gen 1 night vision monocular in terms of performance and reliability is the Night Owl Marine NONM4X-MR. It comes with good magnification power, a powerful objective lens, and suitable for a wide range of applications.
What is night vision monocular?
A night vision monocular uses any available ambient light and amplifies it a thousand times to provide you with a clear and sharp image even in the dark.
What are the best night vision goggles under $1000?
The Pulsar Super Night Vision Goggles are the best monocular night vision goggles under $1000. They come with IR illumination and have excellent battery life.
What is a good cheap night vision scope?
The ATN X-Sight II is a good cheap night vision scope that features a reticle with a 50mm objective lean and a 3x to 14x magnification.
What is better night vision or thermal?
For long-range observations, thermal vision is often better because it doesn't require any ambient light for imaging. For shorter observations, choose night vision. 
Can civilians buy night vision goggles?
Yes, civilians can own night vision goggles, but they shouldn't feature any tubeless technologies that you find in Gen 3 and Gen 4 for night vision models.
Why are night-vision goggles so expensive?
These tools can be extremely expensive because they come with high-end optics, and feature various other technologies to provide the user with the best possible precise image. 
Can you use a night vision monocular with a rifle scope?
Yes, you can use a night vision monocular with a rifle scope.