For birdwatching, nature appreciation, exploring, and adventuring, a quality set of binoculars is an absolute must. Often, such outdoor activities include quite a bit of trekking, sometimes over difficult terrain. For outdoor activities on the go, lightweight equipment is a must. In this article we'll examine some of the best compact binoculars for the adventurer, optics enthusiast, or nature-lover on the go!
We Recommend
Best Compact Binoculars
1. Zeiss 8X25 Terra ED Compact Pocket Binocular
---
The Terra ED from Zeiss is an affordable entry point into the world of Zeiss binoculars, which are known for their high quality, as well as an all around strong set of compact binoculars. The Terra ED has a magnification power of 8x as well as a wide field of view of 357 feet at 1000 yards.
The Zeiss Terra ED is weatherproof, water resistant, and sealed with Nitrogen to prevent moisture intrusion. With an operating temperature range of -4 to 145 degrees Fahrenheit, these binoculars are built to handle extreme conditions.
The design is smooth and easy to use with a simple precise focus so you won't miss a single bit of the action!
Best of all, the Zeiss Terra ED is lightweight at just under eleven ounces and compact thanks to its simple folding design. These binoculars are the ideal companion for backpacking, hiking, and traveling light as you tackle all sorts of adventures.
---
What we liked
Non-intrusive viewing
Accurate powered views
Ease of portability
Satisfactory ergonomics
Natural color presentation
Crystalline resolution
Has a satisfactory and stereoptic depth of field
What we didn't like
Diopter adjustment does not have a lock
Much less expensive than most Zeiss binoculars, but still on the pricier side for compact binoculars in general
2. Nikon 16000 Prostaff 7S 8X30 Compact Binocular
---
Nikon Prostaff 7S is durable, rugged, and delivers sharp, clear, and vibrant optics. This lightweight set of binoculars uses 30mm objective lenses which allow lots of light transmission and increase the low-light capabilities of these binoculars. As a result of these larger objective lenses, the Nikon Prostaff 7S is on the heavy side for compact binoculars at nearly fifteen ounces. Compared to ordinary full-sized binoculars, though, the Prostaff 7S is still quite light and portable.
The Nikon Prostaff 7S is fully layered with multi-coated lenses and roof prisms coated with phase correction. With 15.4mm of eye relief, many glasses-wearers will find these binoculars comfortable enough to operate with glasses on. Some users who prefer longer eye relief, however, may want to look for an alternative with more than 16mm.
This product offers high-resolution images with accurate color reproduction. Ergonomic, lightweight, durable, and fairly affordable, the Nikon Prostaff 7S is an all around superb product which meets the Nikon standard for high quality optics equipment.
---
What we liked
Has a rubber armored body
Can be steadily held even in wet conditions
Possesses easy focus
A choice for general purpose binoculars
The lenses have proven to perform better than others
Provides excellent eye relief
What we didn't like
Lens covers keep falling off
Heavier and less compact than some alternative (a fair tradeoff for those nice big objective lenses)
3. Leica Trinovid 10X25mm BCA Lightweight Binoculars
---
The Trinovid BCA by Leica is an amazing product whose technical specifications seem almost too good to be true. From the trusted high-end optics brand, Leica, the Trinovid BCA features 10x magnification and 25mm objective lenses while weighing in at only 8.8 ounces. With magnification and objective lens sizes that outdo much of the competition's full-sized binoculars, it is a wonder that these compact binoculars are so very light.
As far as optical quality goes, Leica is a tried and true brand whose optics are known to be crystal clear, sharp, and precise. The Trinovid BCA features phase-coated BaK4 roof prisms as well as fully multi-coated lenses.
Solidly built and ideal for birdwatching, backpacking, hiking, and hunting, the Leica Trinovid BCA has very few drawbacks. One such drawback, however, is price. Optics enthusiasts often say that "you get what you pay for" when it comes to optical equipment. The high quality of the Trinovid BCA can attest to that. While relatively affordable for Leica binoculars, the Trinovid BCA retails for just under 600 dollars which is quite high for compact binoculars. Full-sized binoculars tend to much pricier.
---
What we liked
Fully water-resistant construction to ensure its adequacy in moist conditions
Compact construction and easy to carry due to lightweight design
Features 25mm objective lens with 10x magnification
Suitable for a variety of outdoor activities
A decent amount of field of view even at a higher zoom
HDC and Leica AquaDura coating for sharper and clear images
Rubber armor body for resilience and durability
What we didn't like
10x magnification can be shaky without additional stabilization. Fortunately, the light weight helps keep them somewhat steady
Not entirely waterproof (only splashproof)
Premium price tag
Magnification: 10x
Objective Lens Diameter: 25mm
Prism Type: BaK4 Roof Prism
Lens Coating: Fully Multi-Coated
Near Focus: 16.4 feet
Field of View: 295 feet at 1000 yards
Eye Relief: 14.6mm
Dimensions: 3.6-inch x 4.3-inch x 1.5-inch
Weight: 8.8 oz
Best for: Travel, camping, and hiking
4. Vortex Vanquish 10X26mm Compact Binoculars
---
If the Leica Trinovid BCA's high magnification and good-sized objective lenses appealed to you, but the high price tag was a buzzkill, the Vortex Vanquish 10X26 might just be the way to go. With 10x magnification and 26mm objective lenses, the Vanquish is a similar alternative to the Trinovid which comes with a much more reasonable price tag. At under 150 dollars, though, there are bound to be some areas where the Vortex Vanquish doesn't quite measure up.
At 12.7 ounces, the Vortex Vanquish is nowhere near as portable as the Trinovid, but this is a natural consequence of large objective lenses and powerful magnification.
These binoculars utilize a Porro prism layout which allows for high light transmission but is a bit less durable than roof prisms.
Otherwise, the Vortex Vanquish is pretty rugged. Water-proof, fog-proof, rubber-armored, and clearly built with the outdoors in mind, if you want mid-sized performance in a compact package, the Vortex Vanquish is both a strong contender and a very affordable one.
---
What we liked
Porro prism works with a fully multi-coated lens and produces sharper images
Wider FoV of 294 feet at 1000 yards even at 10x magnification
Central focus makes the device easy to use
Fully resistant to fog and water
Lightweight and ergonomic design
All-glass optical lens with twist-up cups
Nitrogen purged for all-weather performance
What we didn't like
Carrying case is not MOLLE compatible
The hard case is not available
Exit pupil is pretty small
Magnification: 10x
Objective Lens Diameter: 26mm
Prism Type: BaK4 Porro Prism
Lens Coating: Fully Multi-Coated
Near Focus: 7.6 ft
Field of View: 294 feet at 1000 yards
Eye Relief: 16mm
Dimensions: 3.25-inch x 4.4-inch x 4.7-inch
Weight: 12.7 oz
Best for: Travel, bird watching, and boating
5. Swarovski 46201 CL Pocket 8X25 Binoculars
---
The Swarovski CL Pocket is an extremely portable model with a foldable bridge design. It offers a unique optical experience and contains color-true and sharp images, high contrast, and a robust and ergonomic design. The pocket model is one of the more affordable options from the Swarovski CL product line, but this product is still very pricey for most users at a retail price of nearly 800 dollars from some sellers.
At 12.2 ounces, the Swarovski CL Pocket is not nearly as light as some of the other options on this list, however a sleek folding design does render these binoculars very portable and convenient. With Swarovski's high-end optics in a user-friendly hand-held package, the CL Pocket is a great entry point into the high-priced world of top quality optics.
The CL Pocket comes in discreet shades of either black or green. With 8x magnification, 25mm objective lenses, robust water and weather-proofing, and clear and precise optics, the CL Pocket from Swarovski is a great compact option for optics enthusiasts.
---
What we liked
Sharp and bright FOV
Can easily adjust focus
Can be easily traveled with
Light enough to comfortably hang around the neck
Superb balance
Best for the money
What we didn't like
Does not provide a cover for the optics
The case cannot attach with a neck strap
Very pricey
6. Vortex Diamondback HD 8X32mm Roof Prism Binoculars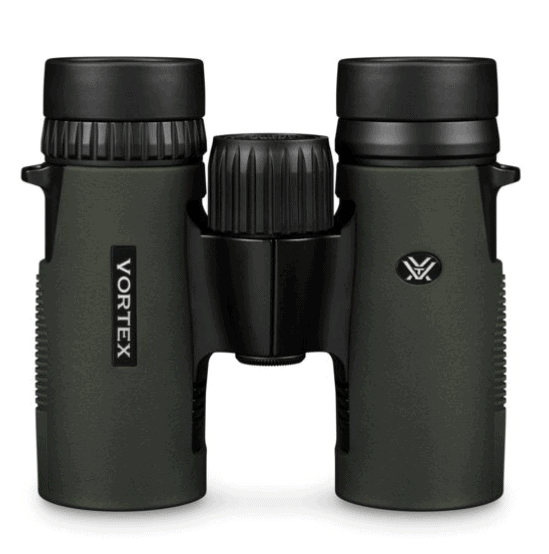 ---
The Vortex Diamondback HD comes with larger objective lenses of 32mm. For this reason, classifying these binoculars as "compact" is a bit of a misnomer. Despite these large objective lenses, though, the Vortex Diamondback is lighter than most mid-sized binoculars at just 15.9 ounces. Again, this is much heavier than compact binoculars ought to be, but still light enough to earn the Diamondback a place on this list.
Those large objective lenses do come in quite handy with a nice wide field of view of 426 feet at 1000 yards. For birdwatchers and hunters who need to track moving objects at a distance, this wider field of view is very desirable.
Rugged, armored, durable, and weather-proof, the Vortex Diamondback is a nice lightweight alternative to heavier mid-sized binoculars while delivering on some features that compact binoculars just cannot. Best of all, the Vortex Diamondback is very affordable.
---
What we liked
Fully fog and water-resistant
All-galls optics for better image sharpness
BaK4 roof prism for high light transmission
The binoculars perform better in low light with bigger objective lenses
Wider FoV at higher zoom
Long eye relief and wide exit pupil
Dielectric prism coating for crisper images at higher zoom
What we didn't like
Eye covers aren't the best
No hard carrying case available 
Light for mid-sized but a bit heavier than compact binoculars ought to be
Magnification: 8x
Objective Lens Diameter: 32mm
Prism Type: BaK4 Roof Prism
Lens Coating: Fully Multi-Coated
Near Focus: 5.0 feet
Field of View: 426 feet at 1000 yards
Eye Relief: 16mm
Dimensions: 4.3-inch x 4.6-inch x 1.4-inch
Weight: 15.9 oz
Best for: Hunting, ravel, hiking, and camping
7. Steiner T1028 10X28mm Tactical Pocket Binoculars
---
The Steiner T28 is a military-grade tactical binocular with a ridiculous amount of heavy-duty features packed into every ounce of its 12.7 ounce weight. With 10x magnification and 28mm objective lenses, it isn't hard to see why these binoculars are bit on the heavier side. For many field applications, though, this extra weight is well worth the rugged armoring and powerful optics of the Steiner T28.
Coated in Steiner's "NBR Long Life" rubber armoring, these binoculars resist damage from impacts. Nitrogen filled and submersible in up to sixteen feet of water, the T28 is made to handle the challenges that come with outdoor adventures. With a close focus distance of six feet and Steiner's own "Fast-Close Focus" technology, these binoculars are easy to use and versatile.
With just 14mm of eye relief, glasses-wearers may be uncomfortable using the Steiner T28. For most users, though, the high contrast optics that Steiner provides is bound to impress.
---
What we liked
Rubber armored coating for durability and resilience
Water and fog proof design for all-weather performance
Comes with multiple accessories
Weighs around 13 oz and is very easy to carry around
Features BaK4 roof prism for maximum light transmission and sharper images
High definition optical coating
Tactical-worthy performance is suitable for a variety of users
What we didn't like
Lens caps don't stay on for long
Eyepiece cover could have a better design
Magnification: 10x
Objective Lens Diameter: 28 mm
Prism Type: BaK4 Roof Prism
Lens Coating: Fully Multi-Coated
Near Focus: 6.0 feet
Field of View: 266 feet at 1000 yards
Eye Relief: 13mm
Dimensions: 9-inch x 4.6-inch x 5.1-inch
Weight: 12.7 oz
Best for: Hiking, travel, and boating
8. Pentax A-Series 10X25 WP Compact AD Binocular
---
The Pentax AD WP binoculars, like many other entries on this list, come with 25mm objective lenses and 10x magnification. Unlike most binoculars that share these specs, the Pentax AD is a nice svelte 10.6 ounces.
At a nice affordable price and a comfortably portable weight, the beginner looking for an accessible pair of compact binoculars should look no further than the Pentax AD.
With BaK4 roof prisms and fully multi-coated lenses, the Pentax AD provides clear optics at a price that appeals to the budget.
While Pentax's optical quality can't quite hold up against giants like Swarovski and Leica, these binoculars are perfectly serviceable and extremely convenient.
Nitrogen purged to prevent moisture intrusion, the Pentax AD is water-proof, weather-proof, and coated in an extremely durable rubber armoring. If being able to take a few beatings is an important criteria for you then the Pentax AD is an exemplary option.
---
What we liked
Compact design and robots construction due to roof prism system
Easy to pack due to their compact size and design
They are lightweight so they are very easy to carry around
Multi-layer coatings make sure a maximum light transmission
Polycarbonate body with carbon reinforcements to ensure rugged performance
BaK4 roof prism for resilience in the performance and clarity in the images
Nitrogen-purged for fog and waterproof performance
What we didn't like
No accessories
Eye caps don't stay in place
Doesn't come with image stabilization
Magnification: 10x
Objective Lens Diameter: 25mm
Prism Type: BaK4 Roof Prism
Lens Coating: Fully Multi-Coated
Near Focus: 9.8 feet
Field of View: 262.5 feet at 1000 yards
Eye Relief: 20mm
Dimensions: 4.3-inch x 4.1-inch x 4.1-inch
Weight: 10.6 oz
Best for: Traveling and bird watching
9. Leupold BX-1 Rogue 8X25mm Compact Binoculars
---
Very obviously built with hunters in mind, the Leupold BX-1 Rogue is one of the most affordable entries on our list while also being one of the most tough and durable. The Leupold BX-1 Rogue is designed to perform under extreme conditions with operating temperatures ranging from -40 degrees Fahrenheit up to a whopping 160 degrees Fahrenheit.
The BX-1 Rogue is also capable of withstanding submersion in up to 33 feet of water. What is so remarkable about this product is the incredible faith that Leupold has in it. Whether or not you are the original owner, Leupold guarantees performance to such a degree that they promise to repair or replace any BX-1 Rogues that fail to meet performance standards.
The unique inverted Porro prism design of the BX-1 Rogue is supposed to be capable of delivering on mid-sized optical quality while maintaining a light weight. At less than 100 dollars, the Leupold BX-1 Rogue is an impressive product and an excellent bargain.
---
What we liked
BaK4 Porro prism construction for excellent light transmission
Best compact binoculars for the money
Wider FoV of 337 feet at 1000 yards
Fully multi-coated lenses for high optical precision and performance
Central focus keeps focusing simply
Lightweight construction and an ergonomic design
Comes with multiple accessories
Rubber armored body makes it impact resistant
What we didn't like
Not the best options for low light conditions
Doesn't come with a variable magnification
Magnification: 8x
Objective Lens Diameter: 25 mm
Prism Type: BaK4 Porro Prism
Lens Coating: Fully Multi-Coated
Near Focus: 14.1 feet
Field of View: 337 feet at 1000 yards
Eye Relief: 15mm
Dimensions: 6-inch x 5.5-inch x 2.9-inch
Weight: 12.64 oz
Best for: Traveling and boating
10. Nikon Trailblazer 10X25 ATB Waterproof Compact Binoculars
---
Also coming in at less than 100 dollars and with a comfortably light weight of just 9.9 ounces, the Nikon Trailblazer may just be the best option for budget roof prism compact binoculars. With Nikon's trusted optical quality in a sleek water-proof package, the Trailblazer is convenient, user-friendly, and ideal for beginners and enthusiasts alike.
The Nikon Trailblazer comes with fully multi-coated optics that maximize light transmission. The binoculars are water and fog-proof, with nitrogen filling and a rugged rubber-armored body.
Truly embodying the compact binocular category, the Nikon Trailblazer is petite, ergonomic, and ideal for traveling. Birdwatchers, backpackers, tourists, and hikers will be impressed with the optical performance that these compact binoculars provide.
If I must settle on a gripe for the Nikon Trailblazer, that would be eye relief. As a glasses-wearer myself, the 10mm of eye relief that these binoculars provide is insufficient for comfortable use. When out on the go, removing one's glasses and refocusing can be cumbersome and time consuming.
---
What we liked
This model is lightweight
Super sharp focus
Is good for concerts and sports use
Sharp lenses
Comes at a reasonable price
Compact physical size
Nikon quality
What we didn't like
Strap lacks a solid design and cannot support the binoculars
Not ideal for glasses wearers
11. Carson 8X32mm 3D Series Binocular
---
Much less compact than the other entries on this list, the Carson 8X32mm 3D Series weighs over eighteen ounces. In fact, these are not even really "compact" binoculars at all. With mid-sized optics including 32mm objective lenses and 8x magnification, these binoculars are capable of impressive performance while maintaining a relatively low weight for their category.
Fully multi-coated with BaK4 prisms, the Carson 8X32mm 3D Series provides sharp optics with vibrant colors. These binoculars have a comfortably long eye relief of 19.5mm which is more than enough for comfortable use by most users.
More powerful than most binoculars on the list, these are ideal if you are interested in a mid-sized binocular that is lighter than usual and delivers powerful optics within a portable package.
---
What we liked
A wider FoV at higher zoom for better situational awareness
Fully multi-coated lenses with BaK4 roof prism for maximum light transmission
Longer eye relief at 19.4mm for better use with eyeglasses
Water and fog resistivity for better all-weather performance
Lightweight construction with multiple additional accessories available
A wide neck strap
Rubber armor body for impact resistance and convenient gripping
What we didn't like
Feels somewhat plasticky
No anti-glare capabilities
Heavy / Not exactly compact
Magnification: 8x
Objective Lens Diameter: 32mm
Prism Type: BaK4 Roof Prism
Lens Coating: Fully Multi-Coated
Near Focus: 6.6 ft
Field of View: 392 feet at 1000 yards
Eye Relief: 19.5mm
Dimensions: 4.9-inch x 4.8-inch x 1.8-inch
Weight: 18.08 oz
Best for: Hunting, hiking, and traveling
12. Bushnell Legend Ultra HD 10X25 Compact Binoculars
---
The Bushnell Legend Ultra HD is one of my personal favorite sets of compact binoculars on this list. Bushnell as a brand marries affordable and accessible beginner optics with high quality construction, glass, and coatings to provide a top quality product that suits hobbyists and outdoor enthusiasts of all experience and skill levels.
With 10x magnification and 25mm objective lenses, the Bushnell Legend Ultra HD lets in tons of light and packs a major punch for its small size. Weighing in at just over twelve ounces, the Legend Ultra HD is not quite as light as some other options, but still definitely fits the brief for a lightweight, portable, and compact piece of equipment.
With ED Prime glass and phase-coated roof prisms, the Legend Ultra HD delivers sharp, bright, and high contrast optics in a package that is rugged and built to handle the outdoors.
---
What we liked
Compact and light weight, and perfect for traveling
Crystal clear viewing potential
Cost efficient
Foldable
Fully weather proof
Has high quality optics
What we didn't like
Slightly difficult to hold steady
Colors tend to be a little less saturated
Types of binoculars
Binoculars come in all shapes and sizes, from full-sized to compact! This article focuses on compact binoculars, although there are some mid-sized binoculars with lightweight designs intermixed with the smaller entries. Below is a short explanation of the basic binocular sizes.
Compact binoculars
Compact binoculars usually weigh less than a pound and include objective lenses smaller than 30mm. Built for those who travel light, compact binoculars are usually built to handle traveling as well as the outdoors. Portability and durability are both important features alongside weight. Compact binoculars utilize two basic types of the prism layouts; roof prisms and Porro prisms. Compact binoculars are perfect for traveling purposes, backpacking, country skiing, hiking, and even canoeing.
Mid-size binoculars
These tend to have an objective lens size of 30 to 40mm (10×30, 8×32, etc.). The mid-size models can be held comfortably and offer brighter images. These are best for wildlife and bird watching as midsize binoculars offer high magnification. For traveling, hiking, or backpacking, though, binoculars of this size may begin to feel cumbersome.
Full-size binoculars
These binoculars usually contain an objective lens that measures more than 40 mm in size (8×42, 10×50, etc.). Because of these bigger lenses, full-sized binoculars can really deliver on bright images and wide fields of view. These binoculars tend to be bulky and may require image stabilization. In many cases, full-size binoculars can be described as more "specialty" equipment.
Compact binoculars tradeoffs
Compact binoculars are all about tradeoffs. Things like field of view, eye relief, magnification power, and weight must all be in perfect balance to ensure that your binoculars are useful. Make sure you understand your own needs as you dive into the world of binoculars, that way you can be sure to find a piece of equipment that suits you perfectly!
Compact binoculars have a smaller sized objective lens, hence the narrow field of view. Thus, more magnification is not always better. Make sure you don't automatically opt for more than you need since the field of view may decrease.
A narrower field of view is fine for some applications, but bird watchers, event participants, and hikers may find that the narrow field of view leaves them missing out on part of the action.
The prices is also an important consideration and may fluctuate based on both the brand itself and the features available.
Related: Best Binoculars for Kids in 2022 (for Nature & Education)
What do binocular numbers mean?
Binocular magnification
The first number and the x denote the power and magnification. This tells us the degree of enlargement for the object in focus. For instance, an 8x magnification binocular means that the object in view will appear eight times closer than when viewed by the naked eye.
Binocular aperture
The second number is the aperture. It denotes the diameter of each objective lens in millimeters. Therefore, 8x 30 means that the binoculars have 8x magnification and that the objective lenses are 30 mm in diameter.
Some examples of the common sizes for mid and full-sized binoculars are:
Nikon Monarch HG 10×30
Celestron Outland X 10×50
Canon 10×42 IS WP
It is important to note that more power means a narrower field of view.
Which binocular magnification is better?
Picking the right size for several activities is always challenging, so here some suggestions to start with:
Binoculars price
Binoculars come in a variety of price ranges. Compact binoculars tend to be a bit less expensive than the alternative, but even compact binoculars demonstrate the importance of balancing affordability with true value. Make sure to research your product before you purchase as "cheap" equipment can become more expensive in the long run when it breaks or fails to perform and needs to be fixed or replaced.
Up to $100
With a budget of $100 or less, rugged outdoor compact binoculars are the way to go. Even some high-end brands provide entry-level binoculars around this price, but do not expect professional level optics from these binoculars.
$100-$150
At this price range, optical quality will begin to improve as will things like weather-proofing, multi-coating, and ergonomics.
$150-$250
Because compact binoculars tend to run a bit "cheaper" than mid and full-size binoculars, this price range will get you a fairly standard reliable set of binoculars from a trustworthy brand.
$250-$500
At this price, compact binoculars begin to come with extra qualities that help them stand out. Special ED glass, autofocus technology, and other added perks will begin to be available at this range. This is also where compact binoculars from high-end brands begin to become available.
$500-$1000
This price range brings with it some serious optics and glassing options. Within this price range, compact binoculars can be expected to rival mid and full-size options from less prestigious brands. Large objective lenses in impossibly sleek packages provide sharp, clear, and vibrant optical experiences.
How to choose the best compact binoculars?
Determine the best compact binoculars for you by deciding what criteria are important to you and how they'll benefit your intended activities. Below are just some of the criteria to consider.
Weight
Consider the weight of a binocular before you buy it. Verify if prolonged use will tire you. Most compact binoculars should weigh less than a pound. Some can weigh in at less than half a pound.
Aperture
Aperture is the front width of a binocular or objective lens in millimeters. It is necessary as it gathers light to make objects viewable. General use binoculars should have an aperture of 7x to 10x.
Magnification
Powerful magnification is great for detail but can limit your field of view. Compact binoculars usually range from 7x to 10x.
Coatings
Lens coatings can minimize glare and contribute to image clarity. Most binoculars have a concave eyepiece and a convex objective lens with multi-coatings on the inside and outside of the glasses to reduce reflections.
Eye relief
Eye relief is especially important for glasses-wearers who are unlikely to be comfortable with an eye relief measurement that is below 16mm.
Weatherproof
The best weatherproofing in binoculars is done with hermetical sealing and nitrogen filling.
Frequently asked questions
Are compact binoculars any good?
Compact binoculars are great for many applications, but are obviously limited by their smaller size. For hiking, backpacking, and traveling, a good set of compact binoculars can be a lifesaver.
What are the best travel binoculars?
The best travel binoculars are Carson 8x32mm 3D Series Binoculars.
What's better 8x or 10x binoculars?
Low magnification binoculars come with a wider field of view and vice versa. With an 8x device you will have wider field of view and better situational awareness. 10x binoculars, though, can provide stronger magnification for higher detail. Examine what matters to you and choose accordingly.
What are the best compact binoculars?
If the size is the only criteria of your interest and you are looking for the best compact binoculars for traveling and hiking, choose the Leica Trinovid 10x25mm BCA Binoculars. These binoculars weigh just over 8 ounces and are pretty compact as well. Nikon compact binoculars are also a good option to consider. 
What is the best size of binoculars?
The best size for binoculars depends upon your requirements. There are different types of devices available on the market and designed for a variety of purposes. If you're looking for a portable device for traveling and easy carrying, compact is the way to go. For more specialized activities, larger sizes may be better suited.
What should I look for in compact binoculars?
Compact binoculars should be lightweight, ergonomic, small but sturdy, ruggedly built, reasonably weather-proof, and reliably capable of delivering excellent optical performances.