For the best whale watching experience, you need the right pair of binos. The consensus is that 7×50 is the best "size" for whale watching and marine use.
The best binoculars for whale watching should be rugged, submersible, and come with autofocus. Here are our favorites.
We Recommend
Best Binoculars for Whale Watching
1. Fujinon Mariner 7X50 WPC-XL Whale-Watching Binocular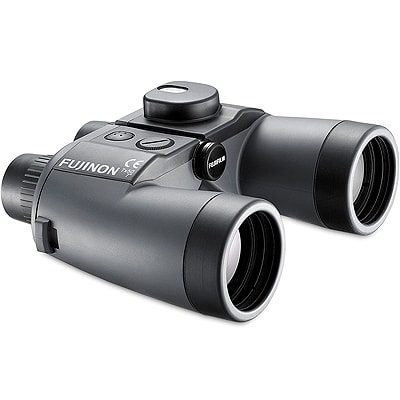 ---
Fujinon Mariner brings you the best features at a pocket-friendly price and a comfortable weight.
The Fujinon optics comes complete with full coating and 100% waterproofing, and you can see the reticle and the compass through the model's left eyepiece.
This product is an excellent option for nighttime use because it has a built-in, energy-saving LED nightlight.
The right tube houses the battery and controls the pushbutton.
The unique design facilitates the use of the XL Fujinon-Mariner compass at night and additionally minimizes the possibility of electrical interference on the compass's accuracy.
The binoculars feature a flotation neck strap of closed-cell foam, so it stays afloat till you safely recover it in case of an accident or slip.
---
What we liked
The product gives good value for money
Lightweight
Field of view provides crystal clarity
Integrated compass
Large exit pupils make it a good option for use in dark conditions
Has a tripod mount provide comfortable viewing for more extended periods
What we didn't like
Comes with a bulky strap
Does not come with a case
Magnification: 7x
Lens coating: fully-coated Fujinon optics
Lens diameter: 50 mm
Field of view: 49 degrees
Eye relief: 18 mm
Weatherproof: yes
Weight: 1.95 pounds
2. Steiner Marine 7X50 Autofocus Binoculars
---
Steiner 575 binocular delivers efficient light-gathering with 50mm objective lenses, from dawn till dusk. The model also provides a wide field of view with its 7x magnification.
You can rely on Steiner for its world-renowned toughness and impeccable designs. With high contrast optics, you get accurate color reproduction and bright images.
This pair delivers consistently sharp and excellent 3D images from twenty yards to infinity. Refocusing is easy, thanks to the sports autofocus of the model.
Your model stays damage-free with the floating prism system, using a flexible silicone lens. These lens mounts absorb extreme impact, abuse, and severe shock without letting any harm come to your model. With rubber armoring and waterproofing, your product has a durable construction that can withstand wet conditions.
Pads and ergonomic ridges provide a comfortable and secure grip, so you have no fear of accidentally losing your binoculars.
---
What we liked
Autofocus is a lifesaver
Comes with a lifetime warranty
Makrolon housing and durable polycarbonate chassis provide the legendary withstanding ability of 11 G's impact
Has a life-long NBR rubber armoring, ensuring a non-slip grip
Fog resistant and waterproof
The set comes with objective lens covers, lens protection cap, and a neck strap
What we didn't like
The strap provided may not be suited to the heavyweight of the binoculars
Magnification: 7x
Lens coating: Fully multi-coated
Lens diameter: 50 mm
Field of view: 354 feet at 1000 yards
Eye relief: 20 mm
Weatherproof: yes
Weight: 37 ounces
3. Barska Deep Sea 7X50 Waterproof Whale-Watching Binoculars
---
These Barska Deep Sea binoculars are the best budget option available. They have a floating body, are waterproof, and come with an internal rangefinder and compass. You will get a lot for the price.
With the compass and internal range finder, this model is perfect for all your outdoor activities but most ideal for nautical and boating enthusiasts.
The product has excellent optics and 7x magnification and comes with a 50mm objective lens diameter which is ideal for whale watching. Therefore you can expect clear images in your marine observation, from daybreak till dawn.
---
What we liked
Best budget option
Fully multi-coated optics
Compass and internal range finder
Shockproof and heavy-duty rubber armor
Lens cloth, neck strap, lens covers, and carrying case included
Fog proof and waterproof
Suitable for all outdoor activities
What we didn't like
Not the best for low-light conditions
Magnification: 7x
Lens coating: Porro BAK-4
Lens diameter: 50 mm
Field of view: 395 feet at 1000 yards
Eye relief: 23mm
Weatherproof: yes
Weight: 38.8 ounces
4. Nikon OceanPro 7X50 Whale Watching 7440 Binoculars
---
The Nikon OceanPro series is one of the best binoculars for ocean viewing.
The OceanPro binoculars have the engineering that caters to all your marine environment demands.
With generous eye relief, even eyeglass wearers experience the most comfortable viewing.
A durable rubber armoring ensures you have a solid gripping surface, even in wet conditions.
The set includes a fast range of focus, providing quick viewing. Included in the making are large exit pupils that ensure you capture the image even with the sea motion.
O-ring and Nitrogen sealing provide fog-proofing and waterproofing qualities. The OceanPro binoculars for ocean viewing are your perfect companion in water-bound, stimulating activities.
---
What we liked
Fold-down rubber eye-cups protect the eyes from bumps
Excellent fog-proof, shockproof and waterproof performance
Large exit pupils provide a maximum light gathering
Smooth central focus knob
Multi-layering of anti-reflective compounds deliver excellent resolution and brightness
What we didn't like
A bit bulkier
The ocular lens does not attach to the body
Rubber eye-cups are slightly tricky to fold over
Magnification: 7x
Lens coating: multi-coated
Lens diameter: 50 mm
Field of view: 378 feet at 1000 yards
Eye relief: 22.7 mm
Weatherproof: yes
Weight: 3.00 lbs
5. Konus Tornado 7X50 Marine Binocular
---
The Konus Tornado binoculars, as the name suggests, are competent even under the perils of marine activities.
You can rely on this set to serve you well under extreme temperatures, heavy weather, and while using on the water.
The product has Nitrogen charging and sealing against internal fogging and moisture and will merely float even if you accidentally drop them.
With BAK-4, extra bright prisms, and full multi-coating, you can expect crisp, bright, and clear images.
You can also use these binoculars for navigational aid using the built-in, illuminated, and dampened compass.
Additionally, the range finder reticle along with the built-in calculator allows you to estimate the size of the faraway objects or their distance.
---
What we liked
Fog proof and waterproof
Floating body
Range finding reticle and illuminated compass
Tripod adaptability
Tough build and durable
Extra bright BAK-4 prisms
You can measure the size and distance of faraway objects
Magnification: 7x
Lens coating: multi-coated
Lens diameter: 50 mm
Field of view: 132 m/ 433 ft
Weatherproof:
Weight: 890 gr/ 31 oz
6. Bushnell Marine 7X50 Waterproof Binocular
---
Bushnell Marine 7X50 has excellent HD quality, so your first advantage is quality images.
The product is complete with certified and tested quality materials so you can trust the 100% authenticity of the binoculars.
Hermetical sealing makes the product corrosion-resistant and waterproof so that you may use it freely in marine environments.
Fully multi-coated optics and premium BAK-4 prisms provide UV protection for the binoculars.
---
What we liked
Excellent open water performance
Hermetic sealing ensures the binoculars will stay fog-free
Non-skid, non-slip, and durable rubber armors
The product delivers a wide field of view with its Porro prism system
High resistance to saltwater corrosion
What we didn't like
Does not feature a range finder or compass
Magnification: 7x
Lens coating: Fully multi-coated with UV protection
Lens diameter: 50 mm
Field of view: 380 feet at 1000 yards
Eye relief: 18
Weatherproof: yes
Weight: 1021 grams/ 36 ounces
7. Nikon 7X35 8244 ACULON A211 Binocular
---
Nikon Aculon 8244 binocular provides you with excellent ergonomics along with lightweight.
The rubber eye-cups can turn and slide, allowing you a comfortable viewing experience for long periods.
These binoculars feature lenses made of eco-glass with aspherical multi-coating, so you expect clear and bright images in most lighting conditions.
The binoculars are not just user-friendly but also enable smooth focus, owing to the even central focus knob.
A rubber-armored and durable coating ensures a non-slip and firm grip even when you're using it in wet conditions.
---
What we liked
Delivers high-quality images in a wide range of lighting conditions
Can effectively use them for a variety of dawn till dusk pursuits
Aculon A211 integrates optical technology in the triad
Lightweight and comfortable to use
Flexible rubber eye-cups facilitate comfortable eye-positioning
Eco-glass lenses give tremendous precision and clarity
What we didn't like
Shor eye relief
Not the best performance in the dark
Magnification: 7x
Lens coating: 7-power multi-coated lenses
Lens diameter: 35mm
Field of view: 488 at 1000 ft
Eye relief: 11.8mm
Weight: 24.3 oz
8. Hooway 7X50 Military Marine Binoculars With Rangefinder & Compass
---
Hooway brings you the best marine binoculars. It is waterproof, so you get adaptable to extreme environmental conditions.
The binocular can even float in water so you can go whale watching without any fears of water damage.
The body is fog-proof and nitrogen-purged, giving you a steady grip and high durability.
The binoculars have a Porro prism system, so you get to enjoy a wide field of view.
With fully optics fully multi-coated and a prism of Premium BAK4, you will get the crispest, bright images possible.
The binocular comes with a built-in illuminated compass and rangefinder for location directions and accurate determination of size and distance of objects.
Hence, this model is one of the best marine binoculars under 500.
---
What we liked
Firm grip and shock absorption with non-slipping rubber armor
Excellent performance, even in extreme weather conditions
Waterproofing prevents clouding, fogging and moisture damage
Provides tremendous brightness and clarity
Can float for 30 minutes in water
Right and left diopter adjustment rings provide individual vision-based adjustment
What we didn't like
Compass light may obscure nighttime reading
Has an ungainly yellow strap
Magnification: 7x
Lens coating: BAK-4 prisms with full multi-coating
Lens diameter: 50mm
Field of view: 396 ft at 1000 yards
Eye relief: 22mm
Weatherproof: Extreme weather adaptability
Weight: 2.2 lbs
9. USCAMEL 10X50 Marine Binoculars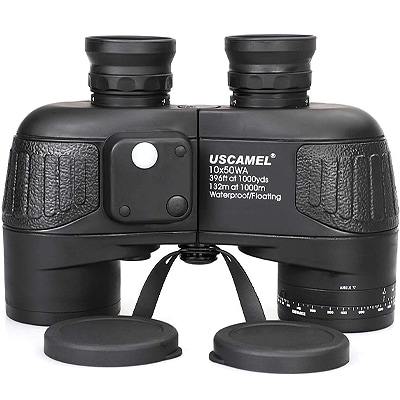 ---
USCAMEL binoculars have exceptional optics and a 10x magnification, providing you outstanding clarity of views in your observation.
From dawn till dusk, these binoculars serve a range of activities but are best for nautical and boating enthusiasts.
The product features a ±5 diopter left and right ring so you can make distance adjustments as you please.
This makes fine focusing and observation without glasses possible too.
There is a Porro BAK4 prism with a high refractive index present in it that diminishes the stray light and enhances the color reproduction.
---
What we liked
You can fold the eyepieces of the binoculars
Internal range finder and compass in included
The ergonomic and non-slip rubber design
Floating body
Autofocus system requires only one calibration
Binoculars come attached with strap and bag
What we didn't like
Each eye focus requires individual adjustment
Double protective caps need improvement
Magnification: 10x
Lens coating: Porro Prism multi-coating
Lens diameter: 50 mm
Field of view: 396 feet at 1000 yards
Eye relief: n/a
Weatherproof: yes
Weight: 2.68 pounds
Related: 12 Best Marine Binoculars Worth the Money
10. Athlon Optics Midas Roof Prism UHD Binoculars
---
Athlon UHD binoculars are a great option for you if you desire sharper and clear images for your eyes.
The set comes with an ED glass with very little or next to no chromatic fringes, hence the final qualitative result.
The coating is ESP dielectric and multi-layer, which delivers 99% light reflection to your eyes.
You get to witness bright and clear images each time, with accurate displays of color reproduction.
With this model, the entire light spectrum experiences true color and optimum brightness. The multi-coated and fully advanced lenses provide a better transmission of light, resulting in tremendous brightness.
This product gives you thermal stability and waterproofing advantages as well owing to its argon purging and an 8.1 degrees field of view.
The long eye relief is a bonus, especially for those who wear glasses. The extended eye relief provides comfortable visibility of the entire field of view.
---
What we liked
Fully multi-coated lenses offer authentic color
Fog proof and waterproof
Magnesium chassis makes it capable of withstanding extreme weather conditions
Suitable for multiple uses, including sightseeing, hunting, hiking, bird watching, and other outdoor activities
XPL coating for added protection against scratches, oil, and dirt on the exterior lenses
What we didn't like
You have to twist the eye-cup housings when wanting to adjust eye relief
Objective lens covers are not too steady
Magnification: 8x
Lens coating: Fully multi-coated lenses
Lens diameter: 42
Field of view: 426 ft at 1000 yards
Eye relief: 17.2 mm
Weatherproof: yes
Weight: 25 oz